Woodhawk Wilderness Study Area
Woodhawk Wilderness Study Area is on the south side of the Missouri River in a very rugged portion of Upper Missouri River Breaks National Monument. Almost all of the 4,800 acres of the designated area are already within the Missouri River Wild & Scenic River corridor and while that offers some protection to the land, there's likely to be natural gas beneath it. The possible presence of natural gas trumps almost everything these days.
South-facing slopes in Woodhawk WSA consist of exposed multi-colored layers of clay and soil covered with a short-grass prairie ecosystem. North-facing slopes tend to be more vegetated with stands of juniper and Ponderosa pine in places. Exposed rock in the area is banded shales and sandstones.
Most visitors to Woodhawk arrive on boats floating the Missouri. A few drive in from the south. To get there: take the Stafford Ferry Road east from Winifred for about 2 miles to the intersection of Stafford Ferry Road and the DY Trail. Turn east on the DY Trail and go about 10 miles to the intersection of the DY Trail and Knox Ridge Road. Turn north and keep going on the DY Trail. You'll go north and then east for about 15 miles until the DY Trail ends at the intersection with the Woodhawk Camp Ground Road and the Lower Two Calf Road. That intersection is on the southern boundary of Woodhawk WSA. Access is by foot from there, although you can also (cautiously) drive down the Woodhawk Camp Ground Road next to the WSA boundary for a bit.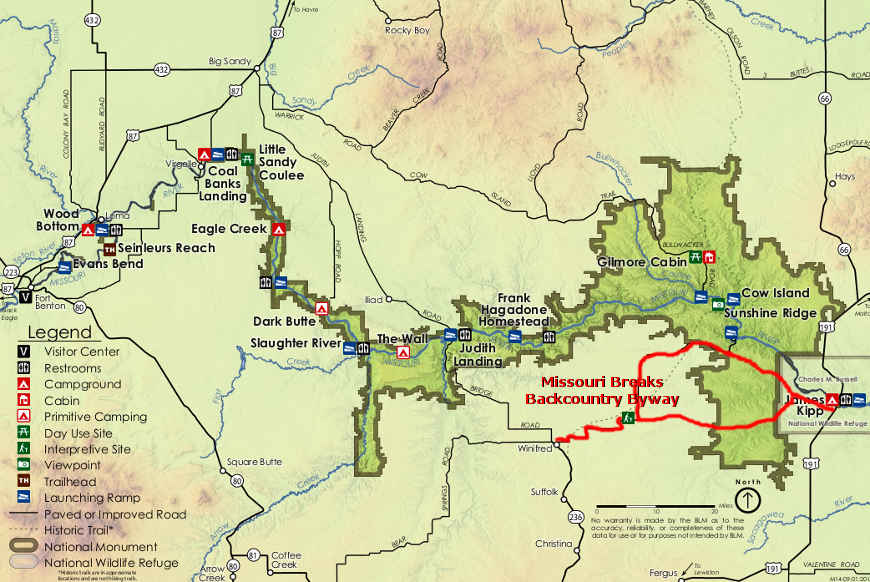 Related Pages
Map courtesy of the Bureau of Land Management