Dog Creek South Wilderness Study Area

At the confluence of Dog Creek and the Missouri River
The Dog Creek South Wilderness Study Area on the south side of the Missouri River contains extremely deep drainages separated by narrow ridges. The landscape was formed during the Pleistocene Period when the ice sheets melted and fast-running glacial meltwaters formed lakes and rivers looking for an outlet to the ocean. Water continuing to flow in the channel carved back then has produced the spectaclar landscape we see today.
The Missouri River flowed high and cut deeply into the soft shales and sandstone, forming numerous steep hills and deep coulees to create a striking vertical and heavily eroded topography. Most slopes are composed of layers of shale, sandstone, clay and soil, with shortgrass prairie communities on the ridgetops. Other vegetation in the area includes greasewood, juniper, big sage and native legumes. On the north- and west-facing slopes of the steeper drainages are isolated stands of Ponderosa pine and Douglas fir.
Dog Creek South Wilderness Study Area is located east of Judith Landing in Upper Missouri River Breaks National Monument. Most folks access the property by floating down the Missouri from Judith Landing.
Of the 8,100 acres in the property, none were recommended for full wilderness designation. Part of the problem is a road cherry-stemmed across the middle of the WSA. Other concerns were cited, too, but the real showstopper was the possibility of natural gas in the ground and what development of that would do to the landscape. Some of the land is contained within the Upper Missouri River Wild & Scenic River corridor and within the Upper Missouri River Breaks National Monument.
Photo courtesy of the Wilderness Institute at the University of Montana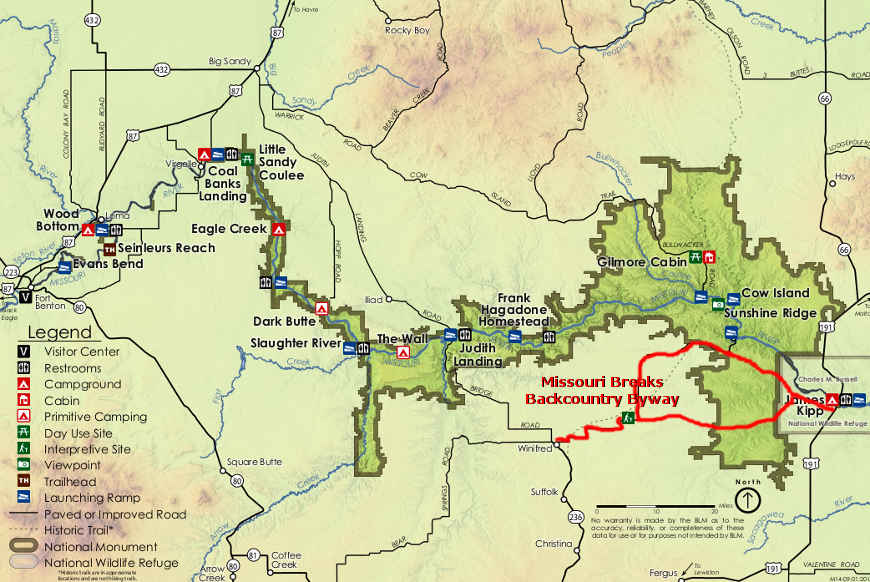 Related Pages
Map courtesy of the Bureau of Land Management