James Kipp Recreation Area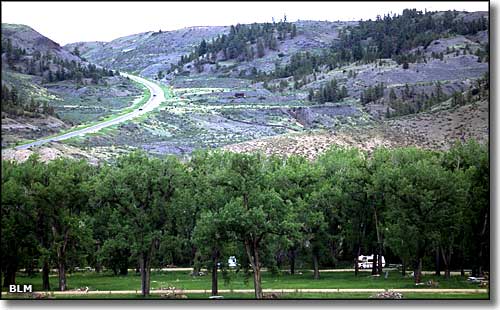 The campground at James Kipp Recreation Area
The James Kipp Recreation Management Area is at the eastern end of the Upper Missouri Wild and Scenic River corridor, totally surrounded by the Charles M. Russell National Wildlife Refuge, an area managed by the U.S. Fish & Wildlife Service. This is a 210-acre site located on Corps of Engineers land where the BLM has a long-term management lease.
James Kipp Recreation Area has a 34-site campground for RV's, trailers and tents with fire rings and concrete picnic tables, a sewage dump station, 8 vault toilets, drinking water, a pay phone, a boat launch and a fish cleaning station. On the south side of the Missouri River, just downstream from the Fred Robinson Bridge, 15 of the campground's campsites are considered for multi-group use and 19 are for individual use. There is a separate floater campground and shuttle parking area for river floaters. There are day-use areas available for picnickers, an interpretive kiosk and a BLM contact station.
James Kipp Recreation Area is the primary take-out point for floaters and kayakers traveling the Missouri Wild and Scenic River. The recreation site also sees a lot of traffic from fishermen, hunters and wildlife watchers visiting the Charles M. Russell National Wildlife Refuge.
James Kipp was a fur trader, steamboat captain and fort builder who was born in Montreal in 1788. He established the Fort Piegan trading post at the mouth of the Marias River in 1831.
James Kipp Recreation Area is located at the point where US Highway 191 crosses the Missouri River, about 40 miles north of Grass Range and about 74 miles southwest of Malta. The campground is open year round but water is only available from mid-April until mid-November.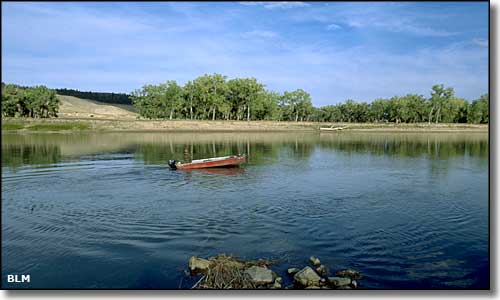 The Missouri River at the James Kipp Recreation Area
James Kipp Recreation Area
Bureau of Land Management
Photos courtesy of the Bureau of Land Management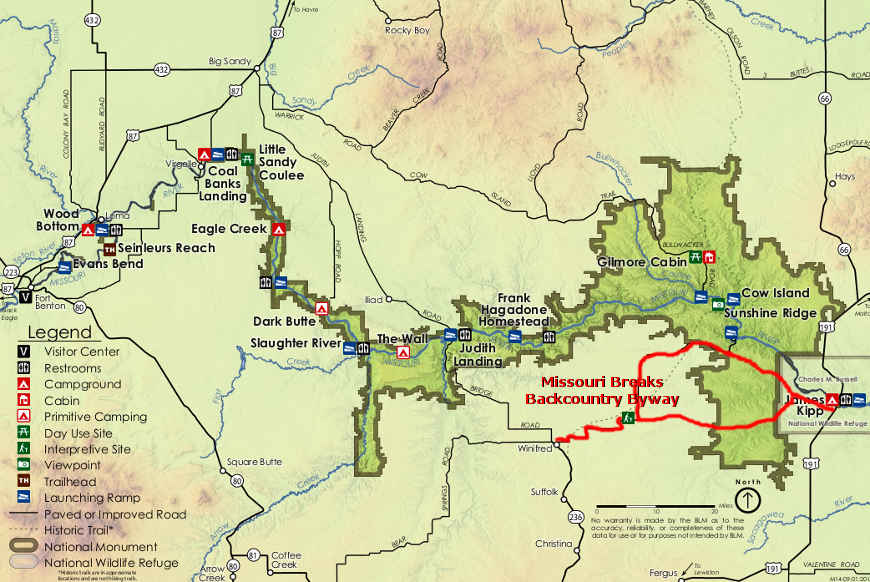 Related Pages
Map courtesy of the Bureau of Land Management