Missouri Breaks Backcountry Byway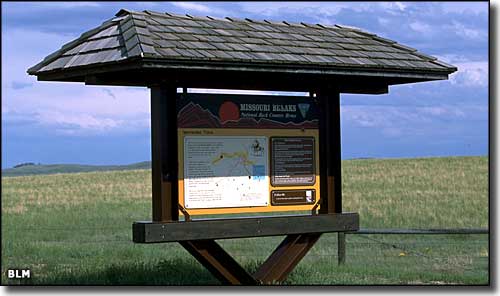 Route marker with interpretive features along the Missouri Breaks Backcountry Byway
The Missouri Breaks Backcountry Byway runs about 80 miles across the uplands south of the Missouri River and to the southwest of Charles M. Russell National Wildlife Refuge. This road will make you wish your vehicle had higher clearance, and 4WD really helps... except in wet weather when you'll end up parked because the vehicle is buried in the road up to its axles anyway...
But if the road is dry and you've got 2-to-3 hours to spend, this is a gorgeous drive through unpopulated countryside with some great natural and archaeological features and great views of a remote area that probably saw more T Rex than humans. In many spots there are roads (in even worse condition) heading off toward the river and some nice overlooks and viewpoints: over and down into the Missouri Breaks, a wild and crazy badlands along the Upper Missouri National Wild and Scenic River corridor.
200 years ago, Lewis & Clark and the Corps of Discovery paddled up the river below and hunted this land for their food. Except for the roads and a few signs, you wouldn't know that anything had changed since then. Several of their campsites have been located along the river bottom, and you can almost hear the men chatting after a good meal down there... They did have a lot of trouble in this area, though, because the shoreline was studded with flint fragments that cut right through their moccasins. And walking in the water wasn't any better because the river bottom was pure silt and mud... and they often had to tow or carry their boats in shallow areas.
A section of this route is also along the Nez Perce National Historic Trail. In the days of the outlaws, desperados and cattle rustlers, this was some of their favorite hideout country.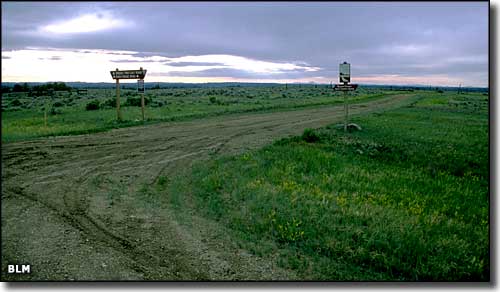 Now this is a Backcountry Byway: notice the road conditions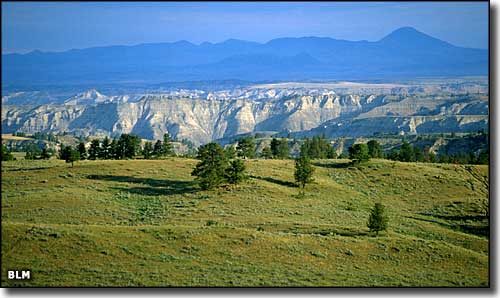 A view of the Missouri Breaks landform itself
Another view down to the river
Photos courtesy of the Bureau of Land Management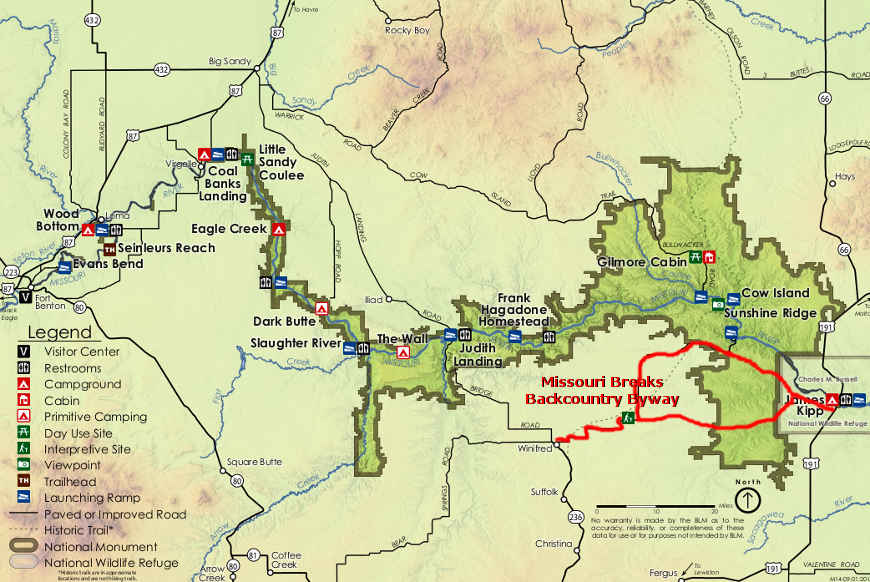 Related Pages
Map courtesy of the Bureau of Land Management