Cameron Prairie National Wildlife Refuge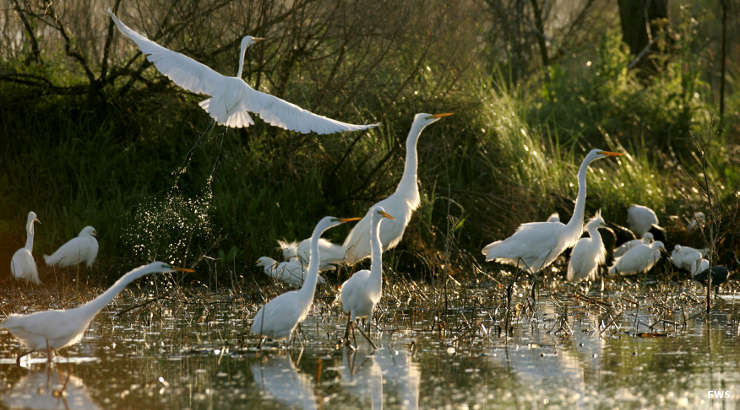 Great Egrets at Cameron Prairie National Wildlife Refuge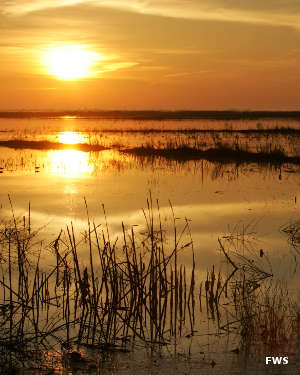 Cameron Prairie National Wildlife Refuge is a 9,621-acre property located about 11 miles south of Holmwood. The land is divided into about 5,137 acres of freshwater marsh impoundments, 1,402 acres of non-impounded freshwater marsh, 1,928 acres of moist soil units (formerly cultivated rice paddies), and about 315 acres of natural wet prairie. There are also 88 miles of levees, 97 miles of canals, 34 moist soil control structures and 13 water impoundment control structures on the property.
Cameron Prairie NWR was the first refuge established under the auspices of the North American Waterfowl Management Plan, a treaty between Mexico, the United States and Canada. Before US Fish & Wildlife came into ownership of the property it had been drained and water levels were manipulated to improve the possibilities for growing rice. Today, those same water control structures are used to manipulate water levels for the optimum growing of natural foods, natural foods designed to attract and support large populations of migrating waterfowl. The property lies at the convergence of the Mississippi and Central Flyways and is visited by hundreds of thousands of waterfowl in spring and fall. More than 250 species of birds visit the property during the year as the forested refuge levees and cheniers (remnant beach ridges) are among the first landing, resting and feeding spots available for birds coming north across the Gulf of Mexico. Refuge lands are managed to promote the growth of native marsh and moist soil plants that provide the best nutrition for those birds. The land itself is being restored through the use of prescribed burns and regular mowing and discing. Some of the marshes are drained in the fall to promote the growth of feed for wintering birds, then flooded in the winter to provide optimum habitat for those birds.
Cameron Prairie NWR is crossed by the Creole Nature Trail All American Road and is bounded on the south by the Intracoastal Waterway.
Cameron Prairie NWR offers a visitor center with exhibits and an auto-tour route across the property. This being southern Louisiana, visitors need to be aware of the presence of alligators, poisonous snakes and biting fire ants. The refuge is open to the public from 1/2 hour before sunrise to 1/2 hour after sunset daily. The visitor center is open 7:30 am to 4 pm Monday through Thursday, 7:30 am to 3 pm on Friday, and 10 am to 4 pm on Saturday. The office is closed on all Federal holidays. Hiking is generally allowed on the dikes, levees and service roads. Fishing is permitted along Bankfishing Road and associated ditches year round. Hand-launched, non-motorized boats are allowed along Bankfishing Road as long as the boats are launched from Bankfishing Road and its associated parking areas. Fishing is also permitted in Outfall Canal from March 15 through October 15. Hunting is mostly limited to archery hunting in the appropriate seasons. A limited permit youth waterfowl hunting season does happen and shotguns with approved non-toxic shot are allowed on the property only then. Camping, overnight use, glass containers, littering, campfires, cooking fires, portable grills, swimming, wading, feeding or harassing wildlife, disturbing or collecting plants, animals or artifacts, and overnight parking are prohibited.
The Southwest Louisiana National Wildlife Refuge Complex offices are at Cameron Prairie. The Complex administers Cameron Prairie, East Cove, Lacassine, Shell Keys and Sabine National Wildlife Refuges.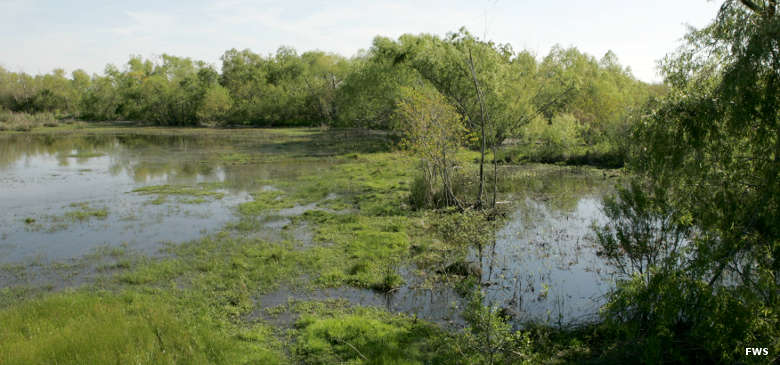 Another marsh view at Cameron Prairie National Wildlife Refuge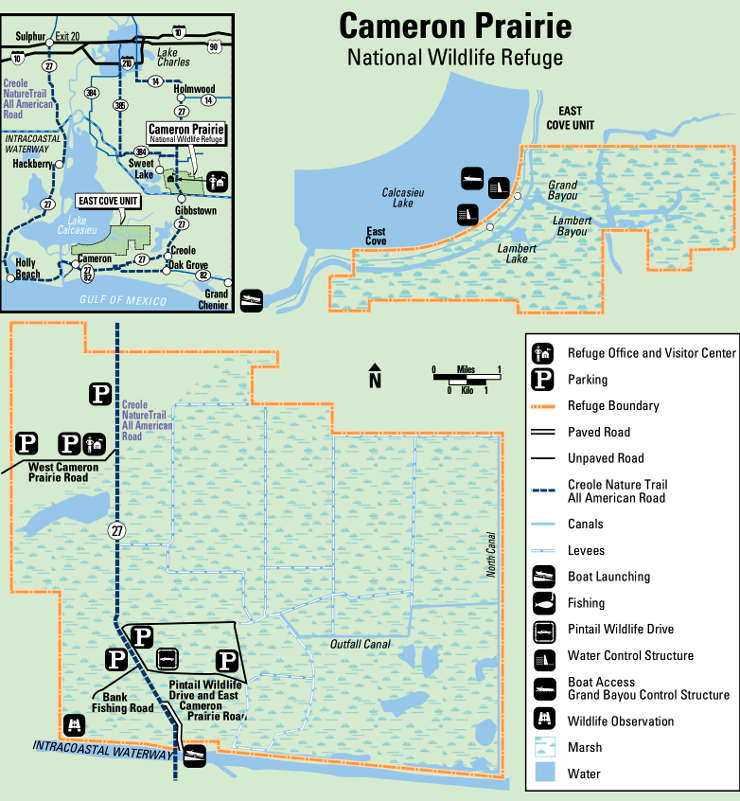 Cameron Prairie National Wildlife Refuge
US Fish & Wildlife Service

Photos courtesy of Steve Hillebrand, US Fish & Wildlife Service
Map courtesy of the US Fish & Wildlife Service