Myakka River State Park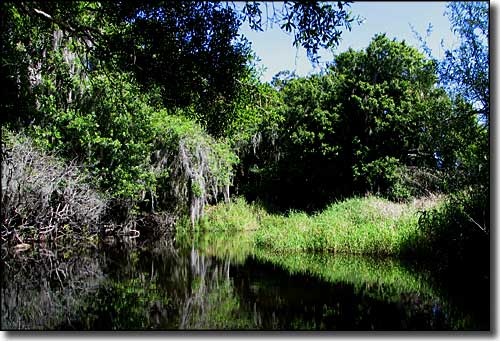 On the Myakka River at Myakka River State Park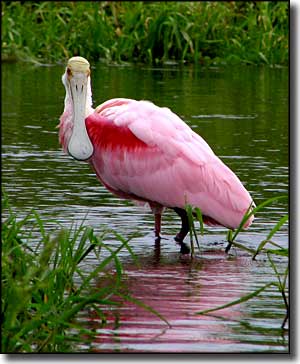 The 37,000-acre Myakka River State Park was a gift to the State of Florida from the sons of Bertha Palmer. Bertha was probably the largest land-owner in the area in the early 1900's, and she used some of her property to develop and establish agricultural practices (farming and ranching) that helped to establish Florida as an agricultural giant in the United States. She also built a resort and her winter retreat in the area.
Myakka River State Park is known for the wide variety of its birds, including some of the rarer tropical species that never go further north than Florida. The Myakka River (a designated Florida Wild & Scenic River) flows through some 58 square miles of pinelands, prairies, hammocks and wetlands here.
There is a whole network of hiking trails across the eastern (dry prairie) side of the park. Along some of these trails you'll find the six primitive campgrounds on Myakka River State Park. Five of them offer on-site water pumps, the Mossy Hammock site doesn't. Certain trails and roads are also designated for use by bikes and horseback riders. The State Park's main road gives access to a boardwalk that leads to the Myakka River and Upper Myakka Lake, both much-loved by bird watchers. There's another trail off the main road leading to the Myakka River Canopy Walkway: a tower and suspension bridge that offer great views of the entire state park and views of the forest canopy below.
Canoeing, boat tours, picnic areas and developed campsites are also available at Myakka River State Park. To get there: Myakka River State Park is 9 miles east of Interstate 75 in Sarasota on State Route 72.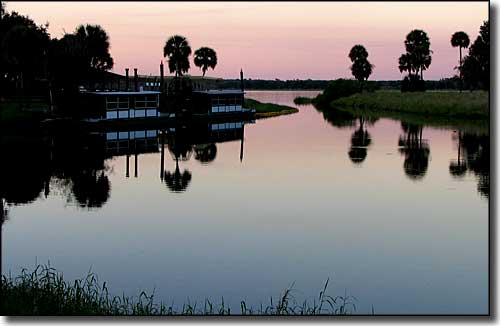 Sunset at the boat basin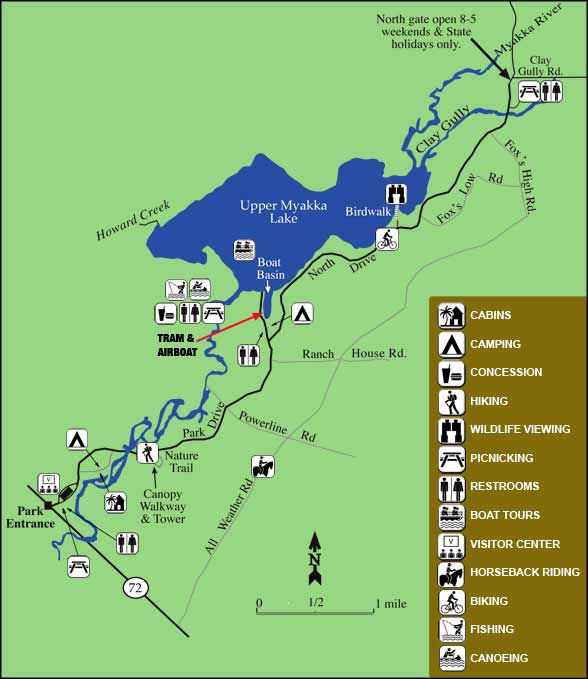 Photos of Myakka River State Park courtesy of Wikipedia userid Mwanner,
CCA-by-SA 3.0 License
Map of Myakka River State Park courtesy of Florida State Parks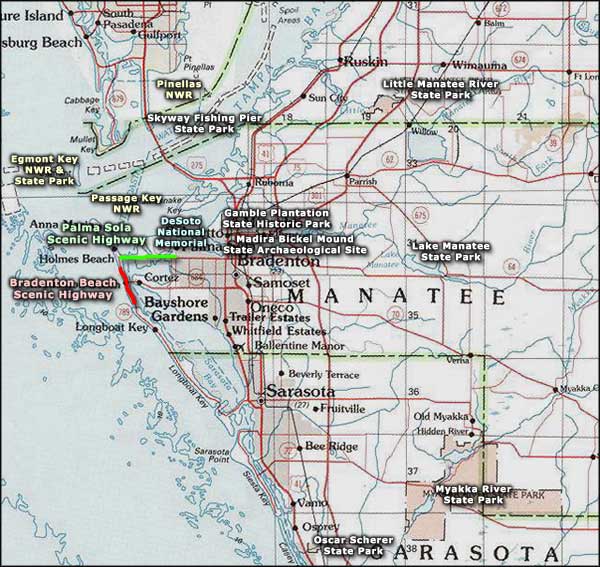 Related Pages
Area map courtesy of National Geographic Topo!