Gamble Plantation Historic State Park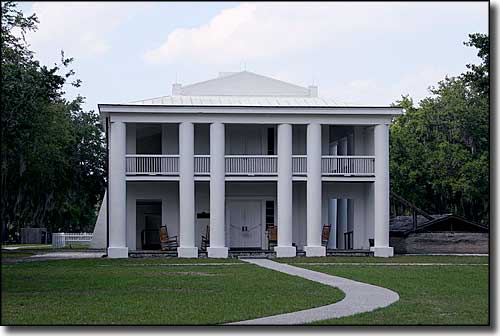 The Gamble Mansion
In the mid-1800's, Major Robert Gamble built this antebellum mansion as his home and the headquarters of his extensive sugar cane plantation. It seems that after the downfall of the Confederacy in 1865, Judah P. Benjamin (Confederate Secretary of State) took refuge here until his safe passage to England could be arranged. The United Daughters of the Confederacy bought the mansion and 16 acres around it in 1925, donating the property to the State of Florida and thereby saving the last plantation house in South Florida for future generations to enjoy. The Gamble Plantation Museum was added to the National Register of Historic Places in 1970.
Gamble himself ran up a huge dept ($190,000 in 1850's money) mostly due to plummeting sugar prices (imported sugar was cheaper). So he sold the property, paid off the debt and moved to north Florida with all his belongings (including the furniture). He put all his stuff in a warehouse, then watched as the warehouse burned to the ground only 13 hours later. The buyer of the plantation was Captain Archibald McNeill, a man who had achieved some fame/notoriety as a Confederate blockade runner. In the early 1900's, the property was falling apart when the United Daughters of the Confederacy bought it.
So when you visit, what you'll see is a well-maintained, wealthy southern gentleman's mansion furnished in period furniture, wall finishes and window coverings. Volunteers give guided tours of the home Thursdays through Mondays, six times a day. The visitor center is open Thursdays through Mondays from 9 am to 4:30 pm, except on Thanksgiving Day, Christmas and New Year's Day. The park itself is open from 8 am til sunset, every day of the year. There are picnic tables available, too, near the mansion. They are open Monday through Thursdays but are closed on Fridays. The Gamble Plantation Historic State Park is located on US Highway 301 in Ellenton, Florida.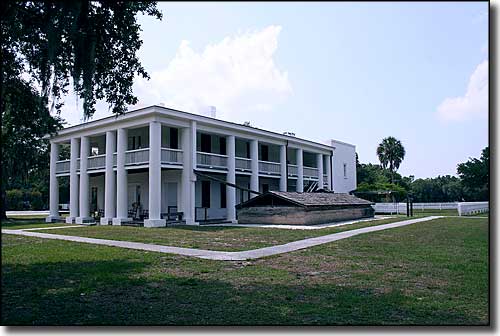 Another view of the Gamble Mansion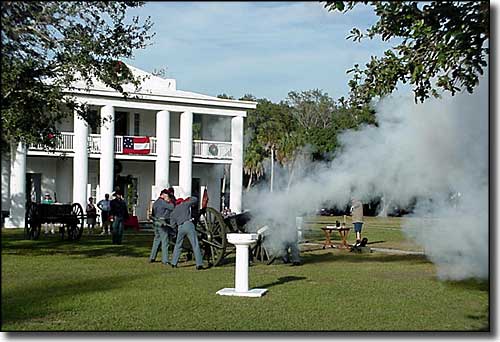 Scene during a Civil War reenactment during the Gamble Plantation Open House
Gamble Plantation Historic State Park
Photos of Gamble Mansion courtesy of Wikipedia userid Jwgloverii,
CCA-by-SA 3.0 License
Photo of Civil War reenactors courtesy of Ginger Corda, Florida State Parks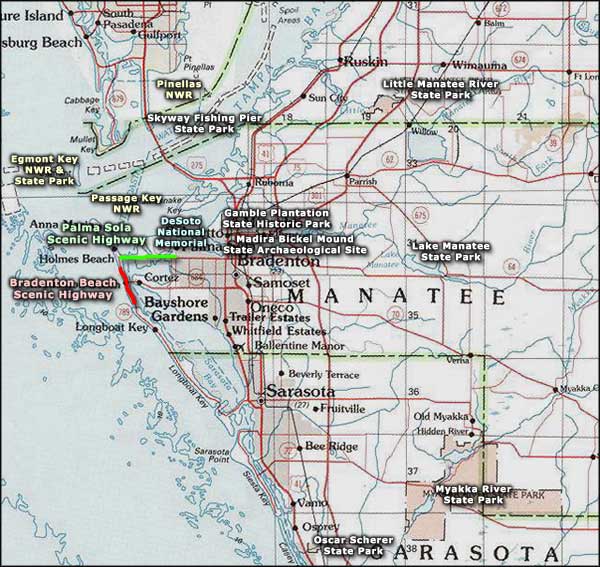 Related Pages
Area map courtesy of National Geographic Topo!