De Soto National Memorial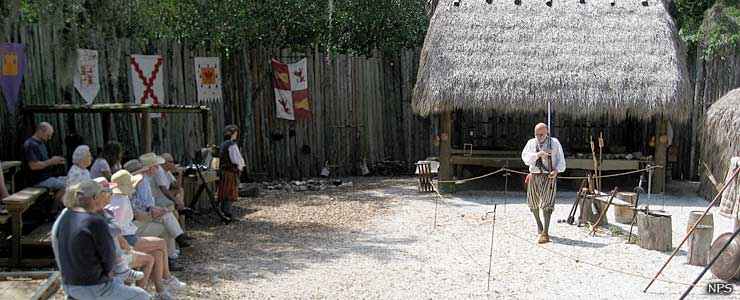 Living history demonstration at Camp Uzita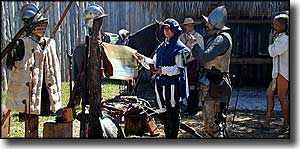 In May, 1539, on orders from Spanish King Charles V, Hernando de Soto landed near Tampa Bay with more than 600 soldiers in nine ships. They brought a herd of pigs, cannon, matchlock muskets, armor, rations, tools, war dogs and 220 horses. Their objective was to "conquer, populate and pacify" La Florida. In reality, they were looking for gold and other treasure to loot but found none. Instead, they spent the next four years wandering from one Native American village to the next, stealing the local food supplies, enslaving the natives as porters and guides and infecting thousands of Native Americans with deadly European diseases that they had no resistance to. De Soto himself didn't survive the journey. This 4,000 mile odyssey through what is now the southeastern United States almost caused the Spanish to abandon the area because of the lack of real spoils.
The De Soto National Memorial was authorized by Congress on March 11, 1948 and listed on the National Register of Historic Places on October 15, 1966. As controversial as De Soto's expedition was, the mission of the memorial is to preserve that story and interpret its significance to American history. On the memorial's 26 acres, visitors can hike a nature trail seemingly untouched since 1539, or try on a piece of old Spanish armor or even attend living history demonstrations at Camp Uzita (from mid-December through Easter Sunday). The theater in the visitor center also runs the movie "Hernando de Soto in America" continuously.
Admission to the visitor center and park is free. The visitor center is open daily from 9 am to 5 pm. Park grounds are open from dawn to sunset but the gates close promptly at 5 pm. The memorial is closed on Thanksgiving, Christmas, New Year's Day and those times when a hurricane might be bearing down on the site. There is no camping allowed and vehicles left overnight will probably be ticketed.
De Soto National Memorial
Photos courtesy of the National Park Service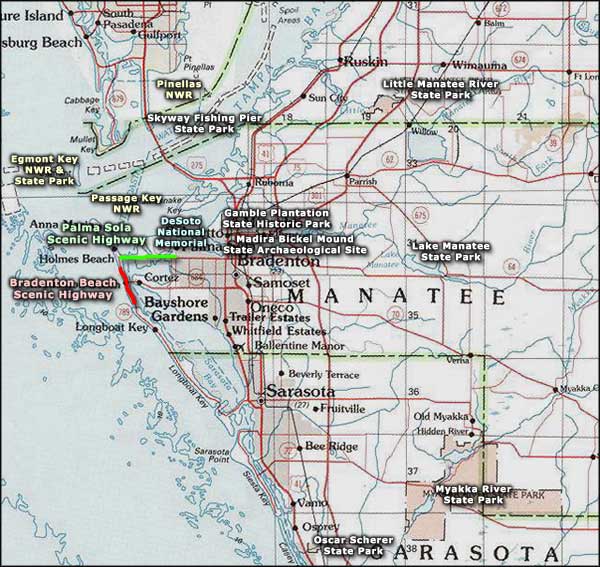 Related Pages
Area map courtesy of National Geographic Topo!