Dominguez-Escalante National Conservation Area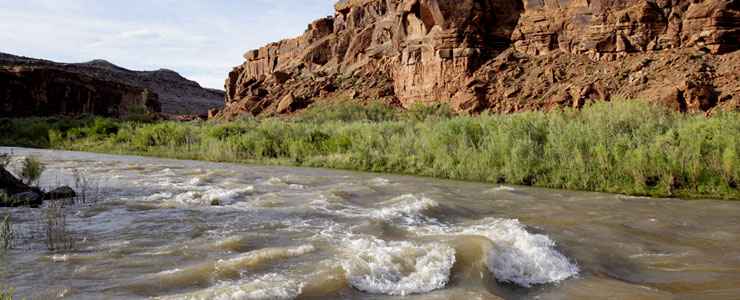 Along the Gunnison River in Dominguez-Escalante National Conservation Area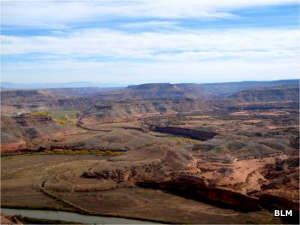 You'll find the 209,610 acres of the Dominguez-Escalante National Conservation Area straddling the boundaries of Montrose, Mesa and Delta Counties in western Colorado. The 66,280 acres of Dominguez Canyon Wilderness are completely within the National Conservation Area.
This area is famous for its scenic value. The sandstone bluffs and red-rock canyons expose geological and paleontological resources dating back some 600 million years. On top of that are many extant cultural and historic sites: These juniper-and-pinon-covered lands are part of the ancestral Ute traditions. The Old Spanish National Historic Trail, a braided trade route in use during the early 1800's, crosses part of the property.
The rivers that flow here started cutting into the landscape back in the days of the Colorado Plateau Uplift, about 65 million years ago. (Technically, this is the Uncompahgre Plateau, a subset of the Colorado Plateau.) The streams carry names like Cottonwood, Escalante, and Little and Big Dominguez Creek. There's also about 30 miles of the Gunnison River contained on the property. Several stretches of the rivers are presently being considered for Wild and Scenic River designation.
For wildlife you'll find mountain lion, black bear, wild turkey, elk, mule deer, golden eagle and collared lizard. Back in the 1990's desert bighorn sheep were re-introduced to the property and the herd has since grown large and strong.
The Dominguez-Escalante National Conservation Area just became a reality in March of 2009. There are several access points to the property including established campgrounds along the northeastern property line, along the Unaweep-Tabeguache Scenic Byway and in Uncompahgre National Forest. There are also a number of trails in the area: just be aware that within the boundaries of Dominguez Canyon Wilderness, only foot and horseback traffic is allowed.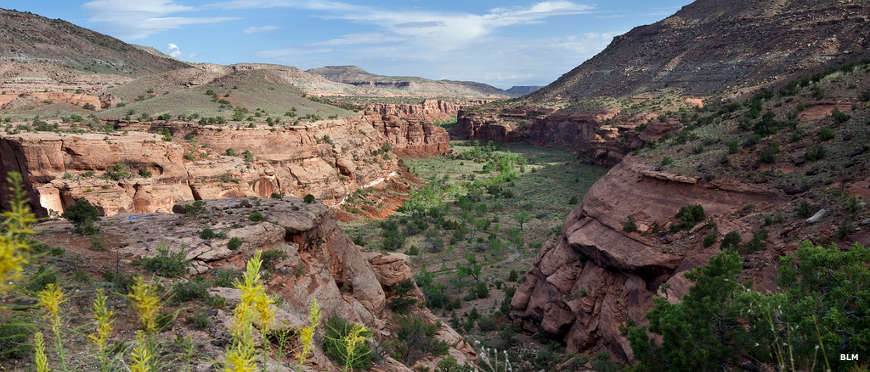 Dominguez Canyon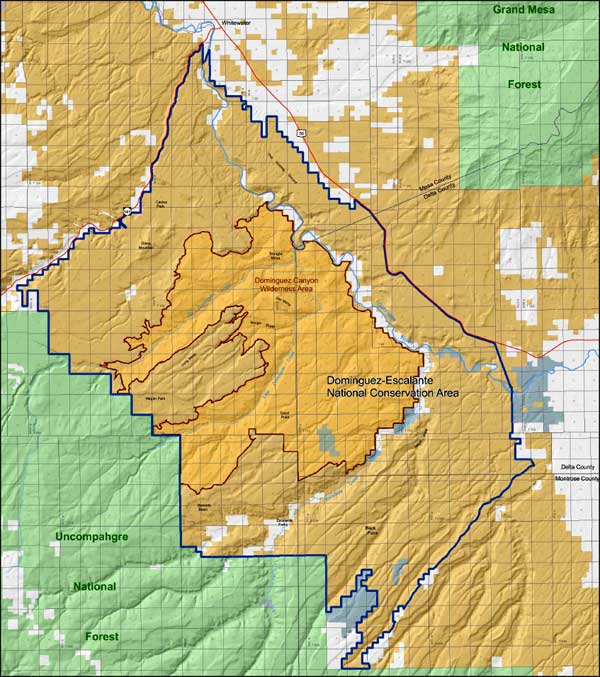 Dominguez-Escalante National Conservation Area
Grand Junction Field Office

Photos and NCA map courtesy of the Bureau of Land Management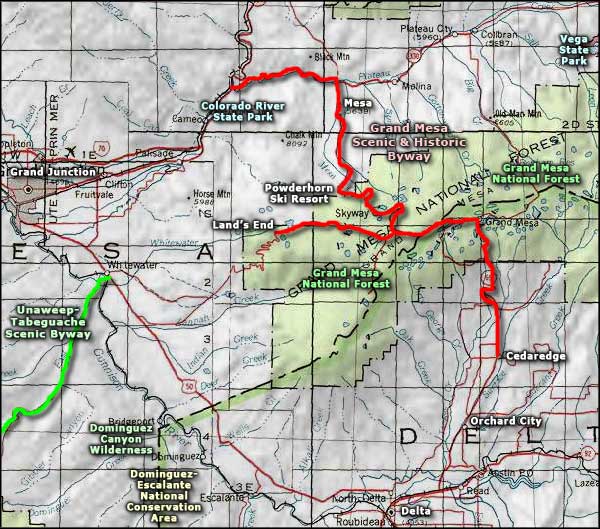 Related Pages
Map courtesy of National Geographic Topo!