James M Robb-Colorado River State Park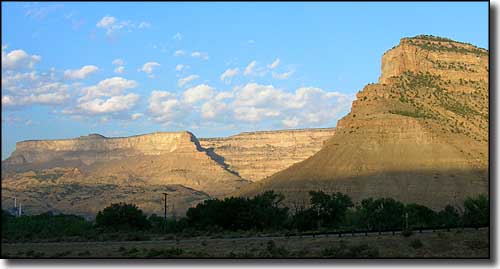 The James M. Robb-Colorado River State Park is a "string of pearls" composed of 5 separate units that stretch along the Colorado River from Debeque Canyon on the east to Fruita on the west. The five sections are (from east to west): Island Acres, Corn Lake, Colorado River Wildlife Area, Connected Lakes and Fruita. Colorado State Parks is working with the communities along this stretch of the Colorado River to build a 35-mile trail system in this river corridor to connect all five sections of the state park.
James M. Robb-Colorado River State Park offers boating, fishing, wildlife viewing, bird watching, hiking, biking and camping. Some campsites offer full electric, water and sewer hook-ups.
At the eastern end of the park you'll find Island Acres. This is an area of cool lakes and turf grass. Island Acres offers swimming, picnicking, fishing, hiking and camping (80 camp sites, 40 with full hook-ups). Several miles downstream is Corn Lake, a popular fishing area. Corn Lake also offers picnicking and hiking and a launch site for boaters and rafters on the Colorado River. There is a 2-mile trail between Corn Lake and the Colorado River Wildlife Area that travels along the river giving access for hiking, fishing and wildlife observation. The Connected Lakes area offers many different trails for hiking, picnicking, bird watching and fishing. At the west end of the park is the Fruita section with a Visitor Center, picnicking, camping (63 camp sites, 22 with full hook-ups), fishing, swimming and a launch site on the Colorado River for boaters and rafters.
Universal access: picnic areas, parking lots and restrooms at Connected Lakes and Corn Lake. Accessible parking areas, restrooms and camp sites at Island Acres and Fruita. Connected Lakes also has 4 sheltered accessible fishing sites while Island Acres and Corn Lake both provide accessible concrete fishing piers.
Anglers need to know that the Colorado River in this area contains several species of endangered fish that if caught, need to be released unharmed immediately. The river also carries some large brown trout and channel catfish. Corn Lake, Fruita and Old Orchard and Roans Pothole at Island Acres are regularly stocked with 10" and bigger rainbow trout. Fruita is also kept stocked with largemouth bass, bluegill and cutthroat trout. There is a self-sustaining population of green sunfish and bullhead catfish at Bullhead Flats in Island Acres. There are also self-sustaining populations of channel catfish, bluegill, crappie and largemouth bass at Corn Lake, Duke Lake, Endangered Fish Lake, Colorado River Wildlife Area and Connected Lakes.
James M. Robb-Colorado River State Park Rules & Regs:
All pets must be under control and on a leash of 6 feet or less in length.
Keep motorized vehicles on designated roadways and parking lots only.
Clean up all your trash. Use the trash receptacles provided.
Fires are allowed only in the grills and fire rings provided.
No glass containers or pets are allowed on any swim beaches.
Any problems: talk to a park ranger.
Office Hours: 8 am to 5 pm
Park Hours: 5 am to 10 pm for day use
James M. Robb-Colorado River State Park

Upper photo courtesy of Colorado Parks and Wildlife