Inyo National Forest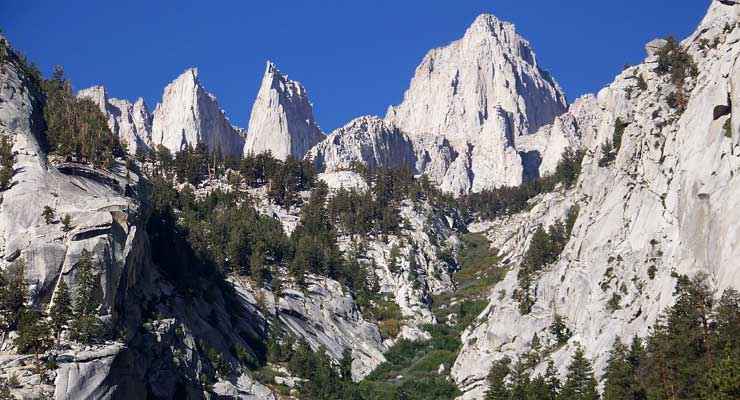 Mount Whitney, Inyo National Forest
Inyo National Forest contains some 1,903,381 acres of mountain splendor on the eastern side of the Sierra Nevada Crest. Portions of the forest spill over into Nevada but the major part is in California. The forest is split into two sections by the Long Valley Caldera and Owens Valley. Yosemite National Park is to the north, Kings Canyon and Sequoia National Parks to the west. Mt. Whitney, highest point in the 48 contiguous states, sits on the boundary between Inyo National Forest and Sequoia National Park. The easiest access to (and route up) Mount Whitney is across the forest. Sierra and Sequoia National Forests are to the west, Eldorado and Stanislaus National Forests to the north and northwest.
Inyo National Forest is estimated to contain about 238,000 acres of old growth forest, mostly Jeffrey Pine and lodgepole pine. The forest is also home to the Ancient Bristlecone Pine Forest, one member of which is named "Methuselah" and is estimated to be almost 5,000 years old.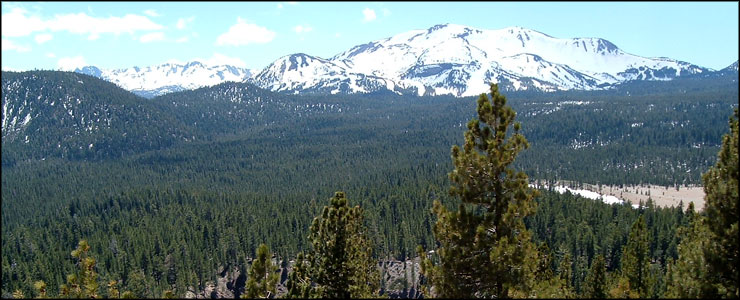 Mammoth Mountain from the Inyo Craters area
The Mono Basin National Forest Scenic Area covers the heart of Mono Basin, an area centered around Mono Lake, a large inland sea in the midst of an ocean of sagebrush ringed by towering peaks. Mono Basin is a high desert landscape where the water is saltier than the ocean and as alkaline as household ammonia. That has bred a fragile ecosystem filled with plants and animals found nowhere else on Earth. Unusual in the lake is a huge population of brine shrimp that feed up to two million migratory birds that pass through the area every spring and fall. At the same time, the lake's waters are too alkaline for native fish to survive and attempts by the state to stock fish have never been successful.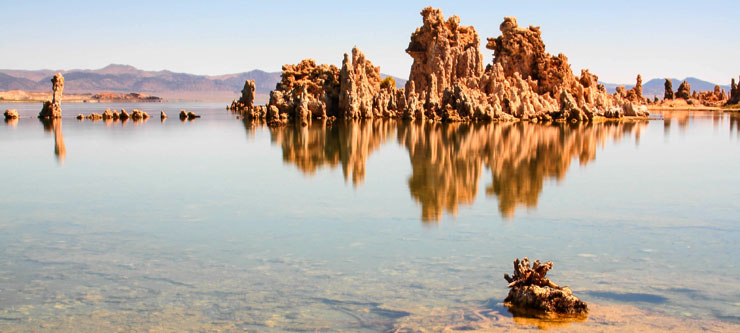 Limestone tufa formations in Mono Lake
Inyo National Forest was established in 1907 from eastern sections of the Sierra Forest Reserve. Land from the former Mono National Forest was added on July 1, 1945.
"Inyo" comes from a Native American word meaning "dwelling place of the Great Spirit."
Among the 60,700 acres of forest across the state line in Nevada you'll find Boundary Peak (at 13,147 feet, the highest point in Nevada - however, Boundary Peak is a sub-peak of Montgomery Peak (13,441 feet) which is in California).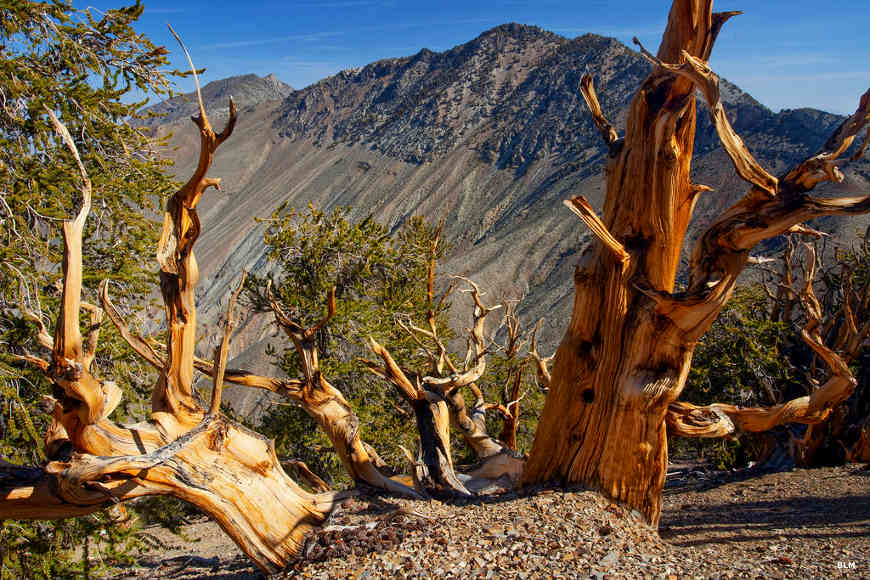 Ancient Bristlecone pines on Inyo National Forest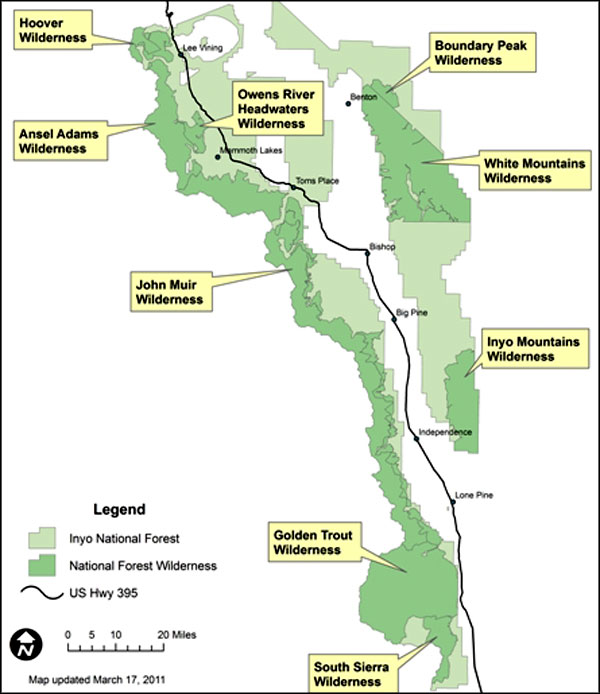 Wilderness areas on Inyo National Forest
Inyo National Forest
US Forest Service
Top photo is courtesy of Wikipedia userid Cullen328,
CCA 3.0 License
Mono Lake photo courtesy of Henry Lydecker,
CCA 3.0 License
Mammoth Mountain photo courtesy of Kimberly Furgerson, USFS
Bottom photo courtesy of the Bureau of Land Management
Map courtesy of the US Forest Service