Golden Trout Wilderness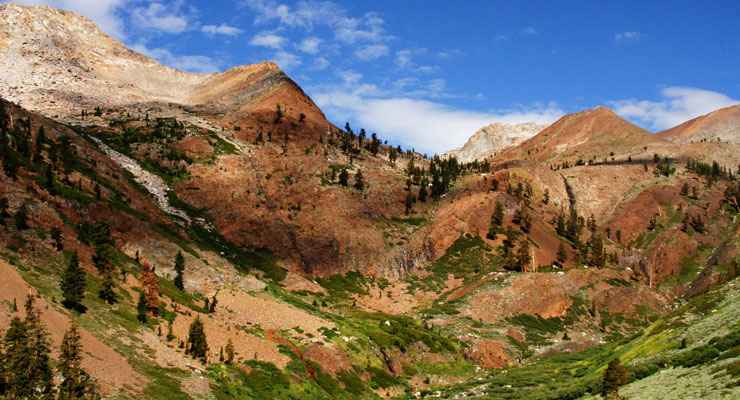 Farewell Gap in Golden Trout Wilderness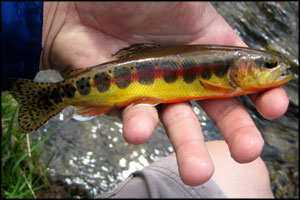 Golden trout
Golden Trout Wilderness is a 303,511-acre parcel in the southern Sierra Nevadas. The name comes from the California state fish and the property protects a large section of the golden trout's favorite habitat.
Elevations in the wilderness vary from about 680 feet to 12,894 feet at the summit of Cirque Peak. The wilderness straddles portions of the Kern Plateau with the Sierras rising to the northwest and the northeast above the main stem of the Kern River. The northwest area is characterized by a large drainage basin surrounded by high, jagged peaks. A good portion of the wilderness is above treeline with a forest of red fir and lodgepole and foxtail pines below that. Middle elevations are covered with an extensive Jeffrey pine forest interspersed with large meadows, lower elevations with pinon pine and juniper woodlands.
Golden Trout Wilderness is bordered by John Muir Wilderness to the northeast, Kings Canyon-Sequoia Wilderness to the north, John Krebs Wilderness to the northwest and South Sierra Wilderness to the south. Management of Golden Trout Wilderness is split between Sequoia National Forest and Inyo National Forest.
The Kern Plateau is a 500,000 acre plateau that has been a center of controversy between preservationists and multiple-use advocates since 1947. A multiple-use plan put forward in 1956 included a proposal to sell timber in the area. That caused a couple roads to be built into the formerly roadless area and eventually reduced the amount of land that qualified for wilderness designation. At the same time, the battle over use/preservation grew into something that has touched public lands all over the country. Part of the impetus for the final wilderness designation came from the presence of two native sub-species of the golden trout: the South Fork Kern golden trout and the Little Kern golden trout. Pure-strain Little Kern golden trout only exist in isolated populations upstream of natural fish barriers in the Little Kern drainage and are listed under the federal Endangered Species Act.
There are about 379 miles of developed trails on Golden Trout Wilderness, including a 25-mile section of the Pacific Crest National Scenic Trail that stays above 10,000 feet for most of its transit across the wilderness. Some of the trails access historic sites in the wilderness and one travels 12 miles to the Jordan Hot Springs along Ninemile Creek. The hot springs remain after volcanic activity that created Groundhog Cone and the Golden Trout Volcanic Field. Wilderness permits are required for all overnight use of the wilderness and there are daily trail quotas in effect in some areas. There is also a long-standing ban on campfires along most of the Pacific Crest Trail and in the Rocky Basin Lake area.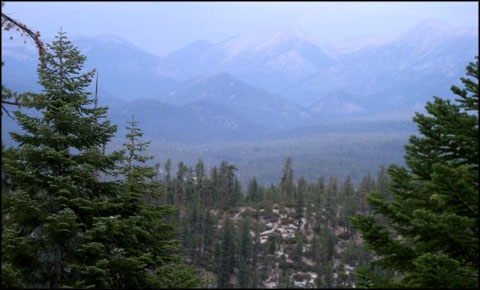 A view in the heart of Golden Trout Wilderness
Top photo courtesy of Jeremy Francis,
CCA 2.0 License
Other photos are in the public domain