South Sierra Wilderness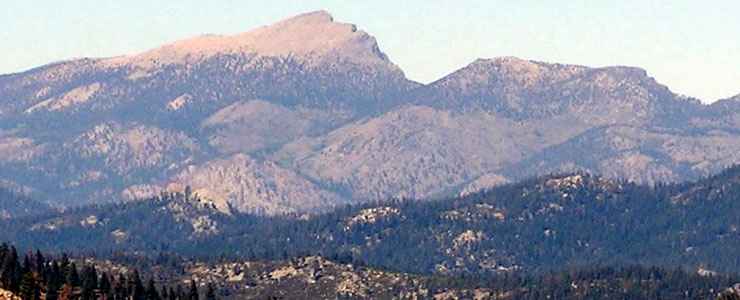 Olancha Peak in the South Sierra Wilderness
South Sierra Wilderness is a 60,084-acre property at the southern end of a virtually unbroken chain of protected areas stretching along the crest of the Sierra Nevadas from Lake Tahoe in the north to Walker Pass in the south. Elevations on South Sierra Wilderness range from about 6,100' at Kennedy Meadows to 12,132' at the summit of Olancha Peak. The east side of the wilderness area is bisected north/south by the Wild and Scenic South Fork Kern River. The Golden Trout Wilderness borders South Sierra Wilderness on the north with Domeland Wilderness across the access road to Kennedy Meadows on the south. It's on South Sierra Wilderness that the Sierra Nevada crest rises far above treeline for the last time at the southern end of the range.
The northern portion of South Sierra Wilderness is east of the Sierra Nevada crest in Inyo National Forest and is characterized by rugged mountains rising above deep canyons, an arid landscape spotted with pinon pine and juniper. The rest of the wilderness is west of the Sierra Nevada crest in Sequoia National Forest where the terrain is more gentle and easier to travel. The southern portion is dominated by the Kern Plateau, an area of low, forested ridges and narrow meadows forested with stands of Jeffrey pine, red fir and lodgepole pine.
There are six trailheads that feed to about 30 miles of trails in the wilderness. The Kennedy Meadows campground offers access to the Pacific Crest National Scenic Trail and is the only developed campground on the property. Other than long haul hikers on the Pacific Crest Trail, the majority of wilderness users are hunters coming in the fall.
South Sierra Wilderness
Inyo & Sequoia National Forests -

US Forest Service