Domeland Wilderness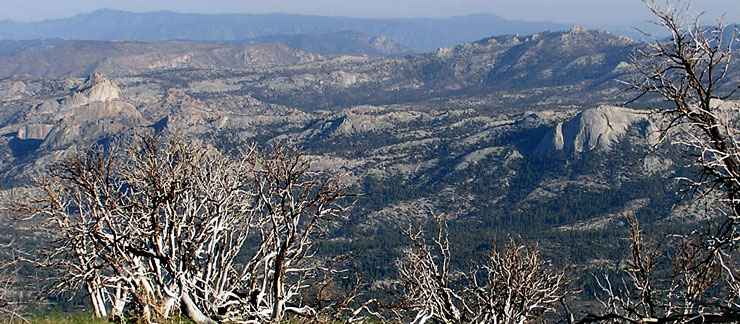 Domeland Wilderness from Bald Mountain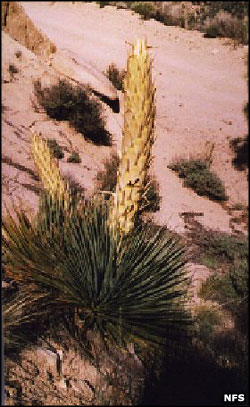 Parrys Beargrass
Domeland Wilderness was established by the Wilderness Act of 1964 and included property mostly within the bounds of Sequoia National Forest. The California Desert Protection Act of 1994 added another 36,000 acres of BLM land to the property making a total of 130,081 acres. The wilderness is cooperatively administered by the USDA Forest Service and the Bureau of Land Management. A wildfire in July of 2000 burned more than half the wilderness area.
Elevations in Domeland Wilderness vary from a low around 2,800 feet to a high of 9,977 feet. This is on the southern part of the Kern Plateau with the Wild and Scenic South Kern River running through the wilderness from north to south. The highest area of the Kern Plateau is in the heart of Domeland Wilderness with large expanses of bedrock sporting spires, cliffs and the granite domes that give the wilderness its name. Interspersed among the rock formations are mixed conifer forests of Jeffrey pine and white fir rising to large stands of Limber and foxtail pine in the higher elevations. The northern boundary is defined by a high ridge, the western boundary by a broken granite ridge, the eastern boundary by steep glacier-carved cirques in the high Sierras. While there are plenty of large mammals to be aware of in the wilderness, the biggest problem for humans is the heavy density of rattlesnakes in the area of the South Fork Kern River.
Rising from the Mojave Desert (just north of Bakersfield) into the Sierras, this is a hot, dry area that sees little human visitation in the summer months. Most folks come to hike or rock climb in the fall and spring and cross-country ski and snowshoe in the winter. There are 10 trailheads giving access to about 45 miles of trails on the property with the Domeland Trail being the primary route to the most rugged and rocky part of the wilderness, the area the rock climbers find most irresistible with a significant number of seldom-climbed Class 5+ routes begging for attention. The Pacific Crest National Scenic Trail runs along the valley of the South Fork Kern River for about seven miles across the wilderness. The Rockhouse Trail takes up where the PCT drops off and continues along the river for another four miles. To get to higher elevations, one needs to be prepared to ford the river.
Top photo courtesy of Justin Johnsen,
CCA-by-SA 2.0 License
Upper left photo courtesy of the US Forest Service