Hoover Wilderness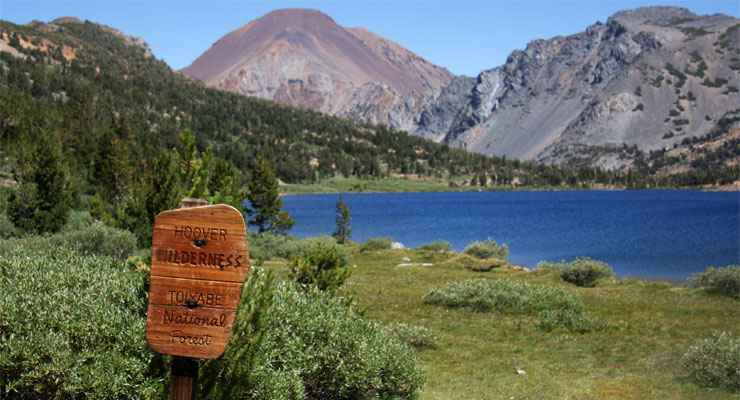 Summit Lake in Hoover Wilderness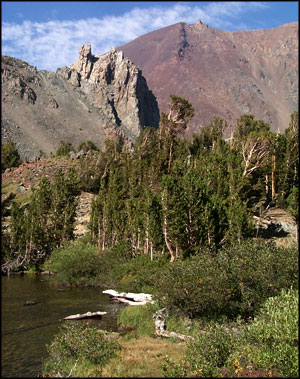 Hoover Wilderness is a 124,468-acre property straddling the boundaries of Inyo and Humboldt-Toiyabe National Forest east of the Sierra Crest, east and north of Yosemite National Park. Hoover Wilderness is a long, narrow strip of land running from Tioga Pass on the south almost to Sonora Pass on the north. Yosemite Wilderness is immediately to the west.
Most folks access Hoover Wilderness from trailheads to the east (especially the Virginia Lakes area) or off the Sonora Pass or Tioga Pass roads. Access from the west is hard due to the remoteness and lack of other trails in the area.
Hoover Wilderness is a rugged area with magnificent scenery but is characterized by a lack of timber: the popular 20 Lakes Basin has a long-standing ban on campfires because of that scarcity of firewood. There are also several alpine lakes in the area, most stocked with brook, rainbow and golden trout.
Hoover Wilderness does have a well-maintained trail system and because of the proximity to Yosemite, many of the trails see a lot of use. To travel from Hoover into Yosemite you'll need to have a National Parks permit. Overnight campers would do well to hang their food at night as the area also has a good population of black bears. If you travel in the wilderness with stock, you'll need to pack in all your (certified weed-free) feed. The area with least human intrusion is in the northern part of the property.
Hoover Wilderness began existence as the Hoover Primitive Area, named after President Herbert Hoover by the National Forest Service in 1931. That designation was changed to Hoover Wild Area in 1956 and then Hoover Wilderness in 1964 with passage of the Wilderness Act. As there were some grazing permits on the property before the Wilderness Act came into effect, hikers might still come across sheep and cattle in some areas.