Sierra National Forest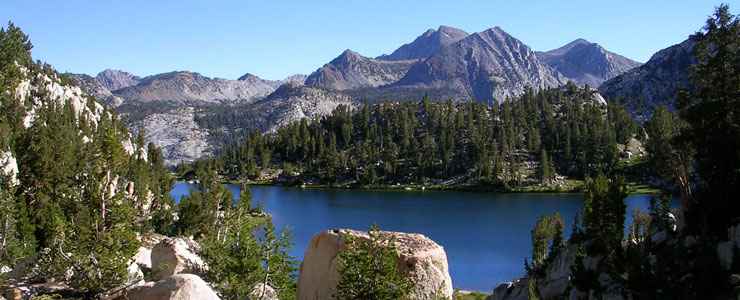 Lake of the Lone Indian, John Muir Wilderness, Sierra National Forest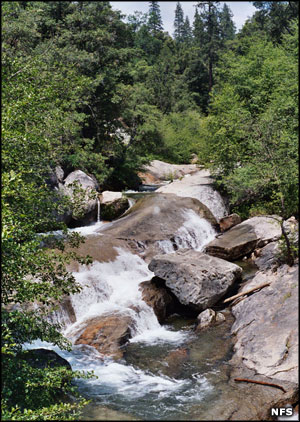 Sierra National Forest is now a 1,300,000-acre property that stretches out along the spine of the central Sierra Nevada Mountains in eastern California. The original Sierra Forest Reserve was created by President Benjamin Harrison on February 14, 1893 and contained some 6,000,000 acres. In 1897 the forest reserve was split into North and South halves and when the administrative change was made to the National Forest System in 1907, the name of the southern section was changed to Sierra National Forest. Then Kings Canyon and Sequoia National Parks were separated from the forest. Eastern sections of the forest became parts of Inyo and Toiyabe (now Humboldt-Toiyabe) National Forests. Northern sections were broken off and became Stanislaus National Forest and Yosemite National Park. Sequoia National Forest is to the south.
Elevations on Sierra National Forest range from 900 feet in the western foothills of the Sierra Nevadas to 13,986 feet on the Sierra Crest. The landscape is a mix of rolling foothills, ever-steeper mountainsides rising above deep valleys and craggy, glaciated alpine terrains above treeline. Species of plants and animals vary with the elevation with a foothill woodland zone from 1,000 to 3,000 feet (a mix of interior live oak and chaparral), lower montane zone from 3,000 to 7,000 feet (Yellow pine, manzanita, juniper), upper montane zone from 7,000 to 9,000 feet (lodgepole pine, Jeffrey pine, red fir), subalpine zone from 9,000 to 9,500 feet (whitebark pine, mountain hemlock) and the alpine zone above 9,500 feet (krummholz, tundra). Sierra National Forest also contains about 338,000 acres of old-growth forest (mostly lodgepole pine and red fir). There are also several groves of Giant Sequoias in the middle elevations.
Sierra National Forest is distinguished by many high elevation lakes surrounded by towering conifers, and huge granite monoliths rising above deeply carved river valleys. There's everything from desertic grasslands to thick evergreen forest to sub-alpine meadows. Nearly 50% of the forest area is contained in designated wilderness and more than a thousand miles of hiking trails to give access to it all. Large mammals on the forest include black bear, mule deer and mountain lion. Sierra National Forest also offers several developed group campgrounds and many developed campgrounds for individuals, smaller groups and families. Dispersed camping is available almost everywhere but you'll need to check locally to see about any fire, camping area and trail restrictions that might be in place: because of the amenities offered and relative proximity to major centers of population, the forest is an extremely popular place for folks to hang out...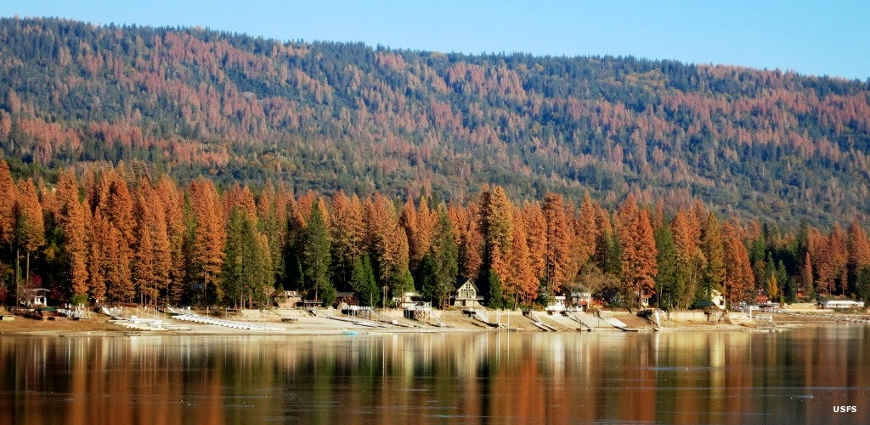 Bass Lake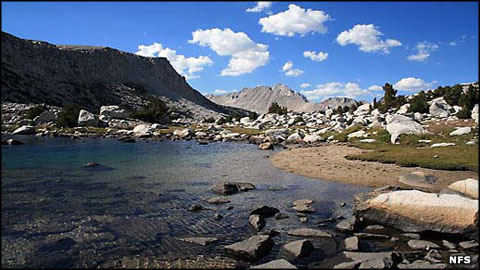 In French Canyon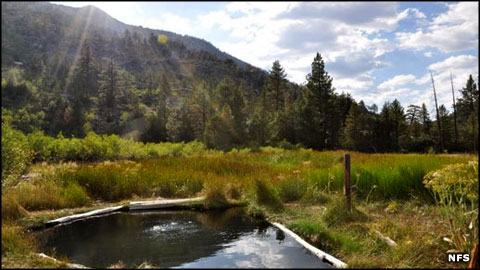 In the Mono Hot Springs area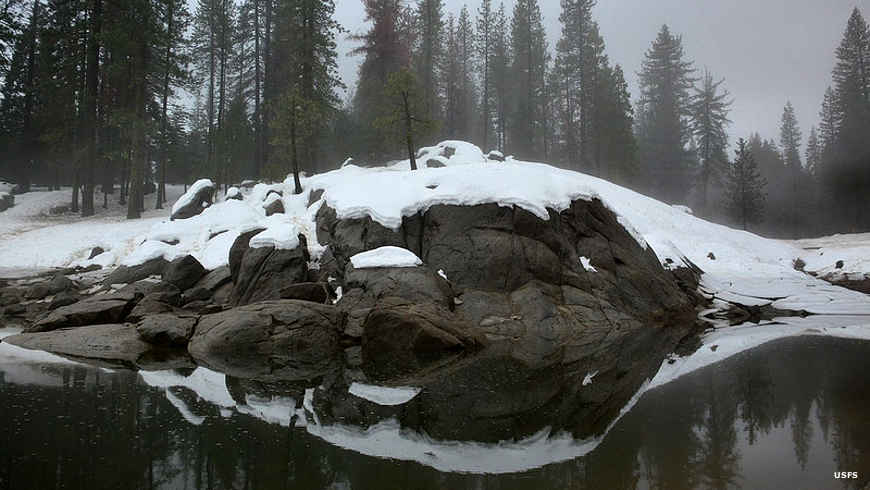 A winter view at Shaver Lake

Lake of the Lone Indian photo is in the public domain
Other photos and map are courtesy of the US Forest Service