Monarch Wilderness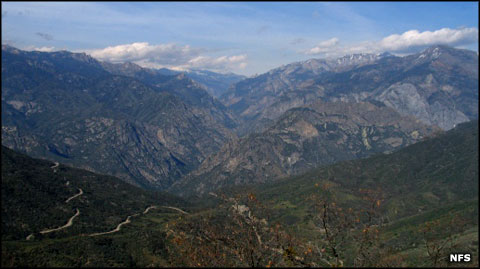 An overview of Monarch Wilderness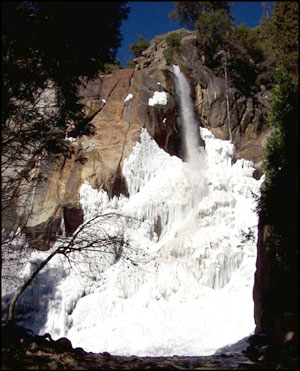 Monarch Wilderness is a 44,896-acre property straddling the boundary of Sequoia and Sierra National Forests in the Sierra Nevadas east of Fresno. The property was designated the High Sierra Primitive Area in the 1930's and became Monarch Wilderness with passage of the California Wilderness Act of 1984.
Adjacent to Monarch Wilderness are the Oat Mountain Roadless Area, Agnew Roadless Area and Kings Range Special Management Area, all of which are contained in the Monarch Wilderness Complex with the wilderness area proper. Monarch Wilderness is also bordered by Sequoia-Kings Canyon Wilderness to the east and the John Muir Wilderness to the north.
Monarch Wilderness is separated into a north and south unit by the passage of State Route 180. The north unit is larger and contains the Middle Fork of the Kings River gorge (about 6,000' deep), the Tombstone Ridge (which peaks at 9,071' on the summit of The Obelisk), Wren Peak (9,450'), Mount Harrington (11,009') and an unnamed summit with a high point at 11,081'. The elevation difference between the highest and lowest points on the unit is about 8,700'. The south unit was formerly part of the Agnew Roadless Area and contains several groves of giant sequoias including the Agnew Grove, one of the few major groves in the Sierras outside the boundaries of Sequoia-Kings Canyon National Parks.
Monarch Wilderness is characterized by high ridges standing above deep canyons with numerous streams, shallow lakes, mountain meadows and spectacular multicolored rock formations throughout. Vegetation changes with elevation, beginning with brush and oak woodlands below rising through pines and red fir to giant sequoias in the high country.
The north unit requires permits for overnight use while the south unit does not. The main trail in the north unit is the Deer Cove Trail, 9 miles long and leading to the Monarch Divide. A good portion of the north unit has no trails and is extremely difficult for hiking. The south unit has three trailheads that give access to three trails into the heart of the wilderness... but all are steep and strenuous. It's the sheer ruggedness of the terrain that has historically kept visitation light in spite of the fact State Route 180 gives direct access to the wilderness. Deer Cove Trail, for instance, rises 3,000 feet in four miles...
Monarch Wilderness
Sequoia & Sierra National Forests -

US Forest Service
Top photo courtesy of the US Forest Service
Upper left photo courtesy of Frank Gruhot via Wilderness.net