San Juan Islands National Wildlife Refuge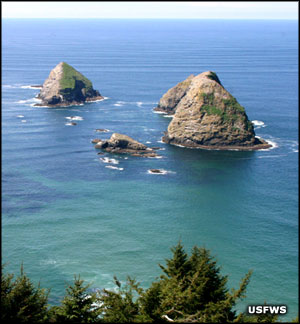 San Juan Islands National Wildlife Refuge is a collection of 83 uninhabited islands in the San Juan Archipelago scattered around the Salish Sea north of Puget Sound in the state of Washington. Altogether, the combined acreage of the islands is 454 acres and they are spread across more than 650 square miles of water. Of that, all but two islands are also classed as wilderness for a total of 353 acres. In those wilderness areas, access is allowed up to 200 yards offshore so as not to disturb the wildlife. Visitors are not allowed to land. The other two islands, Turn Island and Mattia Island, are part of the Washington State Park system and are managed jointly by Washington State Parks and the US Fish & Wildlife Service.
The islands themselves range from bare rocks sticking out of the sea to grassy and forested knobs, some with those sheer high cliffs favored by many nesting marine birds. Among the birds found here are cormorant, gull, puffin, guillemot, oyster catcher, black brant, rhinoceros auklet, bald eagle and killdeer. Among the marine mammals that haul out on the beaches are harbor seals, sea lions and sea otters. Whales are common in the surrounding waters during their spring and fall migrations.
Matia Island is a 145-acre island that allows human visitors. The island has a 5-acre Marine State Park with a dock in a cove and offers a campground with a 1-mile trail through the wilderness. Turn Island is also a Marine State Park and sees considerable human visitation. None of Turn Island is part of the wilderness area.
Copalis National Wildlife Refuge, Quillayute Needles National Wildlife Refuge, Flattery Rocks National Wildlife Refuge, San Juan Islands National Wildlife Refuge, Dungeness National Wildlife Refuge and Protection Island National Wildlife Refuge are administered as the Washington Maritime National Wildlife Refuge Complex.
San Juan Islands National Wildlife Refuge
US Fish & Wildlife Service
Photos courtesy of the US Fish & Wildlife Service