Flattery Rocks National Wildlife Refuge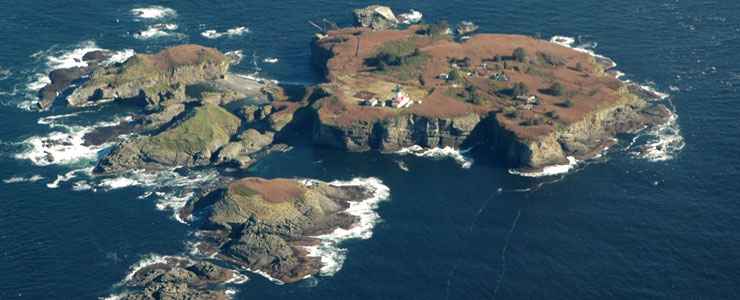 Tatoosh Island, just north of Flattery Rocks National Wildlife Refuge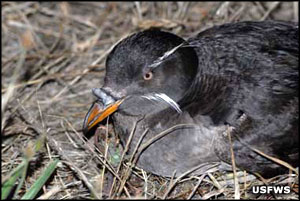 A rhinoceros auklet
Flattery Rocks National Wildlife Refuge is a collection of some 400 coastal rocks and reefs that stretch from Cape Flattery south to Lake Ozette. The majority of the land area is basic bare rocks sticking out of the water but there are a few islands that offer grass, salmonberry, salal and a very few stunted conifers. The entire refuge is included in the Washington Islands Wilderness and all are closed to the public to protect bird nesting and roosting sites. Visitors can observe from the mainland and from boats, as long as the boats remain at least 200 yards offshore and don't disturb the wildlife.
About 150,000 seabirds and shorebirds nest on these islands every year. In season, migrating birds can push that population to more than one million. Among the birds seen regularly: common murre, black oystercatcher, fork-tailed-storm petrel, Leach's storm petrel, tufted puffin, rhinoceros auklet, western gull, glaucous-winged gull, pelagic cormorant, Brandt's cormorant, pigeon, guillemot, Cassin's auklet and double-crested cormorant. Bald eagles and peregrine falcons roost on the islands in winter. The area is also frequented by marine mammals such as harbor seals, sea otters, whales and as many as 500 Steller sea lions.
Along the ocean section of Olympic National Park, there are interpretive panels at Rialto Beach, Ruby Beach, Lake Ozette, Klalock and Second Beach that offer information about Flattery Rocks National Wildlife Refuge and what you can see of the refuge from those points.
Flattery Rocks National Wildlife Refuge was originally the Flattery Rocks Reservation, established by executive from President Theodore Roosevelt in 1907. The area was renamed by President Franklin Delano Roosevelt in a proclamation signed on July 25, 1940. The refuge is within the boundary of the Olympic Coast National Marine Sanctuary and sections of it are within the boundaries of Olympic National Park.
Copalis National Wildlife Refuge, Quillayute Needles National Wildlife Refuge, Flattery Rocks National Wildlife Refuge, San Juan Islands National Wildlife Refuge, Dungeness National Wildlife Refuge and Protection Island National Wildlife Refuge are administered as the Washington Maritime National Wildlife Refuge Complex.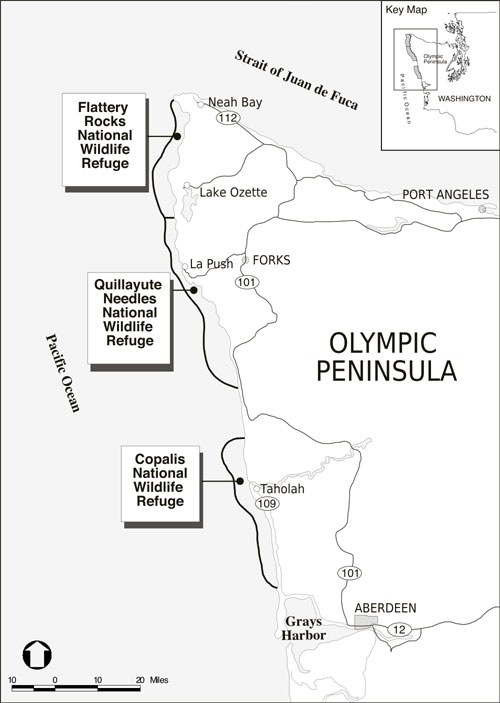 The Washington Islands Wilderness Refuges
Flattery Rocks National Wildlife Refuge
US Fish & Wildlife Service
Upper photo courtesy of Andy Karmy,
CCA 2.0 License
Upper left photo and map courtesy of the US Fish & Wildlife Service