Quillayute Needles National Wildlife Refuge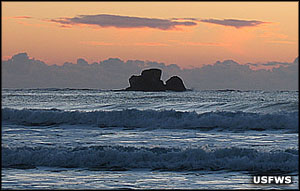 Quillayute Needles National Wildlife Refuge stretches along the Washington coast from Hand Rock south to below Destruction Island. 300 acres of the land space (everything except Destruction Island) has been included in the Washington Islands Wilderness. The whole refuge is surrounded by the Olympic Coast National Marine Sanctuary and parts of the refuge are included in Olympic National Park.
Thousands of sea and shorebirds nest and roost on these islands. The entire Washington Islands Complex contains the largest nesting and roosting colonies between California and Alaska. The area also sees significant numbers of whales passing through in the spring and fall migration seasons. There are also significant numbers of harbor seals, sea otters and Steller sea lions that haul out on the beaches year-round. Winter sees an influx of peregrine falcons and bald eagles.
The refuge was first set aside by President Theodore Roosevelt on October 23, 1907 as the Quillayute Needles Reservation. The name was changed by President Franklin Delano Roosevelt on July 25, 1940 by presidential proclamation. James Island (almost in the center of the designated refuge area) was returned to the Quileute Nation in 1966 when the US Department of the Interior decided the island was within the bounds of the Quileute Indian Reservation.
Copalis National Wildlife Refuge, Quillayute Needles National Wildlife Refuge, Flattery Rocks National Wildlife Refuge, San Juan Islands National Wildlife Refuge, Dungeness National Wildlife Refuge and Protection Island National Wildlife Refuge are administered as the Washington Maritime National Wildlife Refuge Complex.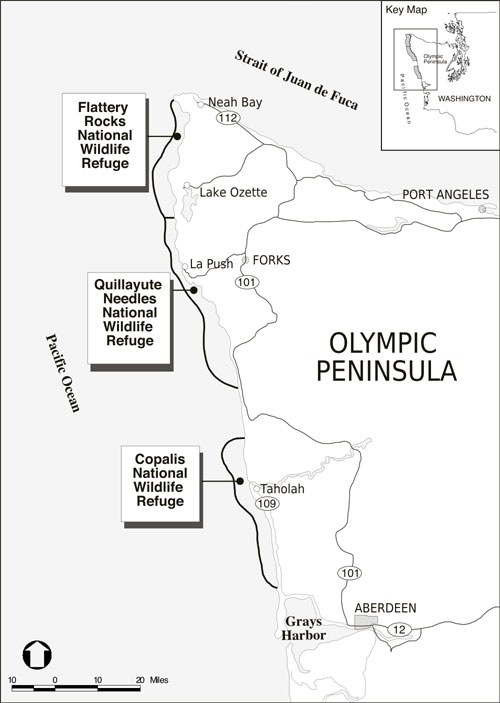 The Washington Islands Wilderness Refuges
Quillayute Needles National Wildlife Refuge
US Fish & Wildlife Service
Photo and map courtesy of the US Fish & Wildlife Service