Dungeness National Wildlife Refuge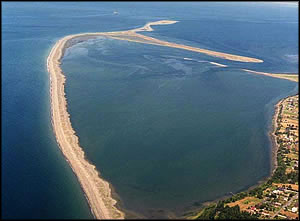 Dungeness Spit
Dungeness National Wildlife Refuge is a 772-acre property near the town of Sequim on the Strait of Juan de Fuca in northwest Washington. Included in the National Wildlife Refuge are Dungeness Spit, Graveyard Spit, and portions of Dungeness Harbor and Bay. Although it is very narrow, the 5.5-mile-long Dungeness Spit is one of the world's longest natural spits. Near the end of Dungeness Spit is the New Dungeness Light, a lighthouse built in 1857 and still in operation. President Woodrow Wilson signed the paperwork establishing the Dungeness National Wildlife Refuge in 1915.
The bay and the estuary at Dungeness National Wildlife Refuge support harbor seals, shorebirds, waterfowl, wading birds, and crabs, clams and other shellfish. Among the fish in the waters are coho, Chinook, pink and chum salmon. Beyond that there are 41 species of land mammals, 8 species of marine mammals and more than 250 species of birds that either visit regularly or hang out for extended periods of time. Dungeness Harbor and Bay often see between 5,000 and 8,000 black brant between late October and early May. On the ends of Graveyard and Dungeness Spits are where the harbor seals like to rest and birth their pups.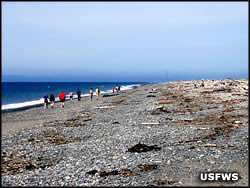 The National Audubon Society has classed Dungeness National Wildlife Refuge as an Important Bird Area. The Refuge is also significant because of the number of birds who stop in that actually breed as far away as northern Alaska and southern South America.
Portions of Dungeness National Wildlife Refuge are closed to provide undisturbed sanctuary for wildlife during times of nesting, resting and feeding. Graveyard Spit was designated as a Research Natural Area in 1990 because of the unique vegetation. That means that natural processes are allowed to happen with no human interference beyond the studying of those processes.
Humans are allowed to visit many areas of the refuge, including taking the hike out Dungeness Spit to visit (and perhaps tour) the New Dungeness Light. People are asked to stay on the established trails, and stay off the bluffs because they tend to be unstable.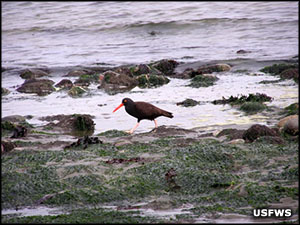 Dungeness National Wildlife Refuge is open from sunrise to sunset every day. The daily entrance fee is $3 per family, 16 years and younger get in free. The climate is temperate with average annual rainfall of about 16 inches and snowfall of about 3 inches. Most precipitation happens between October and February. The area generally sees much more sunshine than other areas around Puget Sound, probably because the site is in the rainshadow northeast of the Olympic Mountains. The refuge is located at the end of Voice of America Road in Sequim. Access is through the Dungeness Recreation Area, a county park with a campground.
Copalis National Wildlife Refuge, Quillayute Needles National Wildlife Refuge, Flattery Rocks National Wildlife Refuge, San Juan Islands National Wildlife Refuge, Dungeness National Wildlife Refuge and Protection Island National Wildlife Refuge are administered as the Washington Maritime National Wildlife Refuge Complex.
Dungeness National Wildlife Refuge
US Fish & Wildlife Service
Upper left photo courtesy of the Washington State Department of Ecology
Other photos courtesy of the US Fish & Wildlife Service