Copalis National Wildlife Refuge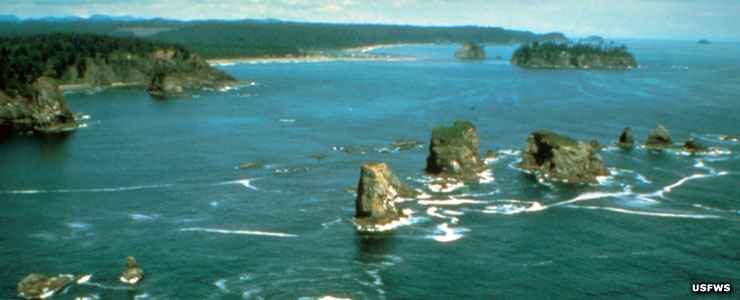 Islands at Copalis National Wildlife Refuge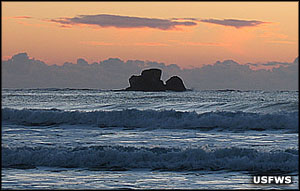 As part of the Washington Maritime National Wildlife Refuge Complex, Copalis National Wildlife Refuge is a 60-acre group of 400 reefs, rocks and islands that extend along the coast of Washington for more than 50 miles between Copalis Beach and Lake Ozette. Many of the islands are rocky outcroppings only exposed at low tide, others are high blocks of rock with salmonberry, salal and the occasional stunted conifer growing on them. The entire refuge is contained within the Olympic Coast National Marine Sanctuary and is also part of the Washington Islands Wilderness. Washington Islands Wilderness (as a whole) contains only 451.5 acres spread across more than 600 actual islands plus thousands of rocks and reefs.
Fourteen species of seabirds nest on these islands and raise their young. In migration seasons, more than a million seabirds, waterfowl and shorebirds populate the islands. Among the avian species are Leach's storm petrel, rhinoceros auklet, fork-tailed-storm petrel, common murre, tufted puffin, western gull, glaucous-winged gull, pelagic cormorant, Brandt's cormorant, Cassin's auklet, pigeon guillemot, black oystercatcher and double-crested cormorant. Peregrine falcons and bald eagles also roost on the islands in winter. Around the islands you might also see harbor seals, sea otters, sea lions and whales.
President Theodore Roosevelt first set aside the islands as the Copalis Rock Reservation on October 23, 1907. The name was changed by proclamation of President Franklin Delano Roosevelt on July 25, 1940.
Public access to the islands is not allowed in order to protect the bird nesting and roosting areas. Visitors need to stay at least 200 yards offshore. Olympic National Park offers 50 miles of beaches nearby with views of many of the islands. There are also interpretive panels at Rialto Beach, Lake Ozette, Ruby Beach, Second Beach and Kalalock that offer information about the islands and the National Wildlife Refuges that make up the Washington Islands Wilderness.
Copalis National Wildlife Refuge, Quillayute Needles National Wildlife Refuge, Flattery Rocks National Wildlife Refuge, San Juan Islands National Wildlife Refuge, Dungeness National Wildlife Refuge and Protection Island National Wildlife Refuge are administered as the Washington Maritime National Wildlife Refuge Complex.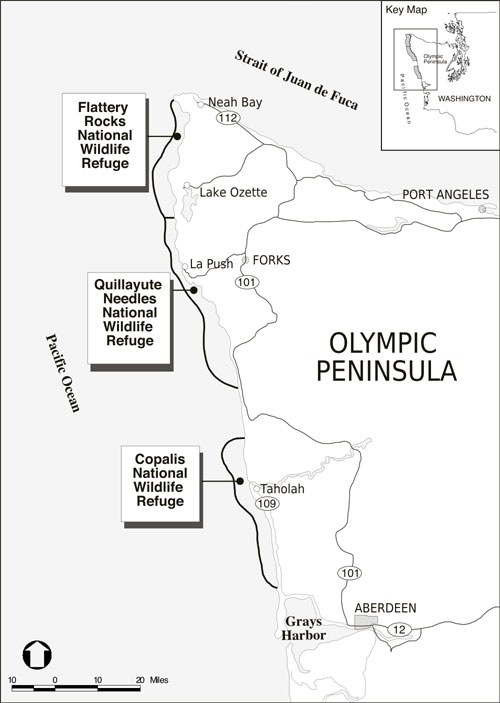 The Washington Islands Wilderness Refuges
Copalis National Wildlife Refuge
US Fish & Wildlife Service