White Ridge Bike Trails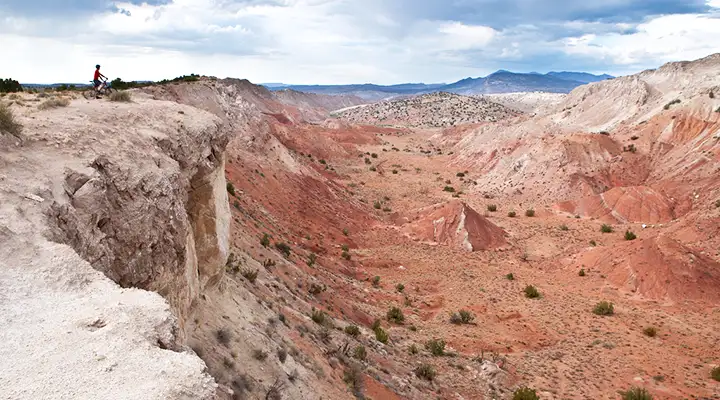 A view from the top at White Mesa Bike Trails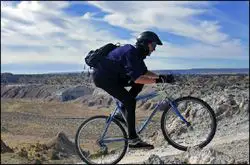 The White Ridge Bike Trails are in the scenic and rugged countryside just southwest of the village of San Ysidro. The mountain bike trails here cross State land, Pueblo of Zia land and mostly BLM land. The BLM has obtained rights-of-way from the State and the Pueblo to provide these routes. Hikers are allowed to use the entire trail system, too, and horseback riders are allowed to use one designated segment.
White Mesa (Mesa Blanco) gets its name from the gypsum that most of the mesa is composed of. The gypsum was left over after the evaporation of an ancient sea that covered this area. On the western edge of the mesa are high, narrow mesa ridges, part of the plunging Tierra Amarilla Anticline. Geologically speaking, this is a very interesting area. Also exposed here is the Morrison Formation, a layer of rock laid down about 150 million years ago. The Morrison is filled with dinosaur fossils and large pieces of petrified wood, indicating that at one time, this area was covered with a forest frequented by dinosaurs. The fossilized skeleton of a Seismosaurus (the longest dinosaur skeleton ever recovered) was found just west of here in the Ojito Wilderness.

The nearest facilities and services are in the village of San Ysidro, about 6 miles northeast.
To get to the White Ridge Bike Trails: About 20 miles northwest of Bernalillo on US 550 (and about 2 miles south of San Ysidro), turn west on County Road 906 (Cabezon Road). Follow the left fork and go about 4.4 miles to the gravel parking area.
Maps: BLM - Albuquerque, Los Alamos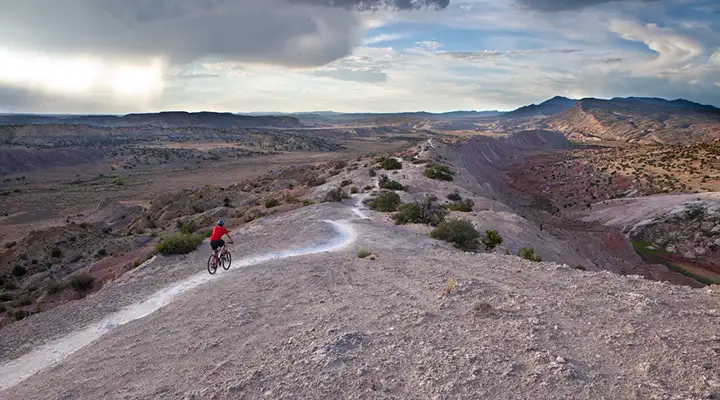 Another view at White Ridge Bike Trails area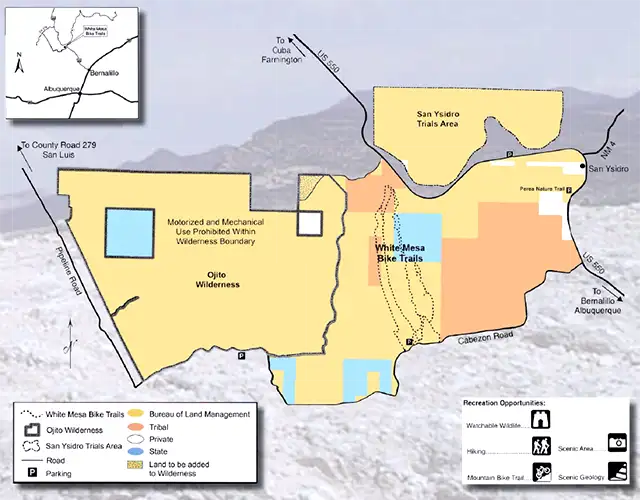 Map of the White Ridge Bike Trails area
White Ridge Bike Trails
Bureau of Land Management

- Rio Puerco Field Office
Photos and map courtesy of the Bureau of Land Management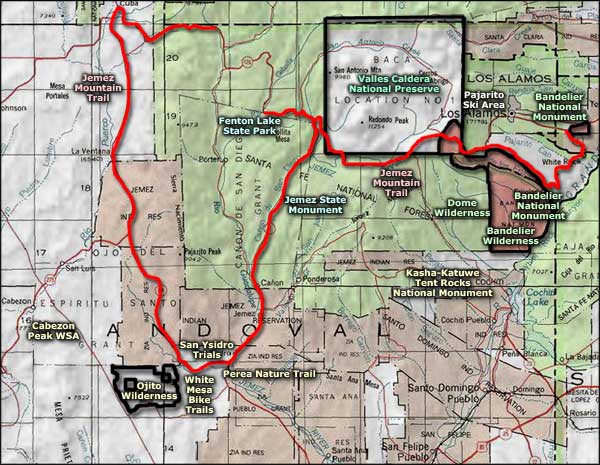 Related Pages
Map courtesy of National Geographic Topo!