Valles Caldera National Preserve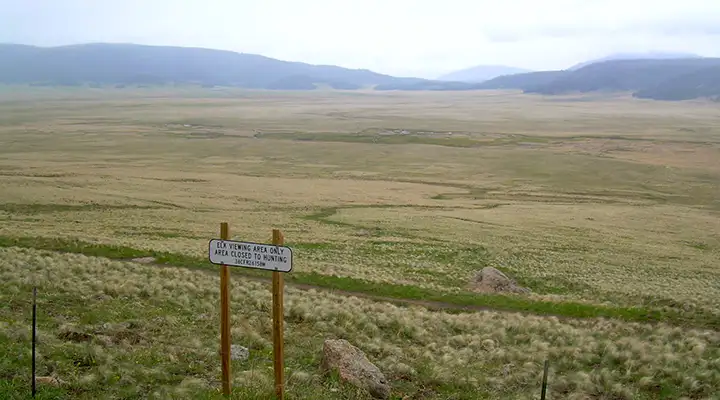 An elk viewpoint at Valles Caldera National Preserve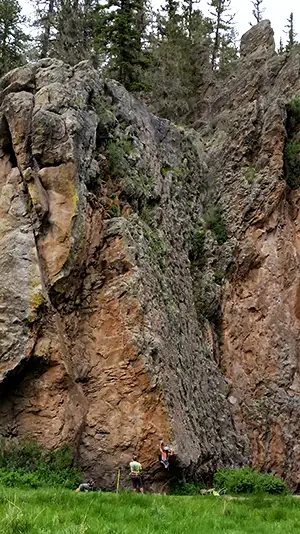 Along the East Fork of the Jemez River
Valles Caldera National Preserve sits atop the remains of an ancient supervolcano. About 1.25 million years ago the volcano blew its lid in its biggest eruption ever. Chunks of the mountain fell back to Earth as far away as Ohio and Pennsylvania. The volcano has erupted several times since, the most recent being about 45,000 years ago, but none of them have been nearly as large as that which collapsed the top of the supervolcano. The volcano is now classified as dormant but the magma body below is still hot enough to generate natural hot springs throughout the area. The San Antonio Hot Springs, on the west side of the National Preserve, have water vapor emerging from the ground at about 400°F.
For 15 years after its purchase by the National Park Service, Valles Caldera was managed by a locally-based Trust. The National Park Service formally took over day-to-day management in 2015. The property contains about 88,900 acres, including about 6.5 miles of river and many miles of stream. The caldera itself is about 13.7 miles wide. The caldera rim is mostly forested with islands of forest scattered around the grasslands of Valles Grande, the area inside the rim. Elk, mule deer and black bear are common in the area.
The property was a sheep, cattle and hunting ranch for many years. The park headquarters used to be located at the ranch foreman's place, much of which was constructed in the 1860s. Now it's located in larger offices in Jemez Springs.
Cross country skiing and snowshoeing activities are generally available north of New Mexico Highway 4 on Valles Caldera National Preserve on Saturdays and Sundays between late December and the end of March. Everything north of NM 4 requires day-use permits.
The Coyote Call Trail and surrounding area south of New Mexico Highway 4 are open, free of charge, every day during daylight hours. When there is enough snow on the ground, there's almost 24,000 acres open to skiing and snowshoeing.
This is an area where snowfall can be very heavy at times. Only 4WD or vehicles with chains can drive the 2 miles north of NM Highway 4 to the Valles Caldera Headquarters . The road is plowed and snow-packed but is north-facing and can be very icy, especially during windy times. Traveling anywhere in this area you'll want water, extra food, blankets and plenty of gas in your car. In a white-out situation, stay with your car.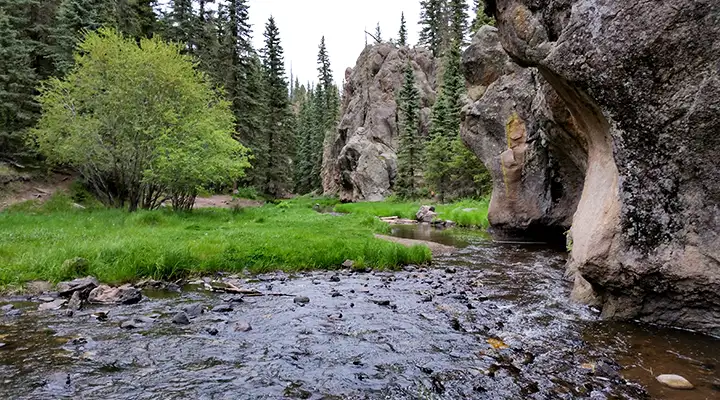 Along the East Fork of the Jemez River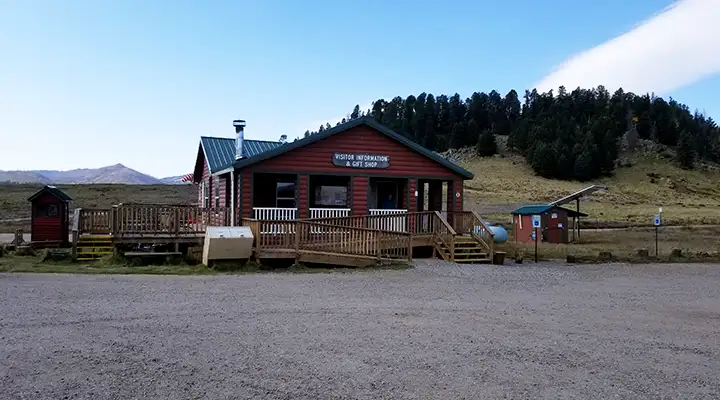 Valles Caldera National Preserve
National Park Service
Photos courtesy of TheArmchairExplorer,
CCA-by-SA 4.0 License
Maps courtesy of Valles Caldera National Preserve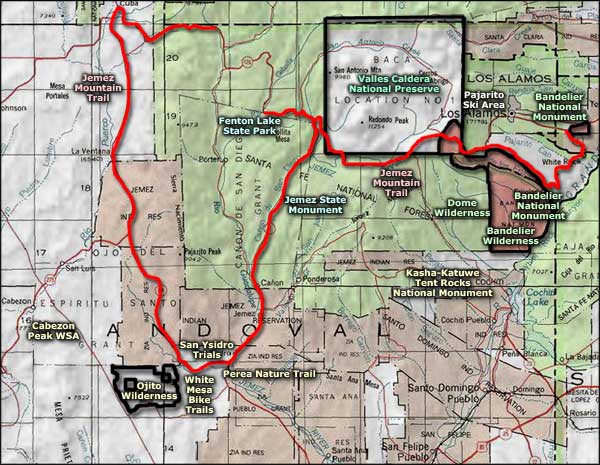 Related Pages
Map courtesy of National Geographic Topo!