Kilbourne Hole Volcanic Crater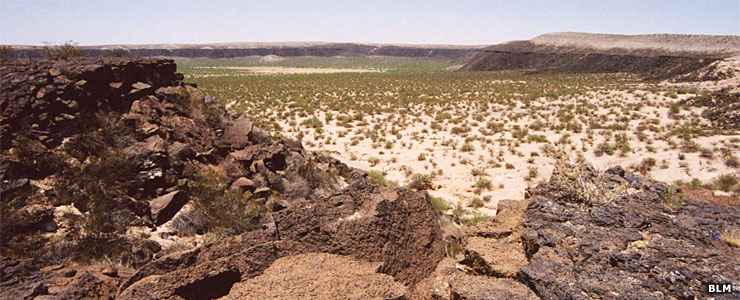 Kilbourne Hole Volcanic Crater
The Kilbourne Hole is the remnant of an ancient volcanic explosion. It's classed as a "Maar," a pit or depression caused by the release of volcanic gas with little or no actual material involved. The eruption did send out a number of "bombs" but they are an unremarkable dull brown or black, until broken open: the interiors are filled with the sparkling green and yellow of olivine glass granules.
The Kilbourne Hole Volcanic Crater is in the desert basin between the Rio Grande and the Potrillo Mountains in southern Dona Ana County. The crater itself is more than a mile wide, about 1.7 miles long and hundreds of feet deep. It was created between 24,000 and 100,000 years ago.
The property offers hiking and geological experience, but no camping. There's also no facilities, no restrooms, no drinking water.
To get to the Kilbourne Hole Volcanic Crater: Take exit 155 on the I-10 at Vado and go west on NM 227 for 3 miles to NM 28. Go south on NM 28 for 2 miles to CR B008. Turn and go west on CR B008 for 11 miles to CR B004 and turn south. Go another 6.5 miles and cross the railroad tracks. Turn to the west and go 7 miles on CR A017 to CR A011. Turn west again on CR A011 and go 8 miles to Kilbourne Hole. The property is on the right, just past the big tan dirt bank. Most of the land in the bottom of the hole is private property. If you drive off the established roads anywhere around here you'll probably get stuck in the sand.
The property is open year round and there are no fees involved. Kilbourne Hole Volcanic Crater is now part of the Potrillo Mountains unit of Organ Mountains-Desert Peaks National Monument. Kilbourne Hole is also a registered National Natural Landmark.
Maps: BLM - El Paso
Kilbourne Hole Volcanic Crater
Bureau of Land Management

- Las Cruces District Office
Photo courtesy of the Bureau of Land Management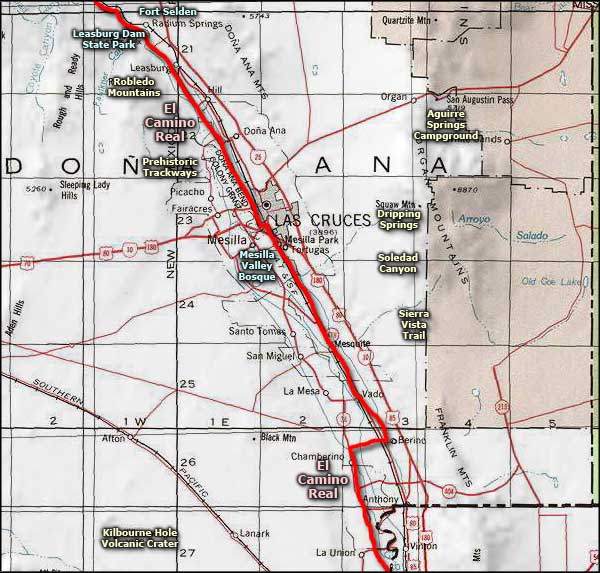 Related Pages
Map courtesy of National Geographic Topo!