Elgin Schoolhouse State Historic Site
Facilities & Amenities
Picnicking
Trails
Historic Site
Vault Toilets
Pets allowed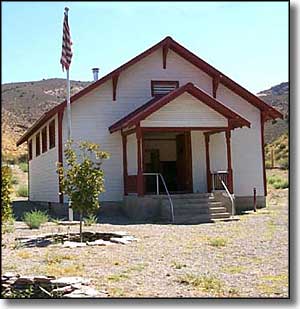 The Elgin Schoolhouse State Historic Site is located about 20 miles south of Caliente just off of State Route 317. A historic school in rural Lincoln County, Elgin was used for grades 1 through 8 from 1922 to 1967. In 1998 the building was restored to its original appearance and local volunteers offered guided tours by request. Elgin Schoolhouse became a Nevada Historic Site in 2005 (about the same time that SR 317 suffered serious road damage because of heavy flash flooding).
Meadow Valley Wash saw its first properties homesteaded in the early 1870's. There weren't many children in the area until the Salt Lake, San Pedro and Los Angeles Railroad built a line through Rainbow Canyon in 1903. James Bradshaw had homesteaded a ranch in lower Rainbow Canyon in 1880 and, like most other families in the area, home-schooled his children. After the railroad came through, small communities were established every five miles, the largest being at Elgin where the Bradshaw Ranch was. James donated seven acres of his ranch for the school building and his son Reuben built the school in 1922. In 1924 Reuben added an addition to the building: a small apartment for a teacher to live in as there was no other housing in the area. After that, the folks found it easy to attract teachers as they were paid well and the housing was free. However, they had to recruit new teachers every few years as the young women were regularly persuaded to marry one or another of the local ranchers' sons.
Once the highway was built, school buses started running to carry students north to Caliente. When the last student reached eighth grade in 1967, the school was closed and the building was occupied by a member of the Bradshaw family for several years. The family restored the school in 1998, then offered it to Nevada State Parks in 2005.
About half the items on display in the building are original to the Elgin Schoolhouse, the remainder are authentic to the time period. Elgin Schoolhouse is open to visitors on Saturdays and Sundays in April, May, September, and October. There are no services (gas, food, lodging, etc.) in the area.
Elgin Schoolhouse State Historic Site
c/o Kershaw-Ryan State Park
Nevada State Parks
Photo of Elgin Schoolhouse courtesy of Nevada State Parks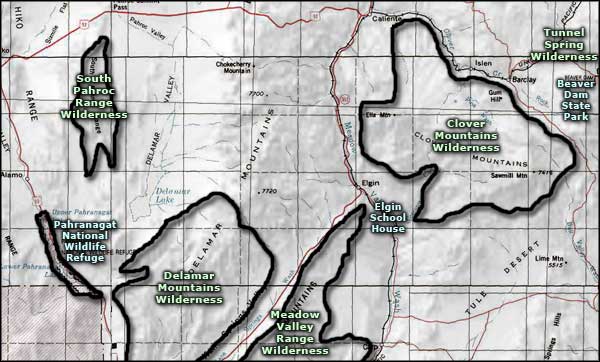 Related Pages
Map courtesy of National Geographic Topo!