Chadron State Park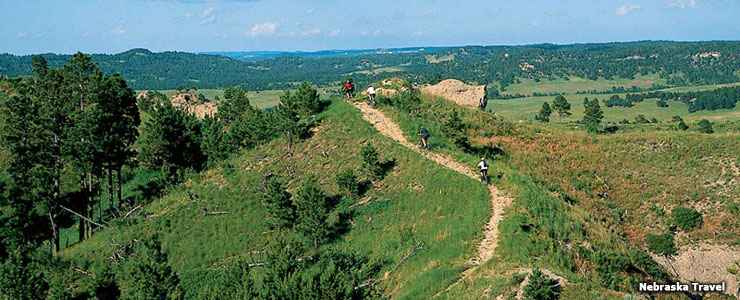 On a biking trail at Chadron State Park
Chadron State Park is a 972-acre property surrounded by Nebraska National Forest in the Pine Ridge wonderland of northwestern Nebraska. The park entrance is located about 9 miles south of Chadron on US Highway 385 (Gold Rush Byway). The park is criss-crossed with bike and hike trails that lead straight into the hinterlands of the Nebraska National Forest and Pine Ridge National Recreation Area.
Pine Ridge is a geological uplift that formed about the time of the Laramide Orogeny that pushed up both the Rocky Mountains and the Black Hills (some 65 million years ago). The ridge is about 100 miles long and up to 20 miles wide in spots. The geological formations were broken and shifted back and forth across each other, eventually making up a soil that was able to sustain the growth of a Ponderosa pine forest. Today, the area is a mix of towering pines and open grasslands that approach an altitude of 5,000' in many places.
Chadron State Park offers creek fishing and paddleboats on a scenic lagoon in addition to horseback trail rides, regulation-size swimming pool and sand volleyball and tennis courts. The day-use picnic areas offer 250 picnic tables with 160 grills and 5 shelters, one with electrical outlets. The picnic sites and shelters are scattered throughout the park, usually found in areas with great views and nearby amenities. The campground offers 70 pads with electrical hookups and another 18 non-pad sites without electric. The campground area also has drinking water, picnic tables, cooking grills, showers, modern restrooms, laundry facilities, a playground for the kids and an RV dump station. If camping isn't your thing, there are 22 cabins available from mid-April to mid-November. The cabins rent with linens, towels, stoves, fridges, cooking utensils and silverware.
The Park office is open from Memorial Day Weekend to Labor Day, from 8 am to 8 pm daily. Concession items, souvenirs and gifts are available at the Chartran Trading Post daily on the same schedule. Reservations for cabins and campsites are taken up to one year in advance.
Established in 1921, Chadron State Park is Nebraska's oldest state park.
Upper photo courtesy of D. Curran, Nebraska Travel & Tourism
Park map courtesy of Outdoor Nebraska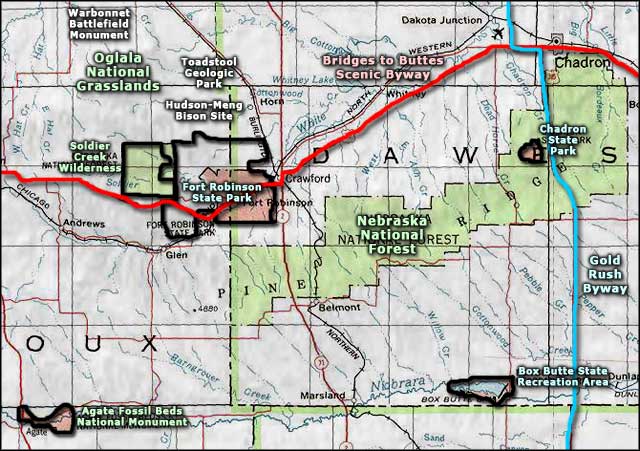 Related Pages
Area map courtesy of National Geographic Topo!