City of Rocks National Reserve and State Park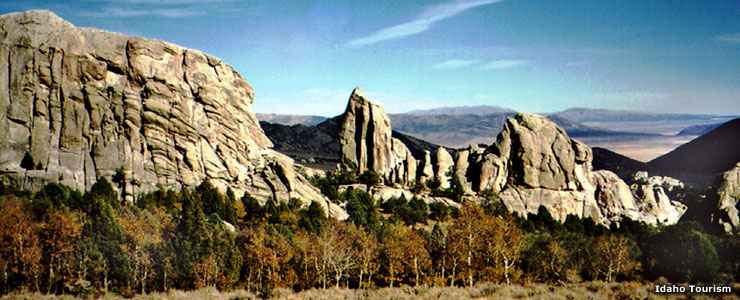 City of Rocks National Reserve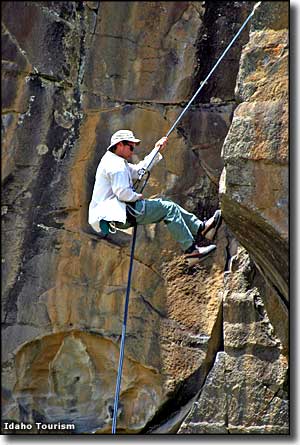 The City of Rocks National Reserve is a very unique place. Some of the fantastic granite monoliths and pinnacles here are among the oldest rocks on the surface of Planet Earth. While most climbing rocks are between 100 and 300 feet high, some are in excess of 600 feet high. Over the years, City of Rocks has become known as a world-class rock climbing area with more than 700 mapped climbing routes available. The 14,407-acre property (partly privately owned) is managed under a cooperative agreement between the National Park Service and the Idaho Department of Parks and Recreation.
In the mid-1800's, the City of Rocks was a major landmark on the California Trail, and many emigrants on that trail left their signatures written in axle grease on some of the rock faces here. The Salt Lake Alternate Trail also crosses the southern part of the reserve.
There are more than 22 miles of hiking trails on the property with most trails leading to arches, windows and overlooks. Trail ratings vary from easy to very challenging. Trail lengths vary from short walks to all-day hikes into the heart of the back country. There are trail maps available at the Visitor Center.
The granite on this property is from two different geological ages. Most of the rock is part of the Green River Complex, a granitic intrusion that formed almost 3 billion years ago. Then about 25 million years ago, the Almo Pluton, a finger of hot magma, forced itself up through the Green River granite and solidified. At that time, the whole area was deep underground but over the millenia since, erosion has had its way with the surface materials and the formations beneath have been uplifted, cracking in the process. As soon as the rock is exposed to the atmosphere, an additional erosional element known as "frost wedging" starts taking place. Frost wedging has already removed some layers of granite that were covered with California Trail travelers' signatures just 150 years ago.
To get there: most folks exit Interstate 84 at exit 216 (Declo) and go south on Idaho Highway 77 to Connor Creek. From Connor Creek they continue southwest on the Elba-Almo Road to the Visitor Center in Almo. The Park Entrance is just west of town. Folks coming up from Utah usually exit Interstate 84 at exit 245 (Sublette) and go west to meet Idaho 77 at Malta. In the summer the property can also be accessed from Burley via Idaho Highway 27 to Oakley, then over the City of Rocks Back Country Byway.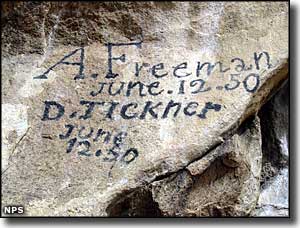 The City of Rocks is open year round but some roads are impassable once the snow starts to add up (generally from November through April). The Visitor Center is open from mid-April to mid-October from 8 am to 4:30 pm, seven days a week. From mid-October to mid-April, the Visitor Center is open weekdays (except Federal holidays) from 8 am to 4:30 pm.
Adjacent to City of Rocks National Reserve and State Park is Castle Rocks State Park, a former ranch that contains 1,440 acres with more outstanding rock formations in the setting of an early 20th century homestead ranch. Smoky Mountain Campground at Castle Rocks offers 38 RV-capable campsites with electrical and water hookups.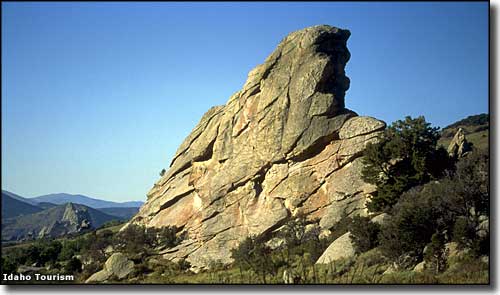 Granite fin, City of Rocks National Reserve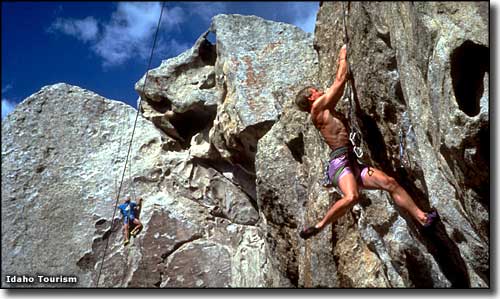 Climbers in the Bumblie Climbing Area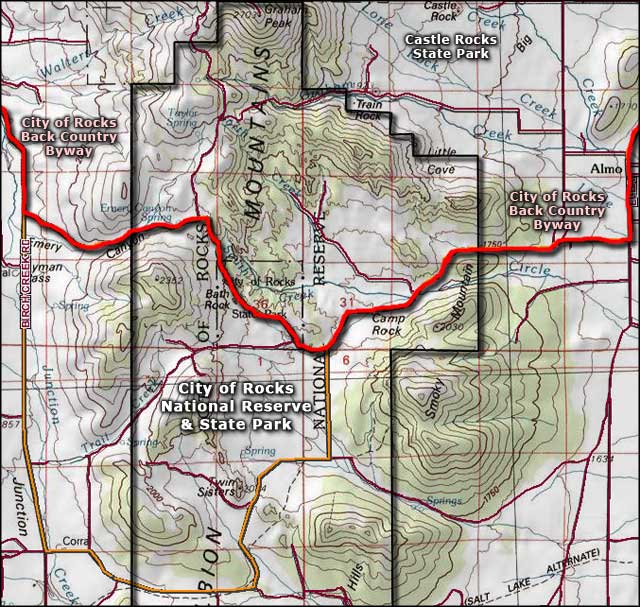 City of Rocks National Reserve
Photo of Register Rock courtesy of the National Park Service
Other photos are courtesy of the Idaho Department of Tourism
Area map courtesy of National Geographic Topo!

Related Pages
Map courtesy of National Geographic Topo!