Werner-Boyce Salt Springs State Park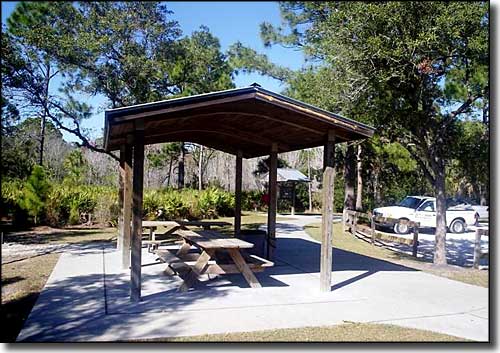 Picnic pavilion at Werner-Boyce Salt Springs State Park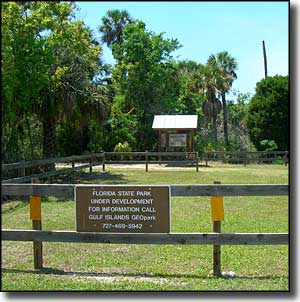 Werner-Boyce Salt Springs State Park is named for a 320-foot deep saltwater spring on the property. The park offers hiking, picnicking, fishing, boating (but no boat ramp yet) and wildlife viewing.
Wandering around here you might come across gopher tortoises, squirrels, rabbits and gray foxes. Near the water there are alligators and in the water there are often manatees. There are also more than 150 species of birds hanging out in the different seasons.
For amenities there's a half-mile nature trail, information kiosk and picnic pavilion. In the future, the state park expects to offer primitive and group/youth camping, more picnic tables and pavilions, hiking trails and marked kayak/canoe trails along the park's waterways.
This is a day use only park, open from 8 am to sunset every day of the year. To get there: turn west off US Highway 19 in Port Richey at the Cinema Drive/Ridge Manor Boulevard intersection. Go 0.2 miles to the park.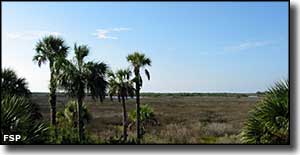 I took a walk on the property at Werner-Boyce Salt Springs State Park in April, 2010. At the corner of US Highway 19 and State Road 52, I went west a few blocks to the end of the pavement. There's a parking area there and an entry to the state park. I went down the main road there about 1/2 mile and looked around, then went back to the marked Nature Trail and hiked about a mile down that. Beautiful countryside, very much like a jungle under the trees. Saw a few birds, a few lizards, no alligators... The route is very twisted: you'll hike almost a quarter-mile to get 200 yards (as the crow flies). The trail straightens out after it emerges from the trees and heads across the sand scrub but I never went far enough to see if I came to a beach anywhere. I did get up on a little hillock here and there but never saw any expanses of open water.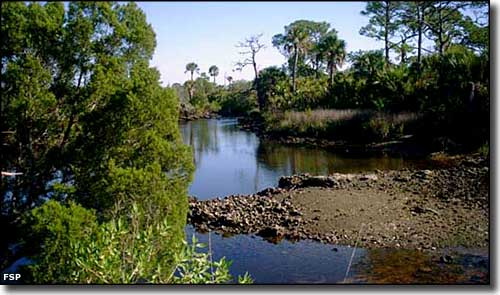 A waterway at Werner-Boyce Salt Springs State Park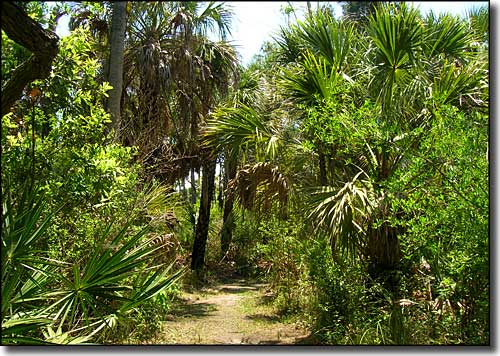 Along the Nature Trail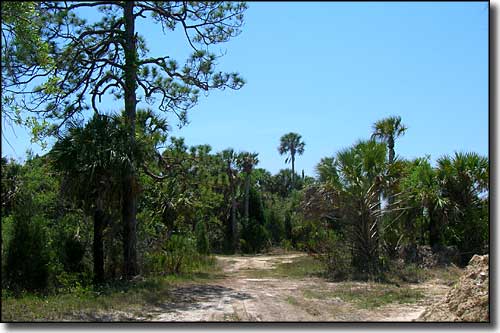 Along the main entry route
Werner-Boyce Salt Springs State Park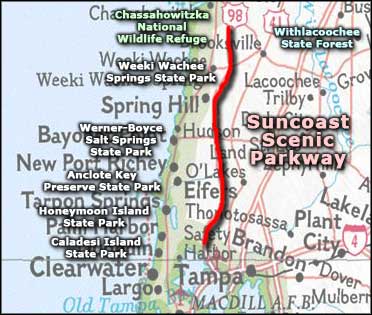 Related Pages
Area map courtesy of National Geographic Topo!