Suncoast Scenic Parkway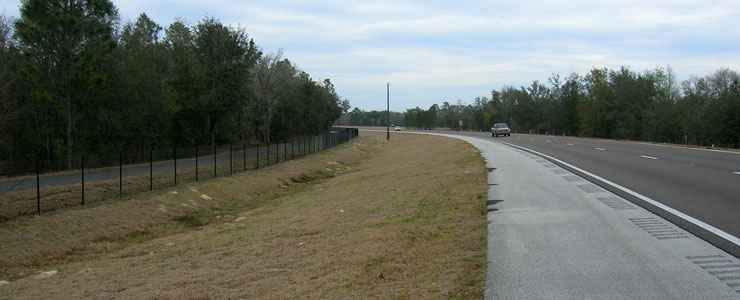 The Suncoast Scenic Parkway
, the Suncoast Trail is behind that fence on the left
The Suncoast Scenic Parkway is a 4-lane, limited access toll road (part of the Florida Turnpike Network of Highways) that connects Hernando, Pasco and Hillsborough Counties. This is a relatively new road, planned and laid-out to preserve the visual impact of this beautiful area just inland from the Gulf Coast. The road presently runs from northern Hillsborough County to northern Hernando County but is planned to continue on into Citrus County and terminate near Crystal River. The present route is 42-miles-long and avoids all the stop-and-go traffic, "Anywhere, America architecture" and other suburban sprawl issues present along the US Highway 19 corridor that it parallels (an area known as the "Nature Coast") - and compared to US Highway 19, the Suncoast Scenic Parkway is very scenic.
As a four-lane divided highway, this is a beautiful road. However, there is nowhere inside the zone of the toll booths where you can pull over and enjoy the scenery. And every ten miles or so, the road is completely barricaded by another row of toll booths, all looking to extract another dollar from you (unless you're driving a big rig - then it's $1 per axle) And the fee is subject to change.
The Suncoast Trail, a hiking and biking National Recreation Trail, runs parallel to the Suncoast Scenic Parkway in the same travel corridor of preserved native vegetation and landscaping. The Suncoast Trail also provides connections to a multitude of multi-use trails, nature parks, recreation parks and other destinations along the Suncoast Corridor.
Another view of a piece of the Suncoast Trail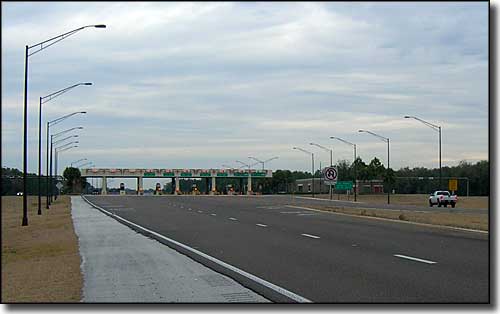 A typical row of toll booths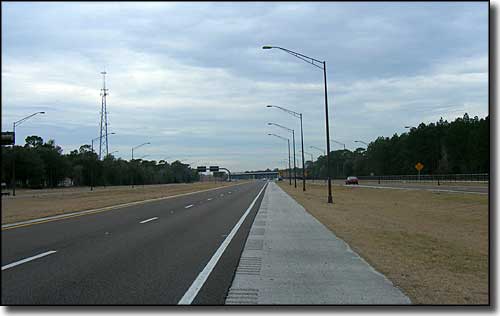 Coming to a "merging traffic" area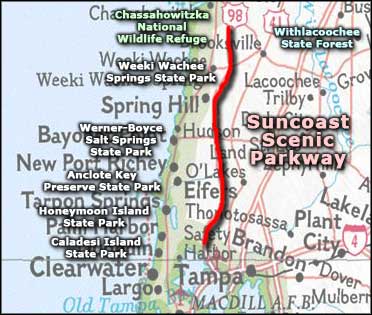 Related Pages
Area map courtesy of National Geographic Topo!