Suwannee River State Park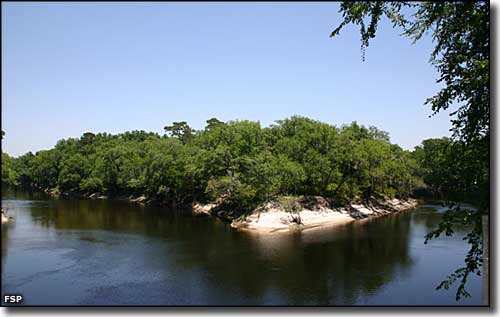 The confluence of the Withlacoochee and Suwannee Rivers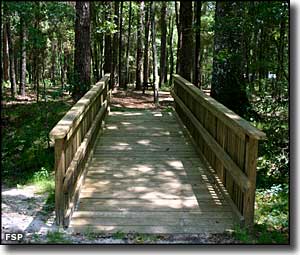 Suwannee River State Park is centered around the confluence of the Withlacoochee and Suwannee Rivers in north Florida. This was a very important location in the modern history of Florida, especially during the Civil War. The Civil War saw Confederate soldiers building long mounds of earthworks to defend against Union Navy gunboats navigating up the Suwannee River from the Gulf of Mexico. In those days, the Suwannee River was a regular route for paddlewheelers carrying freight and passengers. Also on the property is what's left of the town of Columbus and its cemetery. Columbus was established in 1841 as a river port on the road between Jacksonville and Pensacola and grew bigger when the railroad was built through the area. But as more and more railroads were built, the use of paddlewheel steamers on the river dropped off and so did the population. Today, all that's left of Columbus is the cemetery.
For activities, Suwannee River State Park offers boating, fishing, hiking, kayaking, canoeing, camping, picnicking and wildlife watching. The park has a regular boat ramp and separate boat launches for canoes and kayaks. Suwannee River State Park serves as the southern terminus for both the Upper Suwannee River and Withlacoochee River Canoe Trails. The park is also the northern terminus of the Lower Suwannee River Canoe Trail.
The park is located along the Suwannee River Wilderness Trail and offers a full facility campground with 30 campsites (tent and RV), each with a picnic table, fire grill, clothesline, 50-amp electric service, sewer hookup and water spigot. The central restroom/shower facility is universally accessible. In addition, there are five rental cabins available, each with space for up to six people. Youth camping is done at either of two primitive campsites (call the park for info and reservations).
There are five designated hiking trails on the property, the longest being about 18 miles one way. The trails loop and intertwine through the surrounding woodlands and often offer some great views of the two rivers. The hiking trails are for foot traffic only: no bikes or horses allowed. The park also offers two picnic pavilions that have room at their picnic tables for up to 50 people each.
Suwannee River State Park is open for day use from 8 am until sunset every day of the year. Suwannee River State Park is located on US Highway 90 about thirteen miles west of Live Oak.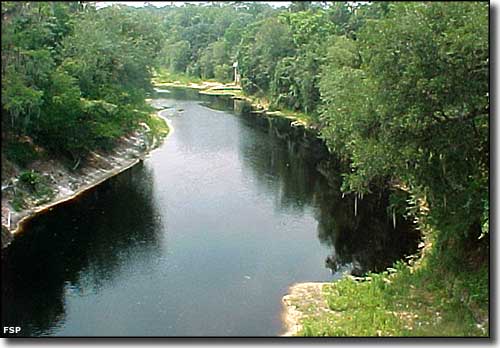 The Suwannee River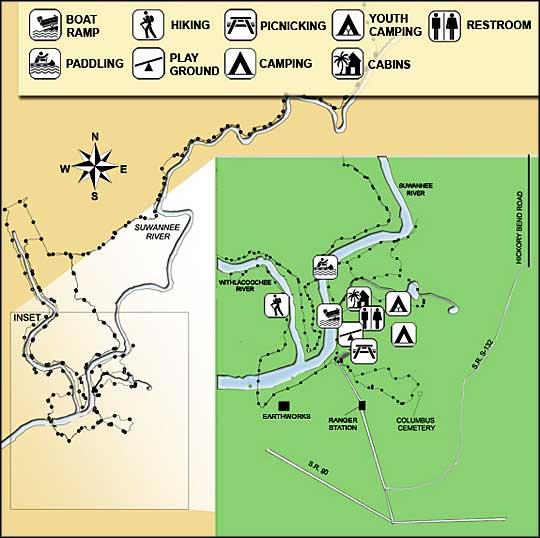 Suwannee River State Park
Photos and map courtesy of Florida State Parks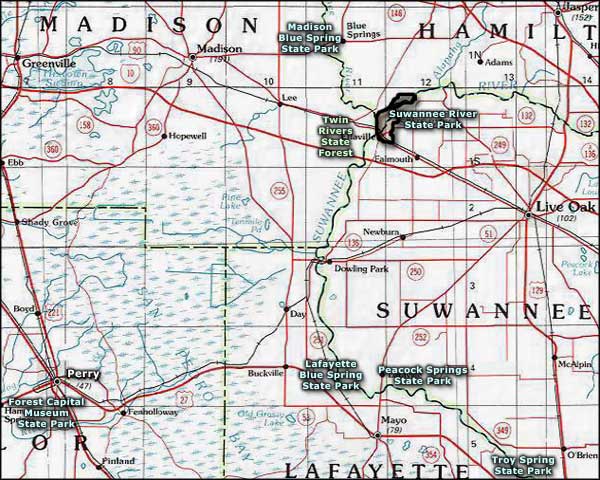 Related Pages
Map courtesy of National Geographic Topo!