Ichetucknee Springs State Park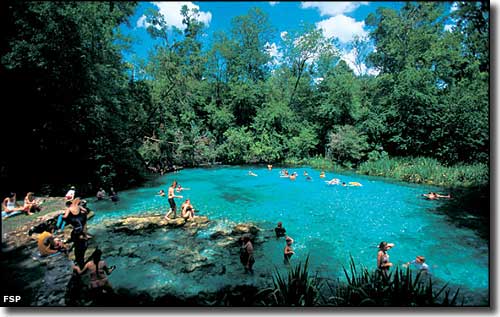 Enjoying the water at Ichetucknee Springs State Park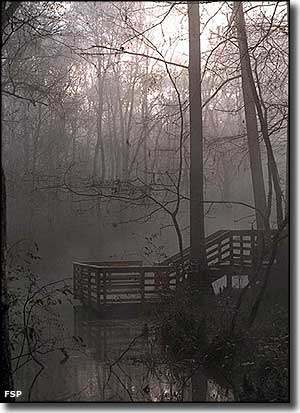 It seems tubing the river is the really big draw to Ichetucknee Springs State Park. There's a six-mile stretch of Ichetucknee River between the head springs and the South Entrance to the state park that folks particularly enjoy. Folks do come to swim, picnic, snorkel, canoe, hike and watch the wildlife, too, but most are going down the tubes...
Blue Hole is a draw for the scuba-diving set from October through March. It's the big spring at Ichetucknee and it feeds from a limestone cave system. You need to prove cave certification before they let you near the water with any kind of gear. Swimming is allowed at Blue Hole but it's only for the strongest: the currents and volume of water flow at Blue Hole are strong.
Picnic tables accompanied with fire grills are scattered throughout the park. There's also a full-service concession at the visitor center at the South Entrance (concession open from Memorial Day weekend through Labor Day). Most folks who need to rent tubes, canoes, snorkeling and diving equipment can get what they need from private vendors located just outside Ichetucknee Springs State Park.
Ichetucknee Springs State Park also offers three hiking trails with all three trailheads located near the North Entrance to the park. One leads to Blue Hole, one follows along the banks of the river and the third wanders across the sandhill and through the longleaf pines.
During the summer season, Ichetucknee Springs State Park runs an in-park shuttle service for the folks tubing the river. During the Off-Season, you're on your own. In the Off-Season, tubing from the North Entrance is not allowed in order to allow the area to regenerate from the impact of the summer hordes. So all Off-Season tubing begins at either the Midpoint Dock or the Dampiers Landing Dock.
Ichetucknee Springs State Park is open every day of the year from 8 am until sunset.
The North Entrance to Ichetucknee Springs State Park is located off State Roads 47 and 238, about four miles northwest of Fort White. The South Entrance is located off US Highway 27, also about four miles northwest of Fort White.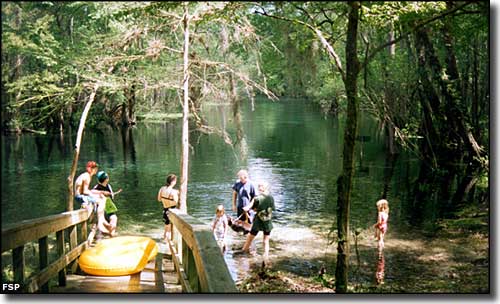 Getting ready to go tubing at Ichetucknee Springs
Ichetucknee Springs State Park
Photos and map courtesy of Florida State Parks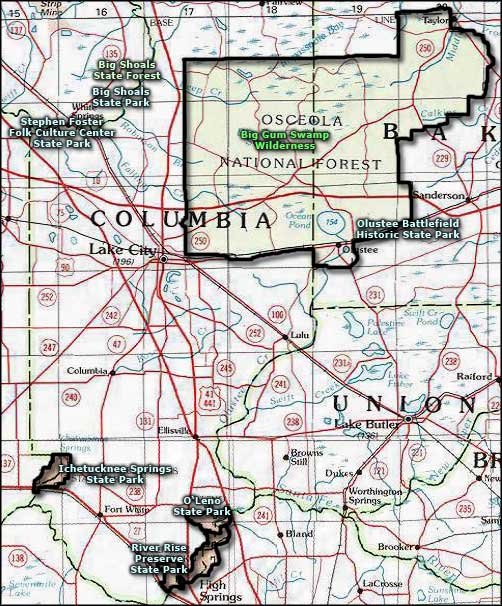 Related Pages
Area map courtesy of National Geographic Topo!