Biscayne National Park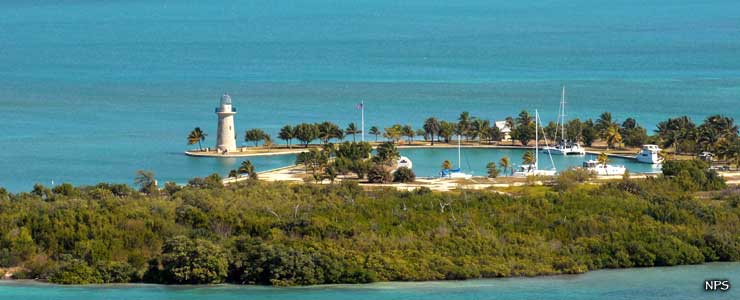 The harbor and lighthouse at Boca Chita Key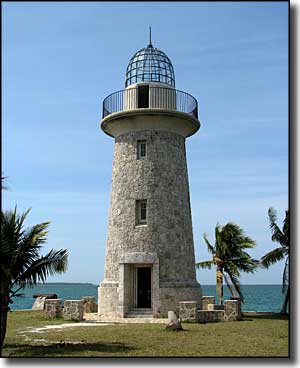 The 172,971-acre Biscayne National Park is in southeastern Florida, mostly offshore due east of Homestead in Miami-Dade County. 95% of the park is composed of the waters of Biscayne Bay, the remainder being a series of small keys (barrier islands) and coral reefs, some covered with dense mangrove forest. Elliot Key is the largest island in the park and is composed of Key Largo limestone (fossilized coral reef). For 50 years, Elliot Key was home to pineapple plantations.
Biscayne National Park preserves and protects some beautiful coral reef ecosystem, emerald islands and aquamarine waters, all within sight of downtown Miami. Between the shipwrecks, middens and shell mounds found here, there's human history going back more than 10,000 years.
The mainland shoreline of Biscayne is a long stretch of dense mangrove forest. In Biscayne Bay itself is shallow sea water with a portion of the third-longest living coral reef on Earth. This is the area of the northernmost Florida Keys with a stretch of proto-islands (coral and sand) stretching northward almost to the shores of Key Biscayne at the northern end of the park.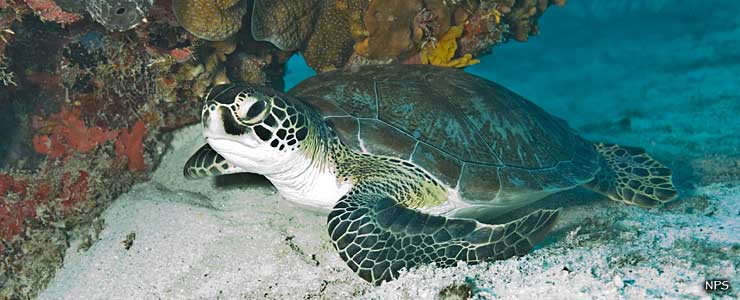 A green sea turtle resting on the bottom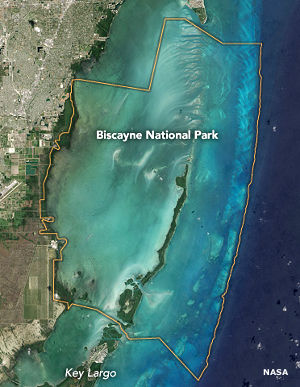 While a lot of folks make tours of Biscayne National Park via glass bottom boats, many more snorkel and scuba dive around the coral reef inside the bay. You can also rent kayaks locally and explore the surface waters on your own. The National Park Service is also working at opening the first underwater archaeological trail in the United States with the Maritime Heritage Trail: a journey past six of the shipwrecks found beneath the waters of the park. Access to the area is by boat only and all but one of the shipwrecks are best suited for scuba divers. The Mandalay shipwreck is the only site that offers snorkelers a good chance to get up close and personal with any of these wrecks.
The Dante Fascell Visitor Center is located at Convoy Point and is open daily from 9 am to 5 pm. Convoy Point itself is open from 7 am to 5:30 pm. Convoy Point is the only part of Biscayne National Park that is accessible by car or foot, everything else can be reached only by boat. The water portion of the park is open 24 hours a day except for Adams Key (accessible only by boat), a day use only area.
Biscayne National Park does not have an entrance fee but there are fees for camping, pavilion rentals and boat tours. Boat camping is allowed in the harbors of Elliot Key and Boca Chita Key.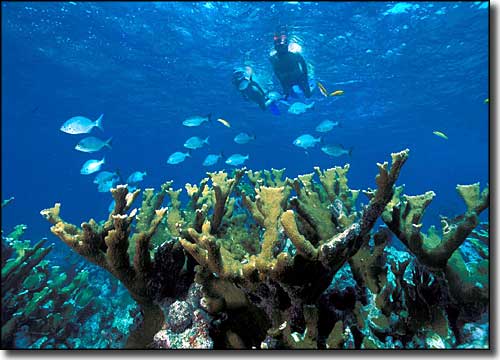 Snorkelers above Elkhorn Coral at Biscayne National Park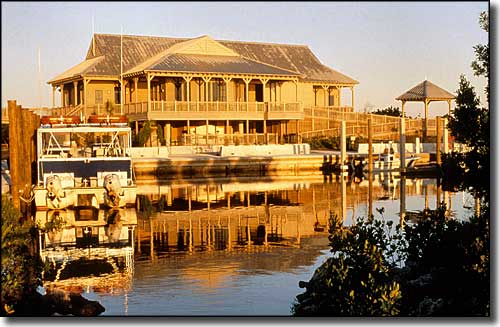 The Dante Fascell Visitor Center at dawn
Photo of the Boca Chita lighthouse courtesy of MDuchek
Map of Biscayne National Park courtesy of USGS and NASA
Other photos courtesy of the National Park Service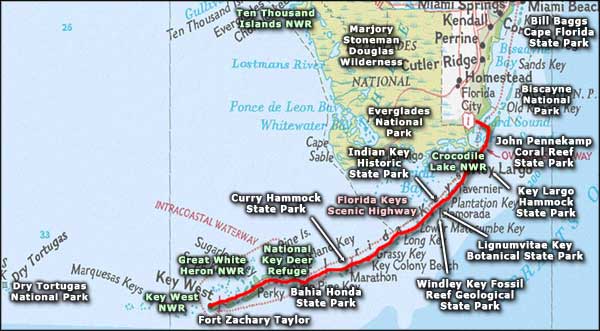 Related Pages
Area map courtesy of National Geographic Topo!