Yucca House National Monument

Yucca House National Monument contains a large, unexcavated Ancestral Puebloan surface site. It's one of the largest Ancestral Puebloan archaeological sites in southwestern Colorado. The pueblo built here was a major community center and was populated from about 1150 CE to about 1300 CE. Yucca House was abandoned about the same time Mesa Verde and most other Ancestral Puebloan sites in the Four Corners area were abandoned.
Today, there are no facilities or amenities available at the site. The property is a 9.6-acre parcel deeded to the Federal government by Henry Van Kleeck back in July of 1919. The government deemed it an excellent example of a valley pueblo and President Woodrow Wilson signed a Presidential Proclamation establishing Yucca House National Monument in December of 1919. The property is administered by the staff at Mesa Verde National Park. Access is not easy as you have to cross private land to get there. There is little signage and the roads are unimproved gravel and dirt: nasty when the weather has been wet. There are no fees involved.

Yucca House National Monument
c/o Mesa Verde National Park

Photos courtesy of the National Park Service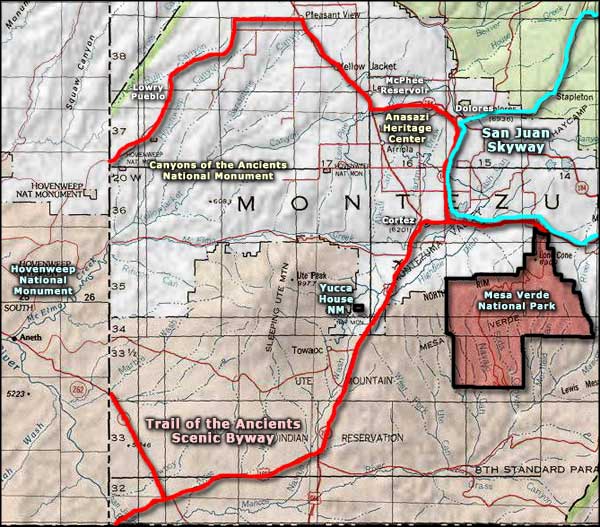 Related Pages
Map courtesy of National Geographic Topo!