Trinidad Lake State Park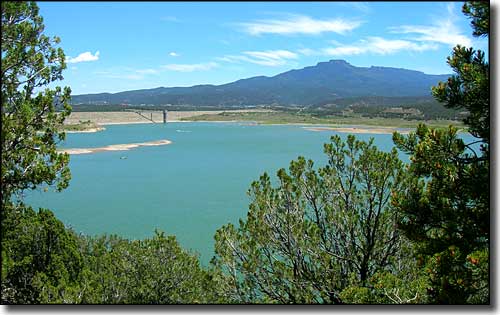 Trinidad Lake with Fishers Peak in the background
Trinidad Lake State Park is nestled in the eastern foothills of the Culebra Range of the Sangre de Cristo Mountains in southern Colorado. The 2,500-acre park, at an average altitude of 6,300 feet, offers a spectacular backdrop for a wide variety of recreational activities.
Nine miles of trails wander through the pinon and juniper forests at this beautiful park in the Purgatoire River Valley. Trinidad's 800-acre lake (actually, varies from about 700 acres to 1,600 acres) offers ample opportunities for boating, fishing and other water sports. Individual and group facilities are available.
The Carpios Ridge Campground provides modern facilities for overnight stops or longer stays for those undertaking a regional exploration of southern Colorado and northern New Mexico. The park is bordered by the Scenic Highway of Legends and the Santa Fe National Historic Trail. Four of southern Colorado's finest museum complexes are located in Trinidad, just three miles east of the park.
The dam which created Trinidad Lake was built as an irrigation and flood control project by the US Army Corps of Engineers between 1970 and 1977. Trinidad Lake State Park has been managed by Colorado State Parks since 1980 (until State Parks was merged into the Division of Wildlife and both were renamed Colorado Parks and Wildlife). The Long's Canyon Watchable Wildlife Area on the southwestern side of the park is also managed by Colorado Parks and Wildlife.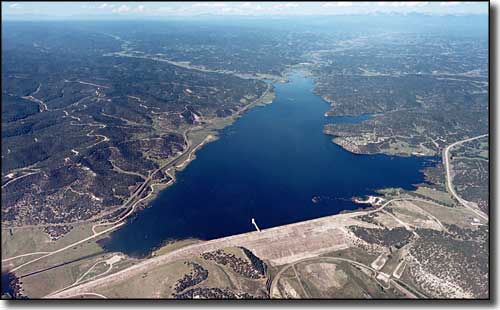 Aerial view of Trinidad Lake
, looking west (this photo is of a historic high in the lake's water level)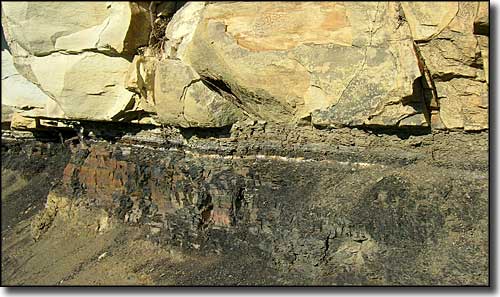 The white line in the center of the photo is the famous K-T Boundary
Picnicking is permitted throughout the park. Individual picnic shelters are available on a first-come, first-served basis. Group picnic and camping facilities are available but reservations are required. Please call the visitor center at 719-846-6951 for information.
The 62-site campground on Carpios Ridge can accommodate recreational vehicles, trailers or tents. Modern facilities include centrally-located water hydrants, a coin-operated laundry, electrical hook-ups, showers, and flush toilets. Carpios Ridge also offers several reservable universally accessible parking areas and campsites. Showers, restrooms, grilling areas, picnic tables and drinking fountains are also universally accessible. There is even a 1/2 mile hard-surfaced interpretive trail with great views that is universally accessible. Ten new campsites recently opened on the south shore of the lake. These are basic sites with no water or electric, but one is handicapped-accessible and 4 are pull-throughs. Campsites may be reserved in advance by calling 1-800-678-CAMP.
The amphitheater at the top of Carpios Ridge is where you'll find interpretive programs and ranger talks on subjects like Native Americans of the area, wildlife of the area and the history of Trinidad, periodically between Memorial Day and Labor Day. The visitor center also has some nice interpretive displays about the geologic and human history of the area with several stuffed specimens of the local wildlife on display.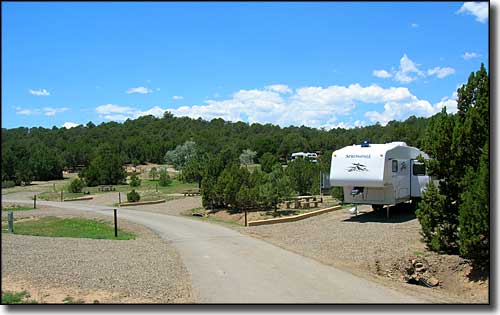 Carpios Ridge Campground
The boat launch area is on the northern side of Trinidad Lake Dam. There is a self-pay fee station right there and a large parking area (that is often over-flowing with vehicles and trailers on hot summer days). All boats must observe wakeless speeds around the boat launch area, within 150 feet of shore fishermen and as buoyed. Boats are not allowed within 200 feet of the dam or the intake structure, or as buoyed. The water level at Trinidad Lake fluctuates with the seasons and with volumes of upstream rainfall and snowmelt. Boaters are warned to be especially alert to submerged hazards. Water sports on the lake include jet skiing, water-skiing, sailing and boat fishing.
Fishing is allowed everywhere on Trinidad Lake except in the vicinity of the boat launching and docking area. Anglers will find largemouth and smallmouth bass, saugeye, walleye, channel catfish, bluegill, crappie, perch, wipers, and rainbow and brown trout. Fishing is allowed 24 hours a day.
In hiking around in the Long's Canyon Watchable Wildlife Area, keep your eye out for the relatively famous site at the K-T Boundary exposure: a thin white line in the layers of sedimentary rock just below some of the sandstone bluffs. The K-T Boundary is a marker that signifies the end of the Cretaceous Period and the beginning of the Tertiary Period in geologic history. That thin white line also marks a mass extinction that included the demise of the dinosaurs some 65 million years ago. Part of what makes the line white is a concentration of iridium, a rare element that was spread across the entire planet in the aftermath of an asteroid splashing down off the coast of the Yucatan.
There is also an archaeological site located on top of Carpios Ridge near the playground area. What you'll find there are 2 rings of stone surrounding depressions in the earth. Archaeologists figure these rings of stone were "foundations" for hogan-like dwellings that existed on this high point above the river canyon some 1,000 years ago.
Special Rules and Regulations
As off-road travel with motorized vehicles nearly always damages resources and wildlife habitats, keep your vehicle(s) on designated roads, pull-offs and parking areas.
Keep all pets under control at all times, and on a leash of no more than 6' in length when outdoors.
Build fires only in metal grills and barbecues. Light no fires on the open ground.
Camping is allowed only in designated sites.
Use of fireworks is not allowed.
Please report any and all vandalism or littering to a Park Ranger.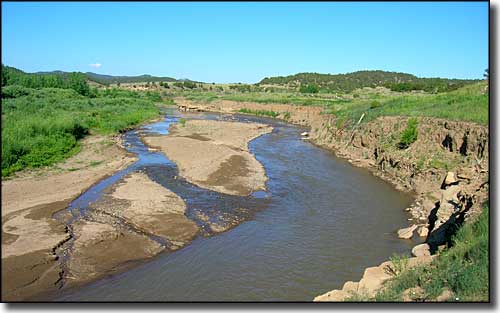 The mouth of the Purgatoire River, west end of Trinidad Lake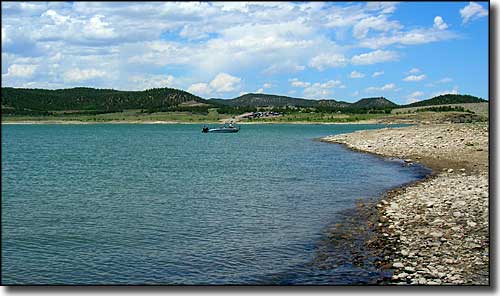 Along the south shore of Trinidad Lake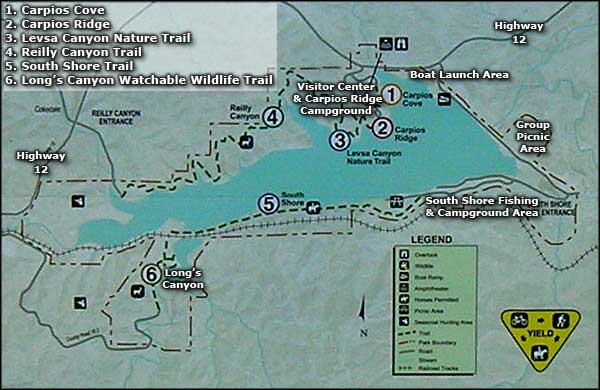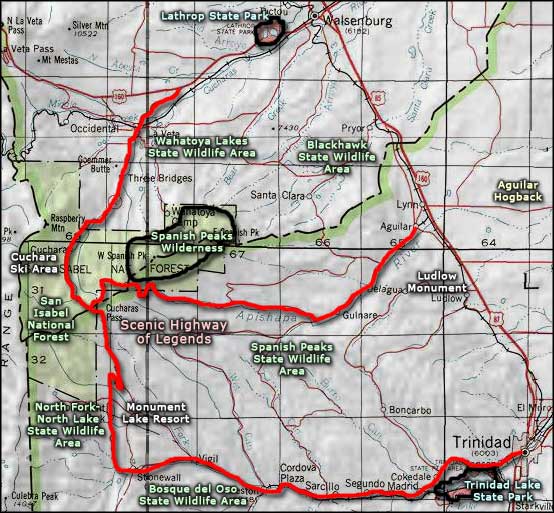 Related Pages
Map courtesy of National Geographic Topo!