Lost Dutchman State Park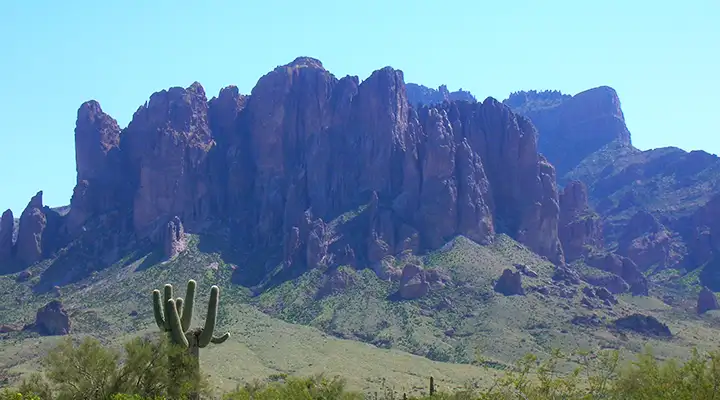 The Superstition Mountains rise above Lost Dutchman State Park
Lost Dutchman State Park is named after the fabled Lost Dutchman Gold Mine. This is the high Sonoran Desert with lots of heat in the summer (it's not so cold in the winter either) and all kinds of cacti around the landscape. If you want to explore any of the many hiking trails in the area, make sure you have lots of sunscreen, a hat, good UV-blocking sunglasses and a couple gallons of water per day per person: the sun out here is merciless. You'll probably also want a topographic map and a GPS device with you.
Lost Dutchman State Park is located off of Arizona State Road 88 (the old Apache Trail) at the base of the Superstition Mountains about 5 miles north of Apache Junction. The State Park is open from sunrise to 10:00 PM, every day of the year. The campground offers 70 campsites but no hookups. There are picnic areas with tables and grills, restrooms, showers and group use areas. The Visitor Center sells books and good local maps.
All the usual rules and regs apply but add:
No ground fires or wood collecting in the park.
Obey all firearm regulations.
Each campsite has a 2 vehicle and 12 person max.
Quiet hours are 9:00 PM to 8:00 AM.
There is a 15-day stay limit.
Camp only in designated sites.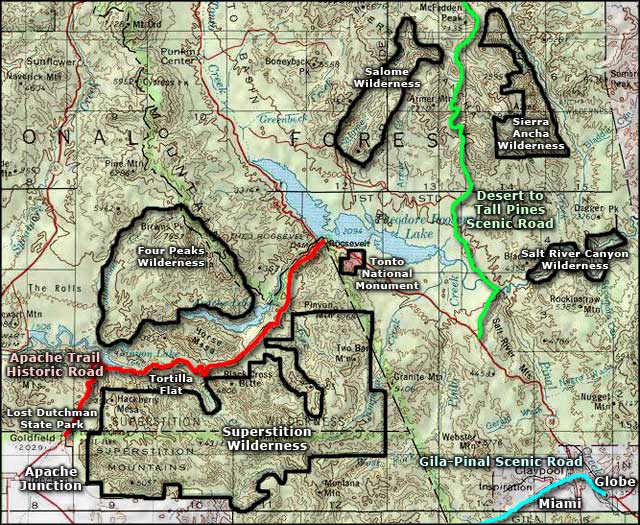 Related Pages
Map courtesy of National Geographic Topo!