Mt. Carmel to Long Valley Scenic Drive
Countryside along the Mt. Carmel to Long Valley Scenic Drive
Mt. Carmel to Long Valley Scenic Drive is that 60-mile stretch of US Highway 89 between Kanab and Bryce Canyon Junction at Utah Highway 12. A lot of this is red rock country, especially north of Kanab but the vegetation tends to the sagebrush-and-chaparral side of things. This countryside runs along the western edge of the Colorado Plateau and tends to be high altitude desert. Geologically speaking, most of Long Valley is a fault block valley between the two uplift blocks of the Markaguant and Paunsaugunt Plateaus.
Brigham Young sent settlers into this area early on in the 1850's but Native American opposition was such that most settlements didn't survive any length of time until the early 1870's (after the Indians had mostly been sequestered on reservations). Irrigation projects in the area have turned parts of Long Valley into green oases of cultivated fields and fruit orchards since then.
The countryside is multi-colored rolling hills and semi-arid. The route primarily ties together such roads and places as Parowan-Brian Head-Panguitch Lake Scenic Byway, Scenic Byway 12, Markagunt High Plateau Scenic Byway, Zion Park Scenic Byway and Coral Pink Sand Dunes State Park. To the east are the pink and white cliffs of Grand Staircase-Escalante National Monument, to the west the towers of Zion National Park.
Update 2015: I drove sections of the Mt. Carmel to Long Valley Scenic Drive in late September. The road was in good condition, the leaves were changing, there was very little traffic. It was also late in the afternoon and I arrived in Panguitch right about sunset.
One thing I found interesting: signs advertising an RV park and 18-hole golf course a couple miles east of the highway in between villages that are smaller than the dots on a map marking them... but every settlement along the byway had a sign at each end marking it as part of the Mormon Pioneer National Heritage Area.

Mt. Carmel Junction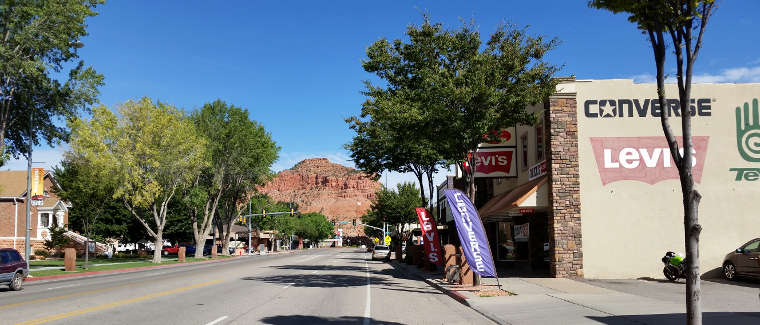 Typical view in Kanab, Utah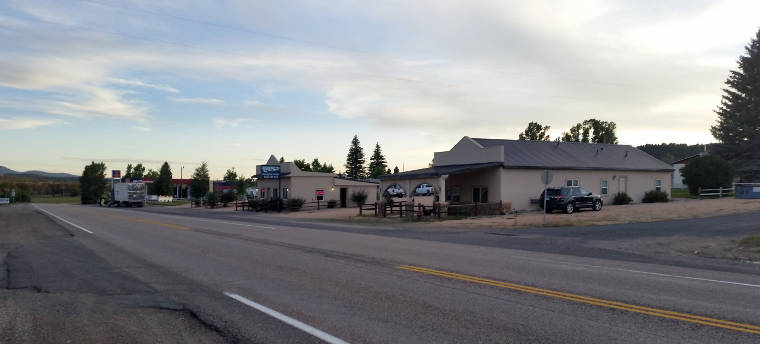 A view south in Hatch, near the north end of the byway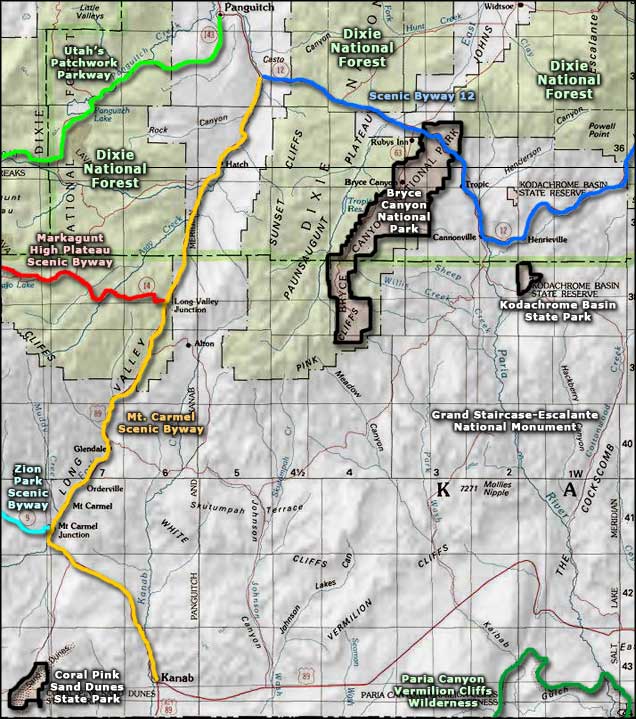 Related Pages
Map courtesy of National Geographic Topo!