Markagunt High Plateau Scenic Byway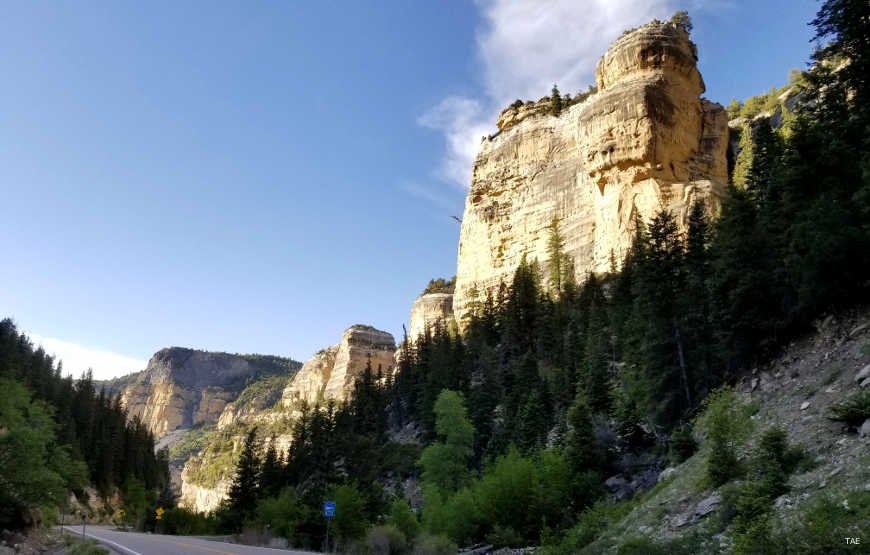 Sandstone cliffs rise above the road in Cedar Canyon
Navajo Lake
The Markagunt High Plateau Scenic Byway is a 40-mile route that follows Utah Highway 14 across Dixie National Forest between Cedar City (on Interstate 15) and Long Valley Junction on US Highway 89 (the Mt. Carmel Scenic Byway). Traveling east from Cedar City, the first third of the route is uphill through the canyon offering glimpses of Cedar Breaks National Monument as you go. A the top of the canyon is the intersection with the Cedar Breaks Scenic Byway (U-148). That's also the edge of the Markagunt Plateau and from there, the route continues across Dixie National Forest, mostly at high altitude until it drops into the valley separating the Markagunt Plateau from the Pausaugunt Plateau to the east.
Stop at Zion Overlook and enjoy the view south over Zion National Park. From there the road will be skirting to the south of some large lava flows, then past Navajo Lake. East of Navajo Lake you'll be starting to descend from the higher areas of pine, fir, spruce and aspen forest into the pinyon pine and Utah juniper zone, then into the lower, drier sagebrush-and-chaparral zone.
As most of this route is a National Forest Scenic Byway through Dixie National Forest, there are several trail heads and campgrounds along the way for those who might like to explore the area further. Navajo Lake offers excellent cold water fishing. There are also a number of two-track back roads that lead to the lava beds and to overlooks that give views of the Virgin River and Utah to the east.
Brigham Young sent pioneers into this area in the 1850's, specifically to mine the iron ore and produce iron for the Mormon settlements further north. Many of the folks tried to homestead in the area but winters were harsh and the living was hard. In Cedar City you'll find the Frontier Homestead State Park Museum with displays and exhibits from those early days, and dioramas to tell the stories of those early settlers. In the yard you'll find the oldest log cabin still standing in Utah. Between Cedar Breaks National Monument and Cedar City is Cedar Canyon, primary site of the old iron mines and an area that still has some mining activity happening. In Cedar Canyon is where you will also find access to Ashdown Gorge Wilderness, a wilderness area at the western foot of Cedar Breaks National Monument.

The view south from Zion Overlook, high point along the Markagunt High Plateau Scenic Byway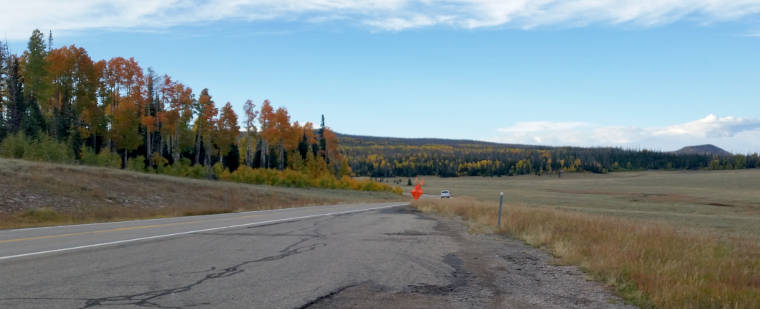 A view toward the lava beds on top of Markagunt Plateau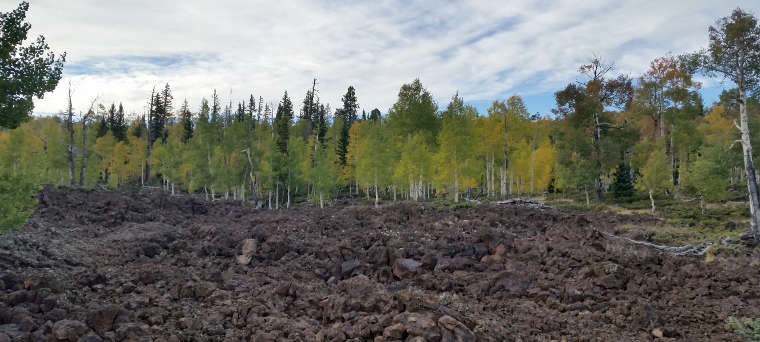 Aspen and lava high on the plateau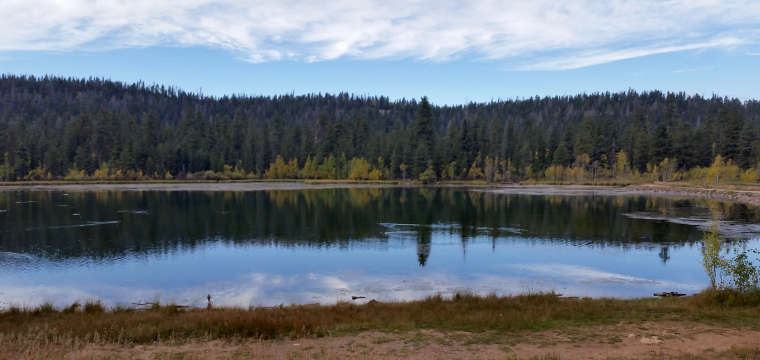 Looks like good fishing...
Markagunt High Plateau Scenic Byway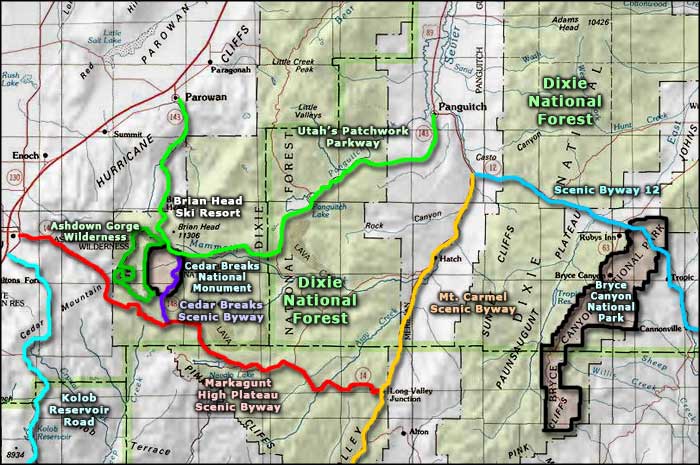 Related Pages
Map courtesy of National Geographic Topo!