Dead Horse Point State Park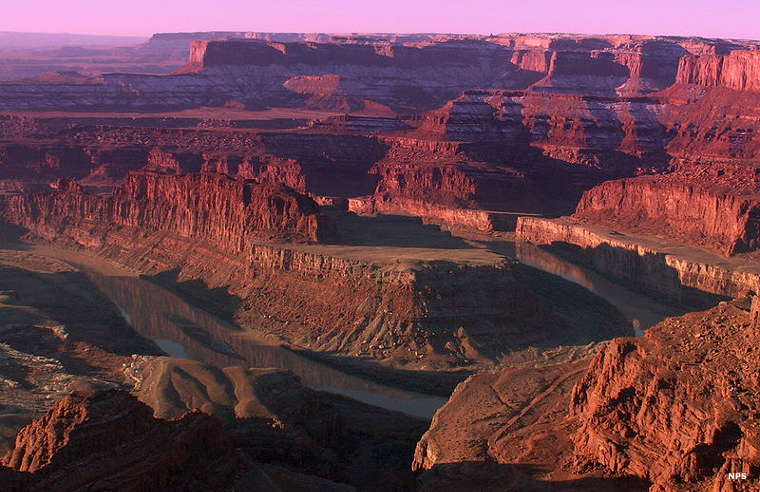 View from Dead Horse Point State Park
Dead Horse Point towers some 2,000' above the Colorado River. This is a place where the views of southern Utah's canyon country and Canyonlands National Park are simply breath-taking. This is also a place of very scarce water and extreme temperatures.
It took many millions of years for ancient oceans, wind-blown sands, freshwater lakes and streams, and volcanic activity to lay down the layers of rock that millions more years of wind and water erosion have exposed in the views from Dead Horse Point. Looking down from the top of this mesa is like looking back 250,000,000 years into the Earth's history. And that 15-foot-tall tree you're trying to get shade from, it may be hundreds of years old: plants here grow very slowly because of that lack of water.
Dead Horse Point State Park is open year round from 6 AM to 10 PM, although there is camping in the park. The Visitor Center is open from 8 AM to 6 PM in the summer and from 8 AM to 5 PM in the winter. The Visitor Center is closed Thanksgiving, Christmas and New Year's Day. Dead Horse Point State Park contains about 5,362 acres at an average elevation of 5,900'.
The 1991 movie Thelma & Louise used this area for its Grand Canyon scenes.
To get there: go 9 miles northwest of Moab on US 191, then turn and go southwest on Utah Highway 313 for 23 miles to the end of the road.
Dead Horse Point State Park
Photo of view from Dead Horse Point courtesy of the National Park Service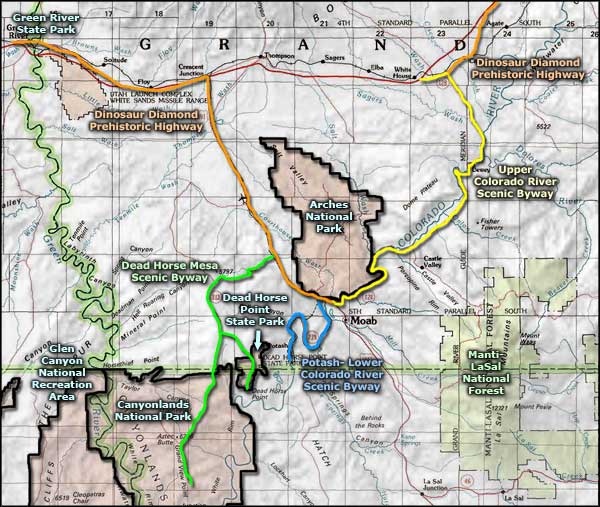 Related Pages
Map courtesy of National Geographic Topo!