Dead Horse Point Scenic Drive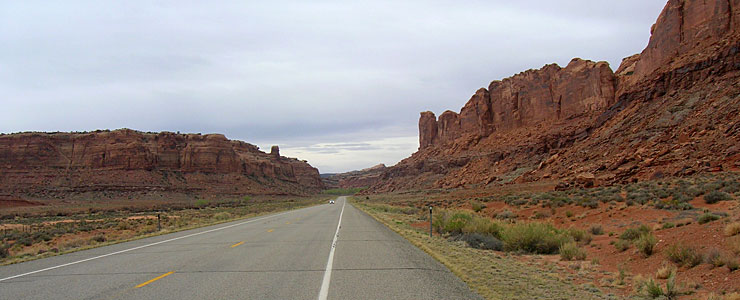 Heading up onto Dead Horse Mesa
The 35-mile drive on Dead Horse Point Scenic Drive leads to three of Utah's most often photographed vistas, two overlooking the canyon of the Colorado River, one overlooking the Green River. One vista is at Dead Horse Point State Park, a second at the Green River Overlook, the third at Grand View Point Overlook in the Island in the Sky area at Canyonlands National Park.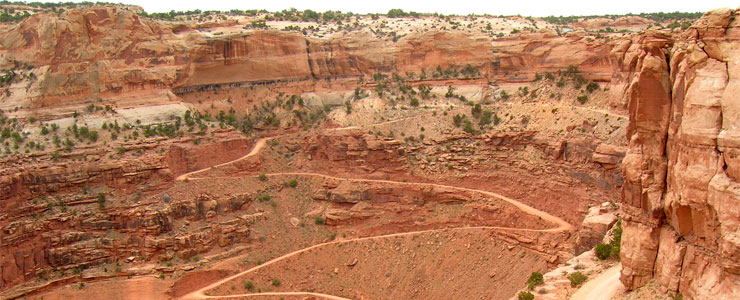 The upper end of the Shaffer Trail
Entry to the scenic byway is on US Highway 191 about nine miles north of Moab. Technically, the section of road between US 191 and Dead Horse Point is Utah Highway 313. And depending on how you want to think about it, within the boundaries of Dead Horse Point State Park the scenic byway is a toll road... The connector to Canyonlands National Park and Island in the Sky has a separate highway designation (and is probably technically a National Park Service road). A good part of the road is across the top of Dead Horse Mesa, a flat and essentially unremarkable chunk of land. The character comes in when you get closer to the ends of the route... or the sides of the mesa.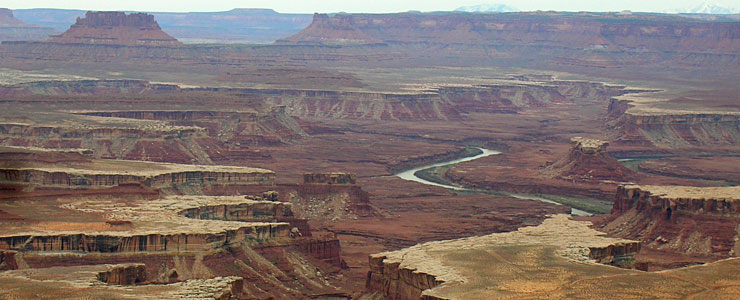 The view from Green River Overlook
Dead Horse Point Scenic Drive is characterized by huge views across eastern Utah's canyon country, hairpin turns and a couple steep (8% grade) hills. Other roads feed off the byway to other points in the area. One of the more notable roads is the Shafer Trail, following a route originally surveyed by Utah DOT to build a paved connector between the Dead Horse Mesa Scenic Byway and Potash-Lower Colorado River Scenic Byway (lack of funding killed that project).
You could drive the main scenic byway in a bit more than an hour but what you'd miss... Most of the connectors are reasonable dirt roads (some are paved), just be careful should you go down any steep hills...
The view east from Grand View Point
Slideshow photos courtesy of TheArmchairExplorer,
CCA-by-SA 3.0 License
Other photo courtesy of the National Park Service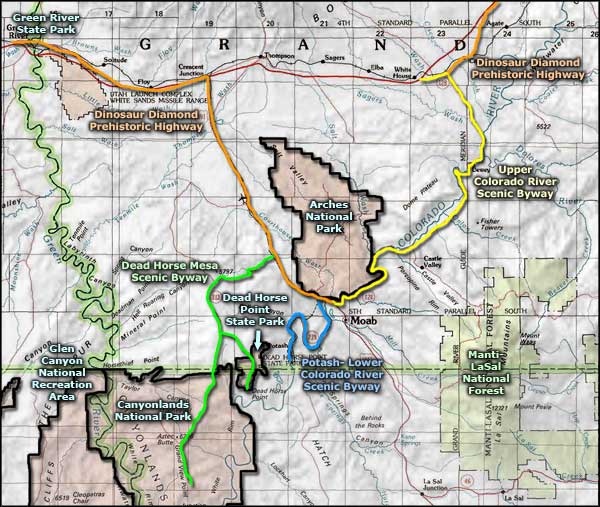 Related Pages
Map courtesy of National Geographic Topo!