Nantahala National Forest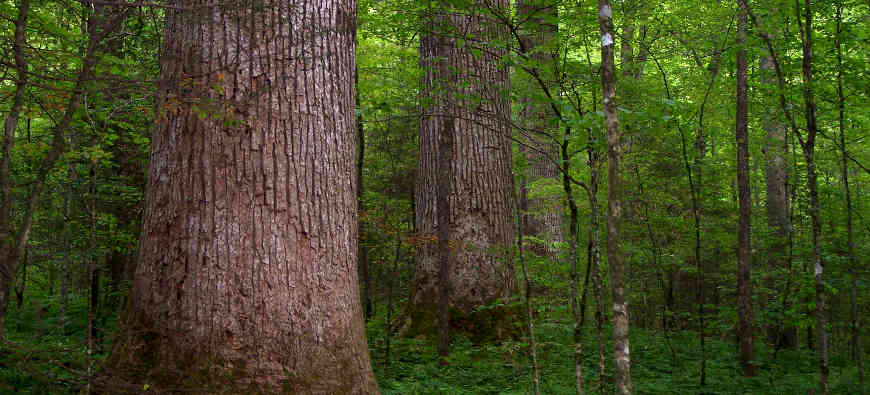 Joyce Kilmer Memorial Forest, part of Nantahala National Forest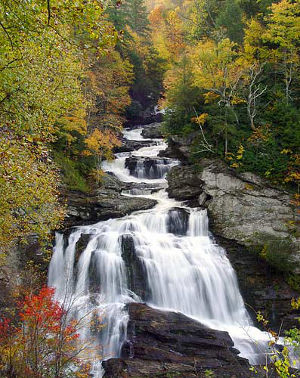 Cullasaja Falls
Nantahala National Forest is a 531,270-acre property in southwestern North Carolina, sandwiched between Tennessee, Georgia and South Carolina. To the north is Great Smoky Mountains National Park, to the west Cherokee National Forest, to the south Chattahoochee-Oconee National Forest and to the southeast Sumter National Forest. Pisgah National Forest is to the east and northeast.
The Forest covers mountains and valleys on the eastern slopes of the Appalachian Mountains with a high of 5,800 feet at Lone Bald and a low around 1,200 feet below the Appalachian Lake Dam on the Hiwasee River. The tree cover is composed primarily of eastern hardwoods with a generally thick understory. Among the wildlife are white-tailed deer, black bear, mountain lion, bobcat, coyote, river otter, beaver and porcupine.
Wilderness Areas
Joyce Kilmer-Slickrock
Southern Nantahala
The first European to travel through the area was Hernando de Soto in 1540. Then came the push from the British Colonies in the 1700's. William Bartram, the botanist, spent the time from March 1773 to January 1777 traveling extensively in the region making observations, meeting the Native Americans and collecting botanical specimens.
The Appalachian National Scenic Trail bisects Nantahala National Forest north/south as it makes its way between Chattahoochee-Oconee National Forest and Great Smoky Mountains National Park. About 78 miles of the Bartram National Recreation Trail also traverse the forest. The Forest offers 13 developed campgrounds and miles of other trails, too. There are only 2 real OHV areas on the Forest, one at Upper Tellico, the other at Wayehutta.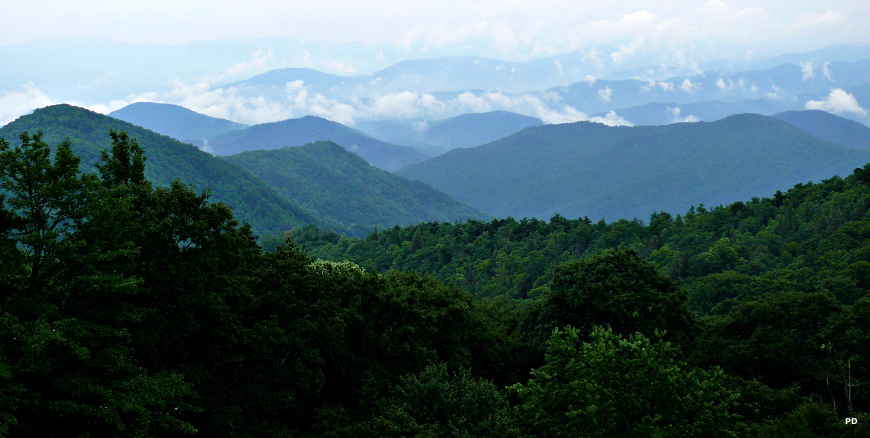 Rainy view in the Blue Ridge Mountains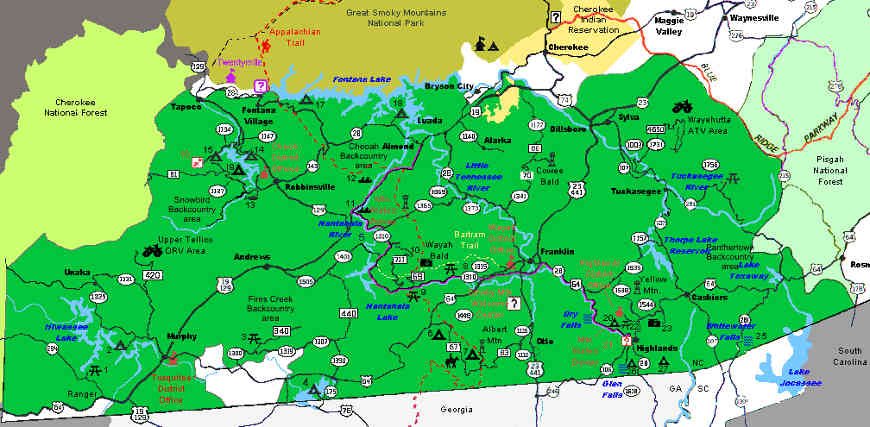 Upper photo courtesy of Wikipedia userid Notneb82,
CCA-by-SA 3.0 License
Upper left photo courtesy of Wikipedia userid Sdrtm,
CCA-by-SA 3.0 License
Lower photo is in the public domain
Map is courtesy of the US Forest Service