Great Smoky Mountains National Park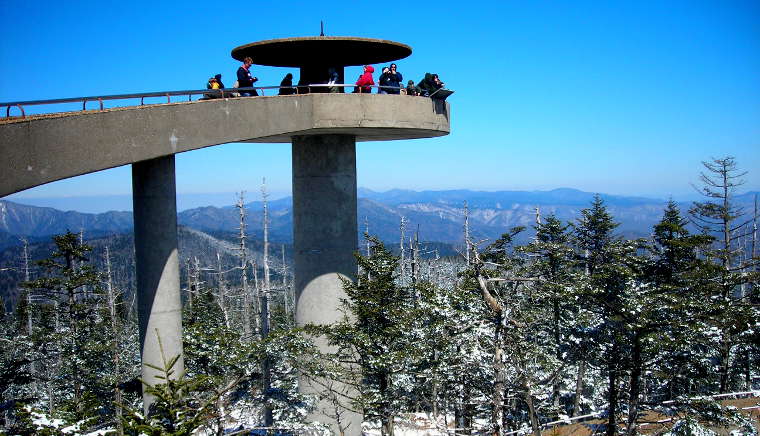 The observation tower atop Clingman's Dome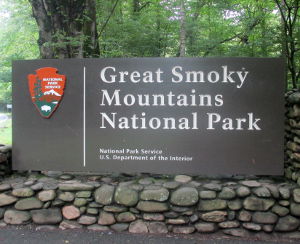 The most visited National Park in the United States, Great Smoky Mountains National Park is a 522,419-acre property straddling the ridgeline of the Great Smoky Mountains in eastern Tennessee and western North Carolina. The main park entrances are along US Highway 441, at Gatlinburg, TN and Cherokee, NC. The first national park partly purchased and built with federal funds, Great Smoky Mountains National Park was authorized by Congress in 1926, purchased in 1934 and officially dedicated by President Franklin D. Roosevelt in 1940. To purchase the land that is the nucleus of the park, the National Park Service put in $2 million, John D. Rockefeller, Jr. put in $5 million and private local citizens worked diligently for years to add land, piece by piece, to the park.
On the Tennessee side, Great Smoky Mountains National Park is bordered to the southwest and northeast by units of Cherokee National Forest. On the North Carolina side, the park is bordered by Nantahala and Pisgah National Forests.
Elevations in the park range from a low of 876' at mouth of Abram's Creek to a high of 6,643 ' at the summit of Clingman's Dome. There are sixteen mountains in the park with summits higher than 6,000 feet. Precipitation in the park varies from about 55 inches per year in the valleys to 85 inches per year in the higher mountains. After parts of Alaska, Hawaii and the Pacific Northwest, this is the fourth highest average annual rainfall in the United States. About 95% of the park is forested. About 187,000 acres of the park are forested in old-growth trees that pre-date European settlement in the area. National Park Service biologists estimate there are about 10,000 species of flora and fauna living in the park.
Before European settlers began arriving in the early 1700's, this area was homeland to the Cherokee Nation. When most of the Cherokee were forced to march the Trail of Tears, a few hid out and stayed behind. Today they mostly live on the adjacent Qualla Boundary (not a "reservation" per se, but a "land trust" supervised by the Bureau of Indian Affairs).
Of the more than 850 miles of hiking trails and abandoned roadways in the park, about 70 miles are part of the Appalachian National Scenic Trail.
Unlike most national parks, there are no entry fees at Great Smoky Mountains. The region is high enough that the Newfound Gap area sees more snow days, on average, than Minneapolis, MN.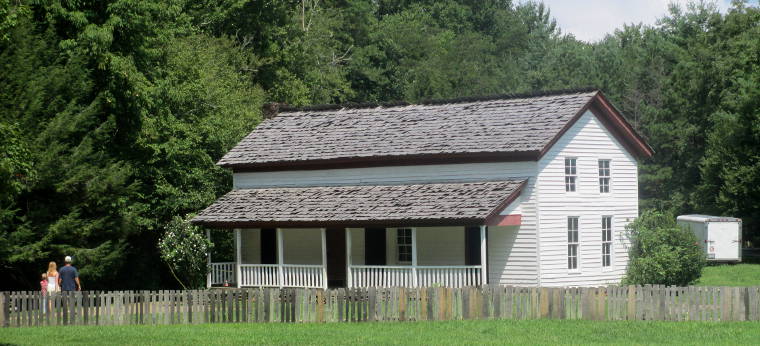 The Becky Cable House in the Cades Cove Historic District
Great Smoky Mountains National Park
107 Park Headquarters Road

,

Gatlinburg

,

TN

37738
865-436-1200
Upper photo is in the public domain
Upper left and lower photos courtesy of Billy Hathorn,
CCA-by-SA 2.0 License
Maps courtesy of the National Park Service