Wildcat Hills State Recreation Area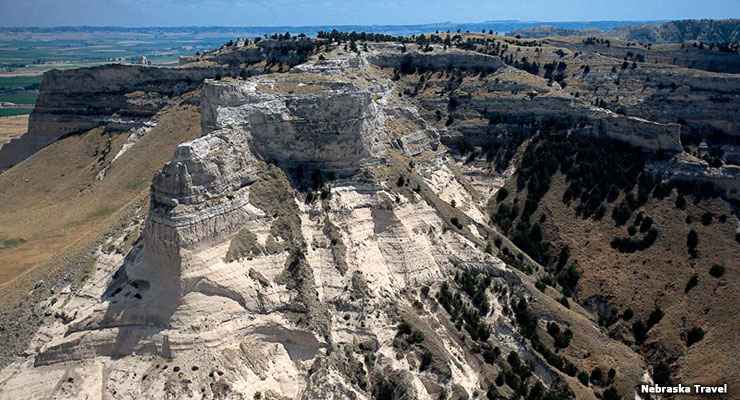 Buttes in the Wildcat Hills
Wildcat Hills State Recreation Area is a 705-acre property that adjoins a 310-acre Big Game Reserve (elk, buffalo and sometimes longhorn cattle). The landscape is a mix of pine-covered canyons separating rugged rock buttes about 9 miles south of Gering. The recreation area offers picnic tables (some with shelters), a playground, drinking water, vault toilets, hiking trails and 5 non-pad primitive campsites (no electric).
The original property was acquired in 1929 and the first buildings were constructed of native materials back in the days of the Civilian Conservation Corps and Works Progress Administration. In 1980 the adjacent 79-acre Reavis tract was acquired and added to the property. Then in 1995, the Wildcat Hills Nature Center was opened. The Nature Center was built on a site that doesn't intrude on the scenery around it. The tinted windows allow visitors to watch the birds and other wildlife that are attracted to the various feeders and plantings on the north side of the building. Observation decks overlook the pine forest and allow great views across the North Platte Valley and Scotts Bluff National Monument. The Nature Center was also built to serve educational purposes and offers many exhibits and interactive displays.
Primitive camping is allowed on several grassy parking areas and at a few near-level sites scattered along the interior trail roads. There is a road that leads to the high point on the property but that point is not accessible to any large vehicles or any vehicle with a trailer attached.
There are four main trail heads on the property giving access to more than three miles of established trails that run through the canyons and rocky bluffs. The primary trail is a relatively easy hike but some of the other trail segments are steep.
The Big Game Reserve is fenced and folks are not allowed. But in the mornings and late afternoons you might see some of the wilder residents. Animals are moved to other locations from time to time, depending on grass conditions. In addition to the big game you might see coyote, bobcat, mule deer and wild turkey in the area.
The Visitor Center is open from the third Saturday in May to Labor Day 7 days a week, from 8 am to 4:30 pm. Winter hours are 8 am to 4 pm, Monday through Friday.
To get there: Take Highway 71 south from Highway 92 in Gering for eight miles to the entrance.
Wildcat Hills State Recreation Area
Upper photo courtesy of J. Nabb, Nebraska Travel & Tourism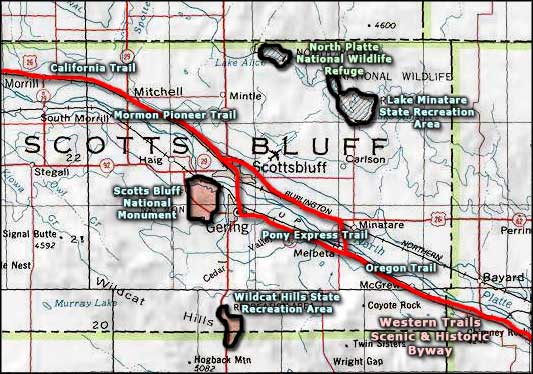 Related Pages
Area map courtesy of National Geographic Topo!