North Platte National Wildlife Refuge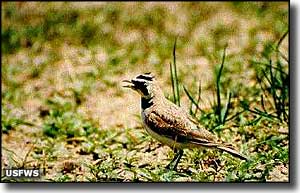 Located in the panhandle of Nebraska, the North Platte National Wildlife Refuge is superimposed on Lake Minatare, Lake Alice, Winters Creek Lake and Stateline Island, four Bureau of Reclamation irrigation projects strung out through the North Platte River valley.
North Platte NWR is frequented by more than 200 species of birds through the year with most traffic happening during the annual spring and fall migrations. The fall migration season sometimes sees upward of 200,000 waterfowl on the four properties. Summer sees flocks of breeding ducks and geese on the lakes. You might also see Northern Harriers and Red-tailed hawks in the sky, searching out lunch in the meadows. There are usually pheasants and sharp-tailed grouse in the meadows, too.
For mammals you'll find mule deer, white-tail deer, black-tailed prairie dog, striped skunk, eastern cottontail and raccoon. Among the fish in the rivers and lakes are yellow perch, northern pike, wiper, white bass, carp, catfish, walleye and crappie. You might also come across a couple pairs of nesting bald eagles.
The public use areas of North Platte National Wildlife Refuge are open from sunrise to sunset most of the year (Stateline Island is open year-round but most units are closed to public access from October 15 through January 14 during the fall migration season). The uplands areas northeast of Winters Creek Lake (and the northern portion of the lake itself) are always closed to provide a year-round sanctuary for a variety of wildlife species. If the nesting bald eagles are present, the western half of the Lake Alice Unit is closed to the public.
Hiking, wildlife observation and photography are encouraged. Camping, campfires, pets and horses are not allowed. Motorized vehicles are allowed only on county roads, mowed trails and in parking areas. Leave gates as you found them.
North Platte National Wildlife Refuge is administered as part of the Crescent Lake/North Platte National Wildlife Refuge Complex.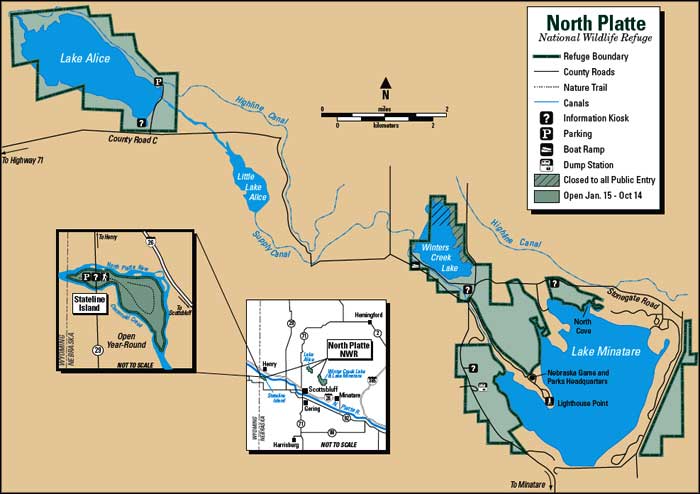 North Platte National Wildlife Refuge
US Fish & Wildlife Service
Photo and map are courtesy of the US Fish & Wildlife Service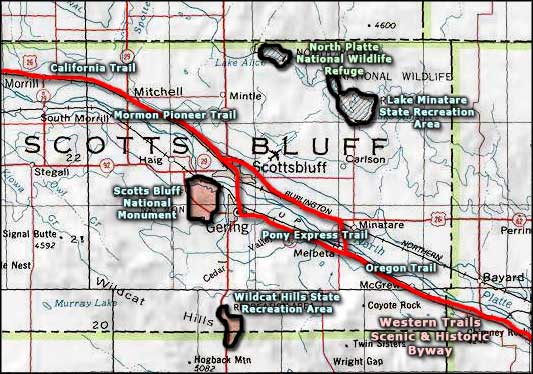 Related Pages
Area map courtesy of National Geographic Topo!