Ala Kahakai National Historic Trail

Ala Kahakai National Historic Trail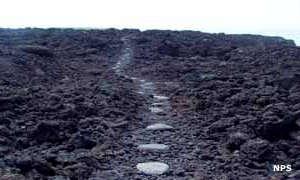 The Ala Kahakai National Historic Trail is a 175-mile route along the coast of the Big Island of Hawaii. The route combines/follows many different trails (old fishermen's trails and Hawaiian Kingdom roads) as it works its way around the coast, trying to stay true to its routes as a traditional Hawaiian culture trade/travel route. The trail is not a completed entity as it crosses public lands, private lands, resort areas, beaches and connects hundreds of ancient Hawaiian settlement sites.|
"Ala kaha kai" means "shoreline trail" in traditional Hawaiian and this route does stay close to the shoreline. Hawaiians traditionally made these journeys by hiking across the land and then paddling across sections of water when the land was too rugged. From the photos on this page it's easy to see why: so much of the landscape is broken lava.
There are well-maintained sections of the trail through each of the four National Park Service sites the trail connects: Hawaii Volcanoes National Park, Pu'uhonua o Hōnaunau National Historical Park, Kaloko-Honokōhau National Historical Park and Pu'ukoholā Heiau National Historic Site.
That section of the Ala Kahakai National Historic Trail that is under Hawaii State Na Ala Hele jurisdiction is also open for public use. That state-maintained section of trail is located between Pu'ukoholā Heiau National Historic Site and 'Anaeho'omalu Bay, south of Waikoloa Resorts. The state-maintained section of the trail is about 15.4 miles long.
Only one section of the trail has signage of any sort (the Spencer-Puako section), some sections have been eroded by wave action and many sections are perched on the edge of sea cliffs, potentially dangerous areas depending on the waves and the weather. At the same time, the Ala Kahakai National Historic Trail provides access to some of the most pristine shoreline areas of Hawaii. There is also access to numerous anchialine pond areas, areas of extreme significance to many of Hawaii's most endangered species of plants and animals and therefore under the protection of one or another state or federal agency.
Camping is allowed only at Spencer County Beach Park and Hapuna State Beach Park.
The National Park Service and the State of Hawaii advise that only those sections of the trail under Federal, state or county jurisdiction are open to the public and travelers along the trail need to be aware that straying off public land onto private land without landowner approval can lead to trespassing charges (and worse) in Hawaii.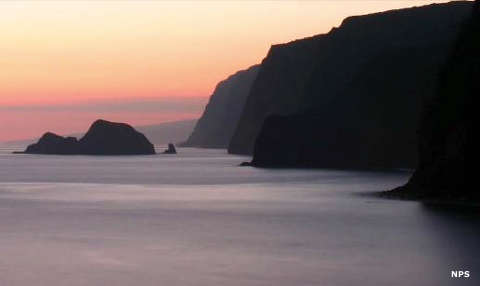 The cliffs of Kohala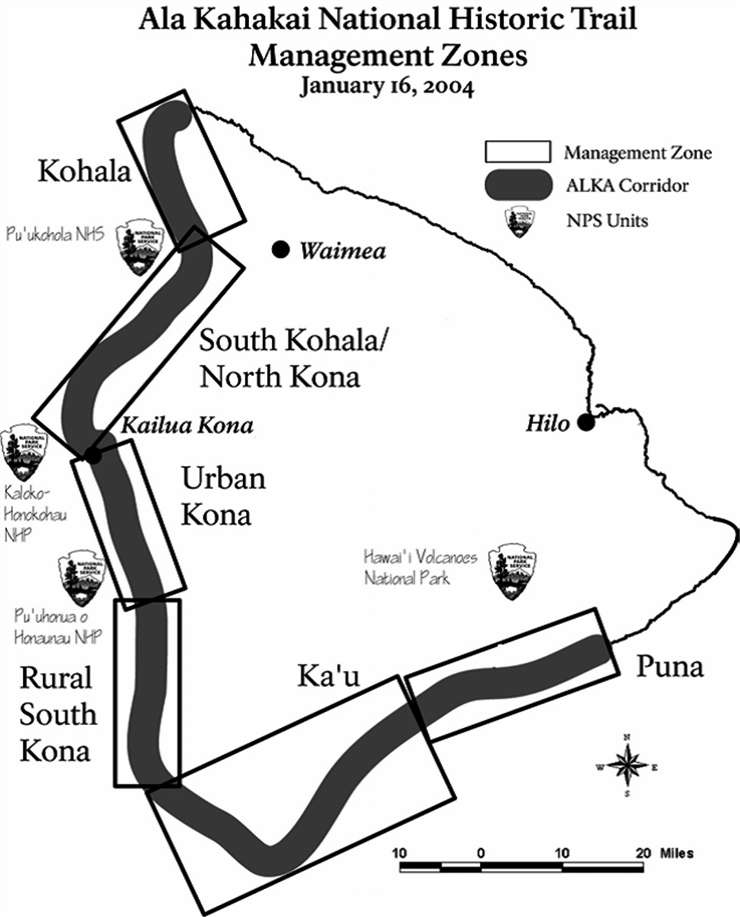 Ala Kahakai National Historic Trail

Lower photo courtesy of Mark Grandoni, National Park Service
Other photos and map courtesy of the National Park Service