Chain of Craters Road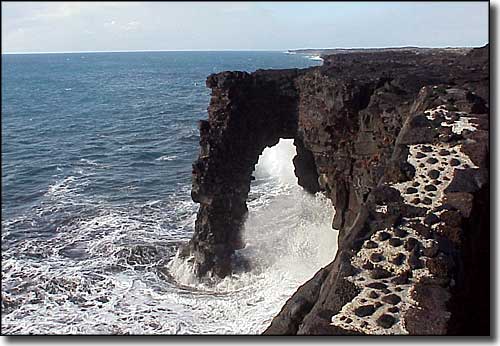 Holei Sea Arch, Hawaii Volcanoes National Park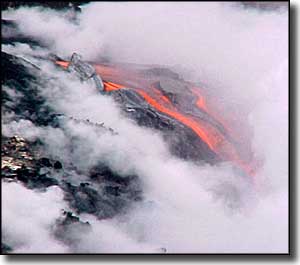 Chain of Craters Road is a 23-mile winding route through the coastal area and East Rift of Hawaii Volcanoes National Park. First built in 1928, the original road connected Makaopuhi Crater with Crater Rim Drive. In 1959 the road was lengthened to Kalapana. Several times over the years, lava flows from different vents of the Kilauea volcano have covered parts of the road. Along the route are several hiking trails and spur roads that lead to overlooks and viewpoints of pit craters, lava flows, smoke and steam plumes from lava tubes and various other geographic and geologic sites. Chain of Craters Road also offers some great views of the seacoast and of the tropical rainforests it passes through.
The route begins near the summit of Kilauea at Crater Rim Drive and drops about 3,700 feet as it travels southeast to Harry K. Brown County Park at the edge of the island. It's near the county park where the road dead-ends beside the lava flow that destroyed Kalapana in 1990.
An increase in the venting of sulfur dioxide gas in 2008 led to the closing of Chain of Craters Road for a short while. That's part of the joy of being in such close proximity to what is probably the most active volcano on Earth. So before you decide to go there and enjoy the drive, you might want to check with Park Rangers to see what's been going on with the volcano first... and as of 2019, the volcanoes are having their way.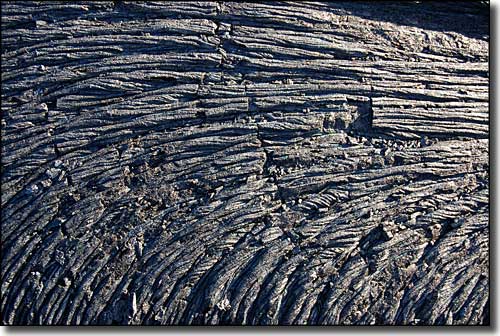 Rope-like pahoehoe lava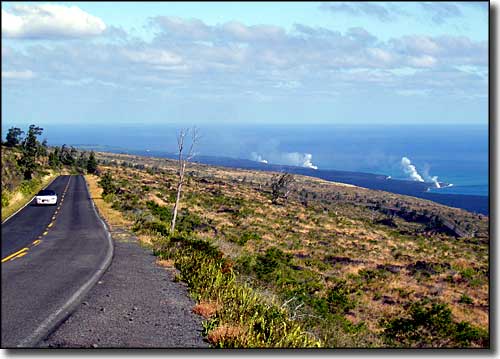 The steam in the photo is where hot lava flowing through lava tubes finally meets the sea
Upper photos courtesy of Hawaii Volcanoes National Park, National Park Service
Lower photo of pahoehoe lava courtesy of A. Crane
Photo of steam rising courtesy of Wikipedia userid Jos-uit-boston,
CCA-by-SA 3.0 License