Pu'uhonua O Honaunau National Historical Park

Pu'uhonua O Honaunau National Historical Park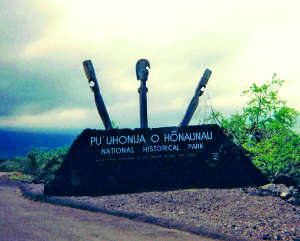 Pu'uhonua O Honaunau National Historical Park is a 420-property on the west coast of the island of Hawaii. Until the early 19th century, this site had been a place of refuge for wounded warriors, non-combatants and others who'd broken any of the ancient laws. Those who broke the kapu (ancient laws) or who were on the losing side in a battle could flee here to have an audience with the resident priest, be absolved of their "crimes" and safely return to society. Until they received that absolution, they lived under a sentence of death.
The Hale O Keawe heiau (temple) was first built by a Kona chief named Kanuha to honor his father, Keaweʻīkekahialiʻiokamoku, whose bones Kanuha entombed within the temple. That began a tradition where the bones of the Kona royalty (the Kamehameha Dynasty) were entombed within the temple until 1818 when Kamehameha I buried a son here. With the arrival of foreigners on their soil, the collapse of the Hawaiian Kingdom began and shortly the kapu system collapsed. Then Lord George Byron sailed up and looted the place in 1825.
High Cheifess Kapi'olani had the remaining bones removed in 1829. After hiding them in the cliffs above nearby Kaleakekua Bay she had the temple destroyed. In 1858 those hidden bones were taken to the Royal Mausoleum of Hawaii.
The site was revived in 1955 as the City of Refuge National Historical Park. Then the name was changed in 1978 and changed again (to traditional Hawaiian spelling) in 2000. Just outside the walls that enclosed the pu'uhonua several generations of chiefs and their families lived. Pu'uhonua O Honaunau, as we see it now, contains several reconstructed structures: the temple and several hale (thatched living structures). Also on the property is a group of archaeological sites including royal fishponds, temple platforms, coastal village sites and some sledding tracks.
Pu'uhonua O Honaunau National Historical Park is open the public from 7 am to 15 minutes after sunset, daily. The visitor center is open 8:30 am to 4:30 pm daily.
The park has a resident Hawaiian cultural demonstrator who lives here as the ancients did. Between Tuesdays and Saturdays he give demonstrations of how the elders made canoes, clothing, huts, wood carvings, fishing tools, etc. He also tells stories from the old days...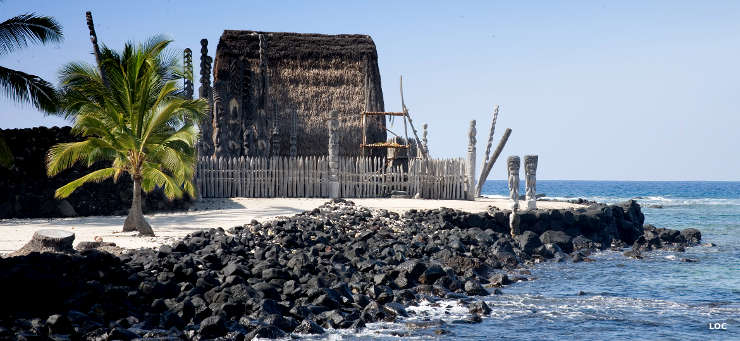 The temple structure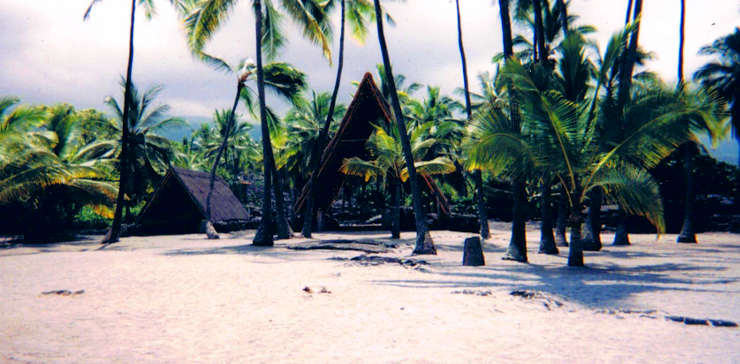 Living structures on the beach at Pu'uhonua O Honaunau National Historical Park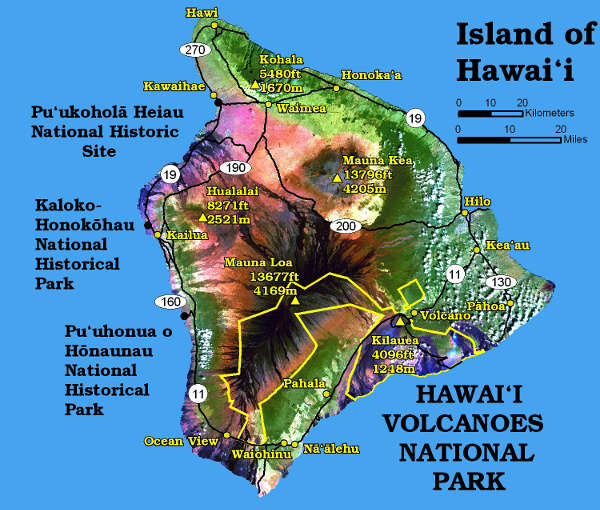 The National Park Service sites on the island of Hawaii
Pu'uhonua O Honaunau National Historical Park

Upper photo and bottom map are courtesy of the National Park Service
Other photos are in the public domain