Pu'ukohola Heiau National Historic Site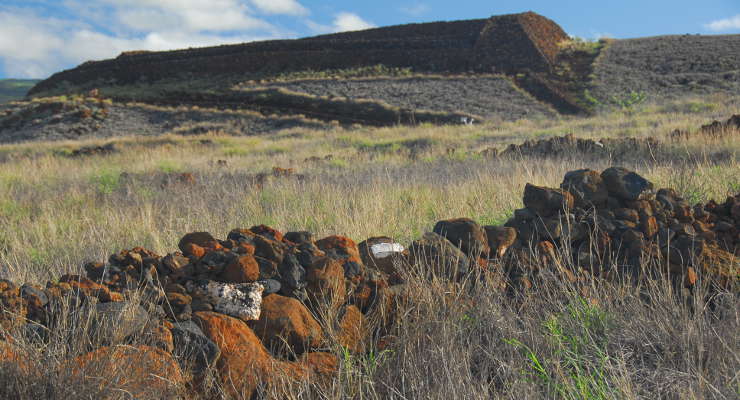 Pu'ukohola Heiau National Historic Site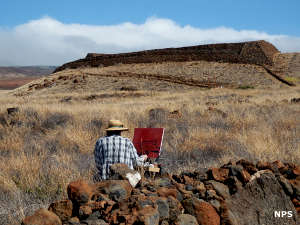 Pu'ukohola Heiau National Historic Site is a 76-acre site on the northwest corner of Hawaii island. Located on the property are a number of ancient Hawaiian archaeological sites including the ruins of the last major ancient Hawaiian temple.
In the late 1700's, Kamehameha I was busy trying to consolidate Hawaii into a single kingdom. On his return to the island of Hawaii from Maui in 1790, he was attacked by his cousin Keoua Kuahu'ula who controlled the east side of the island. Kamehameha's forces repulsed the attack but afterward, the leaders returned to Kawaihae to rest and regroup. While there, the local kahuna suggested building a sacrificial temple to gain the favor of the war god Kuka'ilimoku. Pu'ukohola Heiau (meaning "Temple on the hill of the whale") was built over the next year by thousands of people forming a 14-mile-long human chain to transport the red building stones from the Pololu Valley to the east and assembling the temple by hand with no mortar.
The temple was finished in 1791 and Kamehameha invited his cousin to come for the dedication under an offer of peace. As soon as his cousin arrived, he and his whole party were captured and killed, their sacrifices offered to the temple as part of the dedication.
Also within the park boundaries is the site of the house and ranch built by John Young, a stranded sailor who became one of Kamehameha's most trusted military advisors.
The National Park Service operates a visitor center at the site and there's a trail from the visitor center to the Heiau. However, the Heiau is not open to the public as it is believed there are still royal bones buried somewhere on the property. About 170 feet west of the Pu'ukohola Heiau is the older Mailekini Heiau, a temple that John Young later converted into a fort to protect the harbor. Just offshore is the Hale o Kapuni, an underwater structure used to feed the sharks.
Pu'ukohola Heiau National Historic Site is open from 8:15 am to 4:45 pm daily, including Federal holidays. The entrance gate closes at 4:45 pm and all vehicles need to be out of the parking lot by 5 pm.
Camping is available immediately to the south at Spencer State Beach Park. The Ala Kahakai National Historic Trail crosses Pu'ukohola Heiau National Historic Site, hugging the shoreline cliffs all the way.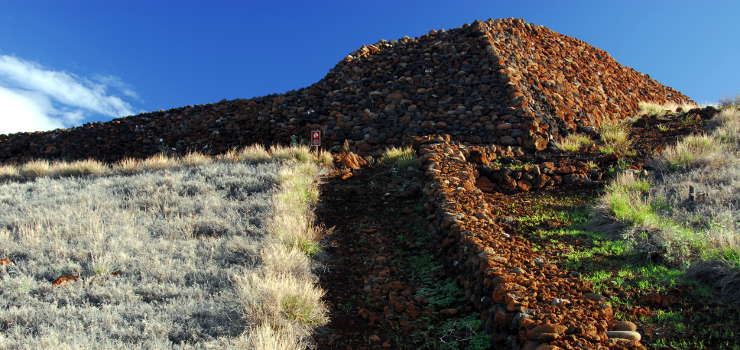 The reconstructed heiau at Pu'ukohola Heiau National Historic Site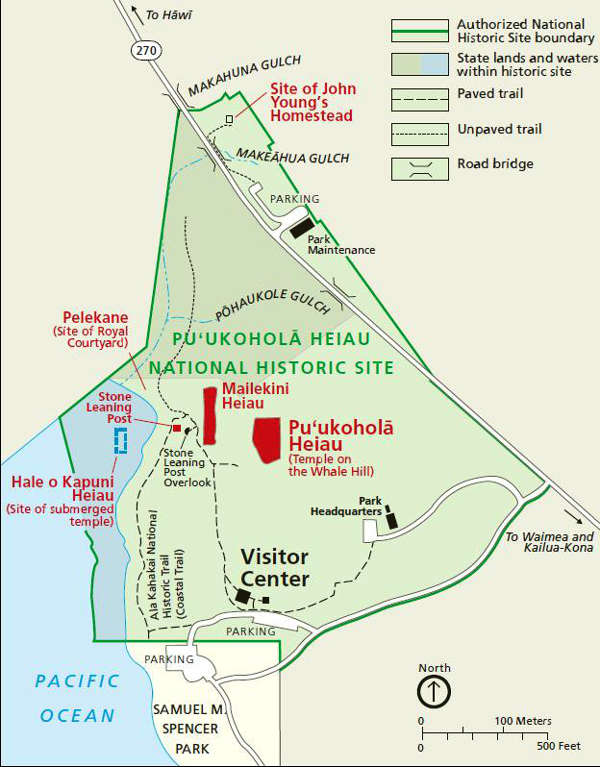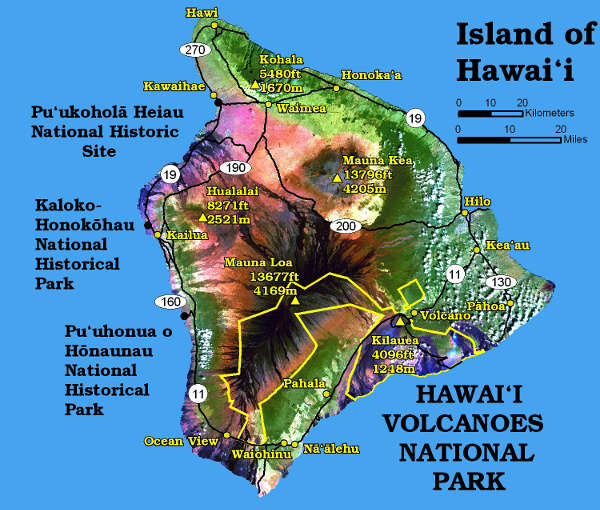 Locations of the National Park Service sites on Hawaii
Pu'ukohola Heiau National Historic Site
Upper and lower photos courtesy of Wikipedia userid Bamse,
CCA-by-SA 3.0 License
Upper left photo and maps courtesy of the National Park Service