Wiley, Colorado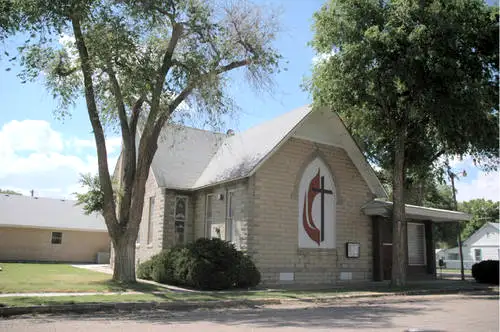 The United Methodist Church in Wiley
Wiley was founded in 1906 by the Big Bend Town and Improvement Company. They named the settlement after William Wiley who lived in nearby Holly. It was Mr. Wiley who was the mover and shaker behind the projected construction of the Holly & Swink Railroad. Farmers in the area were really hoping he was going to build a factory for processing sugar beets, too, but that didn't happen: the sugar beet plant was built in Sugar City, well to the west of Wiley in Crowley County.
The town was incorporated in 1908, the same year a severe typhoid epidemic swept through the area and many folks died. When professional medical help finally arrived, they quickly discovered the town's existing water supply was a major factor in keeping the typhoid circulating through the community.
Sugar beets did gain in importance over the years until the mid-1960s when manipulations in the commodity markets brought about a collapse of many sugar beet producers. At that point, the beets stopped being planted and hay took over...
The Wiley Post Office