Rocky Mountain Greenway
The Rocky Mountain Greenway trail system moved from idea to possibility with the signing of paperwork in 2012. The route, as originally conceived, would be a mix of federal, state, county, municipal and other protected lands tying Rocky Mountain National Park to Rocky Mountain Arsenal National Wildlife Refuge, including Rocky Flats and Two Ponds National Wildlife Refuges and numerous other municipal and county open spaces. As of 2018, the route from Rocky Mountain Arsenal to the trail across Rocky Flats is completed and open to the public.
The rest of the route is still in planning stages as public trails in open spaces and state lands are being surveyed to determine how much signage might be needed, and how much trail needs to be built, in order to get from Rocky Flats to Rocky Mountain National Park. A significant number of agreements need to be worked out, too, with all the stakeholders in between.
The entire trail will be open to hikers but because of restrictions on some of the public trails along the route being combined in the overall trail, some areas might not allow biking, horseback riding or mechanized vehicles of any sort. The trail is also a mix of paved trail, side-of-road trail, bike lane and packed dirt and gravel.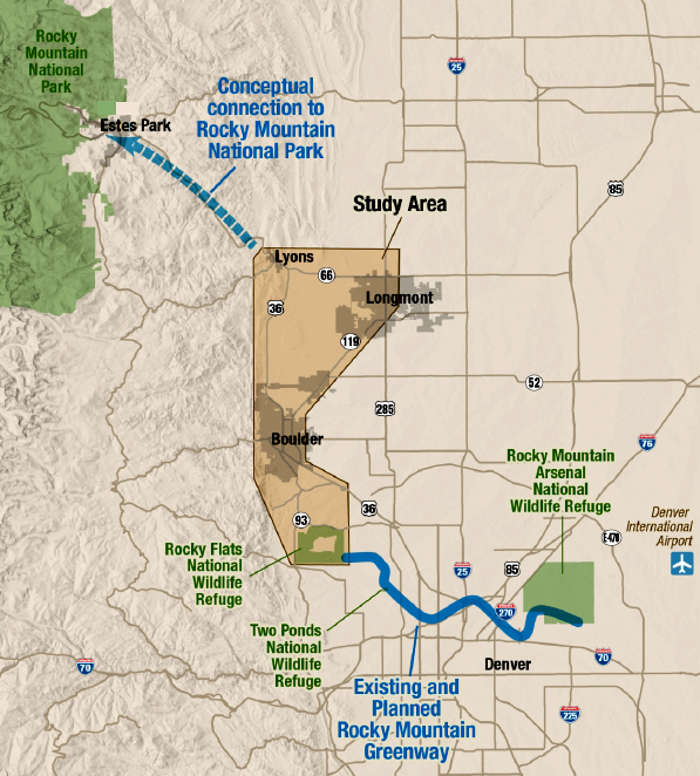 Map courtesy of Rocky Mountain Greenway